Chicken Tikka Biryani is a spicy and flavorful, incredibly delicious recipe prepared using rice, chicken and aromatic spices.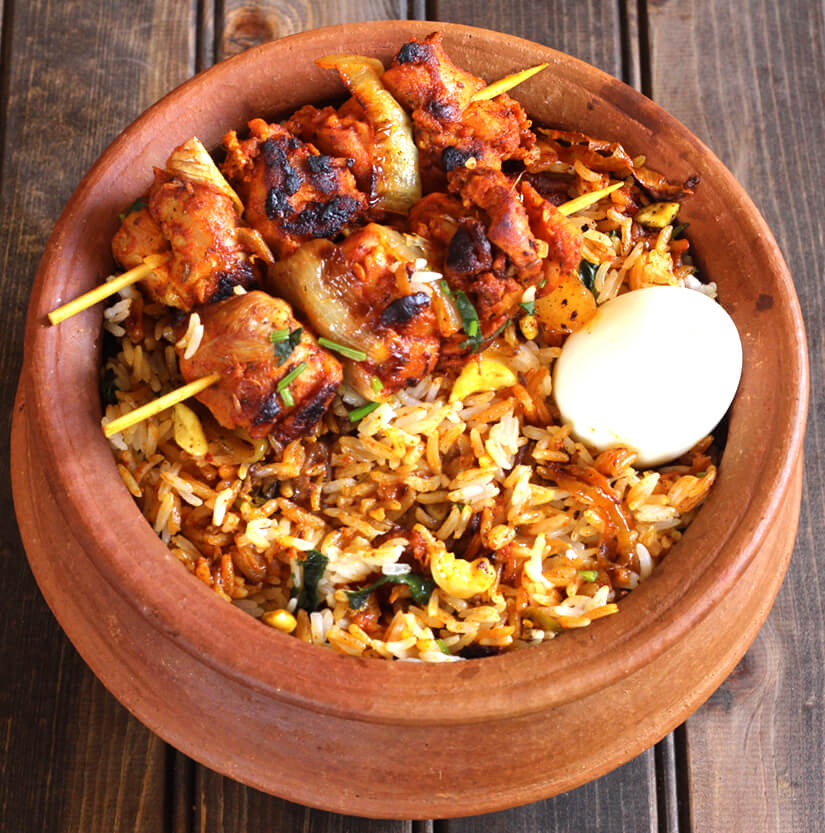 My family loves rice recipes and therefore I prepare it often. Biryani takes a little extra time to cook and lot of spices goes into this dish. But let me tell you its definitely worth it.
This weekend I prepared chicken tikka biryani and it was a double treat. You must try it to know how great it tastes. The focus while preparing any tikka should be on the marination. It is ok if you do not have a tandoor or grill. I prepare tikka on a greased non-stick pan. The chicken marinated with spices and pan roasted combined with the aroma of the rice makes it simply irresistible. Vegetarians can follow the same recipe and substitute chicken with paneer / tofu, babycorn, mushroom etc.
Preparation time : 30 minutes
Marination time : 30 minutes
Serves : 3
Steps to prepare Chicken Tikka Biryani
For the marination
Chicken thigh pieces – 1 1/2 pounds or 3 pieces
Yogurt – 3 tbsp
Turmeric powder – 1/4 tsp
Mint leaves – 1 tsp
Red chile powder – 1 tsp
Salt – 1 tsp
Tandoori chicken masala – 1 tsp
Chat masala – 1/2 tsp
Garlic cloves finely chopped – 4
Ginger grated – 1 inch
Lemon juice – 1 tsp
For the Biryani
Rice – 1 cup
Bay leaf – 2
Cloves – 2
Cardamom seeds – 5
Cumin seeds – 1 tsp
Cashews – 1 tbsp
Onion chopped lengthwise – 1
Garlic cloves chopped – 5
Ginger grated – 1 inch
Green chilies chopped – 3
Tomato chopped – 1
Coriander leaves / Cilantro – 5 starnds
Red chile powder – 2 tsp
Tandoori chicken masala – 1/2 tsp
Salt to taste
Vegetable oil – 1 tsp + 1 tsp
Steps to prepare Chicken Tikka Biryani
Step I (Marination)
Cut the chicken into pieces of desired size.
Add all the ingredients mentioned in the marination list and mix well.
Cover it and keep it aside for atleast 30 minutes.
Step II (Preparing the tikka)
In a non stick pan drizzle tsp of oil.
On each skewer add 3 chicken pieces, onions or any veggies of your choice
Cook them till the chicken is completely cooked and develop color on all the sides.
Transfer this to a plate.
Step III (As the chicken tikkas are getting ready, cook the rice)
Use any rice of your choice ( basmati or jasmine tastes the best for this recipe)
Cook the rice till it is 70 to 80 % done and drain them. You can also add salt while cooking the rice.
Keep this aside.
Step IV
In the same pan you prepared the tikka, add another tsp of oil.
Add in onions and saute till develops some color.
Now add bay leaf, cardamom, cloves and cashews, cumin seeds, ginger, garlic, green chilies and saute for another 2 minutes.
Add in the tomato and saute till it becomes soft. then add chilli powder, tandoori masala and salt to taste, mix well.
Arrange the chicken tikka prepared on top of this masala.
Spread the partially cooked rice over top of this.
Add finely chopped coriander leaves, and cover the pan with a tight lid. Cook on medium-low heat for about 10 minutes or until done.
After removing from heat, you can garnish it with additional chopped coriander and mint leaves.
Chicken Tikka Biryani is now ready. Serve hot and enjoy.
Tip:
To prevent the biryani from catching the bottom, use a heavy bottomed pan.
After addition of partially cooked rice, you can place the biryani pan on a flat dosa griddle on medium-low heat and continue cooking for 18-20 minutes. This ensures even distribution of heat, as well as prevent the biryani from catching the bottom of the pan.
You may garnish with fried onions before serving.
You may serve the biryani with a side of raita or salan.