Garlic Cheese Naan is super soft and flavorful flat bread that you must not miss to try. The minced garlic and melted cheese in every single bite makes this bread simply irresistible.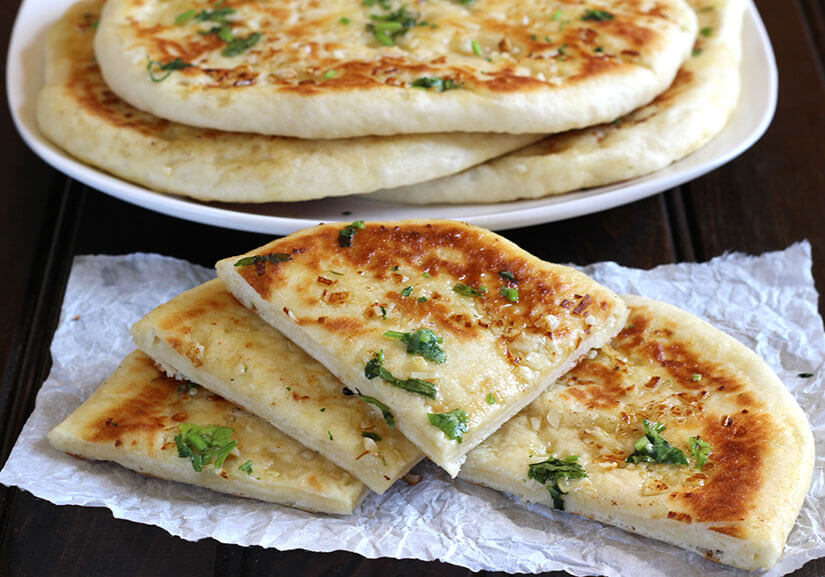 This bread is a treat for all garlic and cheese lovers. Feel free to use any melting cheese as a filling and top with as much garlic as desired. Cooking this naan is also super simple. I have not used any oven or cast-iron skillet, instead I have used a non-stick pan. These naan breads remain soft for a very long time, so they travel well in a picnic basket or in a lunch box.This recipe is inspired by curiousnut.com
This naan bread can be served alone or with any soup or curry of your choice. You can also check different varieties of naan and other bread recipes here. Some popular accompaniments for this naan bread are:
Preparation time : 2 hours 30 minutes
Serves : 8 Naan bread
Ingredients for Garlic Cheese Naan
Warm whole milk – 1 1/2 cup
Sugar – 2 tsp
Active dry yeast –  1 packet ( 2 1/4 tsp)
Sour cream / Yogurt – 3 tbsp
Melted butter – 3 tbsp
Salt – 1 tsp
All purpose flour / Maida – 4 cups + more or less as needed
For the topping and filling
Mozzarella cheese grated – 2 1/2  to 3 cups
Garlic cloves minced  – 10 to 12
Melted butter – 4 tbsp
Coriander leaves / Cilantro chopped  – 3 tbsp
Steps to prepare Garlic Cheese Naan
Step I
In a large bowl, add whole milk, sugar and sprinkle yeast.
Cover it and keep it undisturbed for about 10 minutes or until the yeast activates.
Step II
Once the yeast has activated, add sour cream or yogurt, butter, and salt. Introduce flour in increments and mix till a dough is formed. The dough should not be dry.
Transfer the dough to a working surface and knead it for at least 5 minutes to form a soft and smooth dough.
Place the dough in a lightly oiled bowl and turn so that it is completely coated in oil.
Cover it and keep it in a warm place for about 1 hour 30 minutes or until it is doubled in size.
Step III
Transfer the dough to a floured working surface. Divide the dough into 8 equal portions.
Roll each portion into 3 to 4 inch diameter rounds. Place 2 to 3 tbsp of mozzarella cheese at the center. Pull the edges towards the center and seal the dough to form a ball.
Repeat it for each portion. Cover this and let it rest for about 10 minutes.
Meanwhile you can heat the tava / pan on a medium flame.
In a small bowl, add 2 tbsp of melted butter and coriander leaves and keep it ready.
Step IV
Using a rolling pin, roll each ball to desired thickness (Check the tip section). Now sprinkle the minced garlic on top and using the rolling pin, just press it into the dough.
Once the tava is hot,on a medium high flame place the naan and add butter on top of it. Once the bottom is browned, flip it and cook on other side. Each side should take about 1 1/2 to 2 minutes to cook, however the cooking times may vary depending on the thickness of your naan.
Baste it with the butter cilantro mixture and repeat the process for remaining portions.
Garlic Cheese Naan is ready. Serve and enjoy.
Tip:
If you like the naan to be thin then divide the dough into 16 equal portions.
Vary the stuffing and toppings as desired.
You can also prepare this in an oven or on a cast-iron skillet..
Also check out the dessert and sweet recipe contest and win exciting prizes. For more recent updates, follow me on Pinterest, Facebook, Instagram, Twitter, GooglePlus. 
***Click below to save it on Pinterest***