Jicama Fries or Chips are crispy and addictive, irresistibly delicious fries that are a very good alternative to traditional french fries. This is vegan and gluten free.
Jicama is an interesting vegetable that I found recently during our shopping at farmers market. This vegetable has a distinct crunch even after cooking, and is sweet & juicy. You can have jicamas even in uncooked (raw) form, or you can include them in salads, stir fries, and soups. Another favorite way to serve jicamas is by slicing them into fingers, and then give it a light sprinkle of salt and drizzle some lemon juice before serving. You may give these an Indian-street-food flavor by also sprinkling some chat masala and other spices (a blend of sambhar powder and extra-hot chilli powder is my all time favorite). The lady at the farmers market was so happy to see that I bought this vegetable, and out of curiosity I asked her if she had any suggestions on how to cook it. She was kind enough to share her favorite ones, and I have included them above. She even told me that many people do not know about jicamas, and encouraged me to give it a try and spread the word!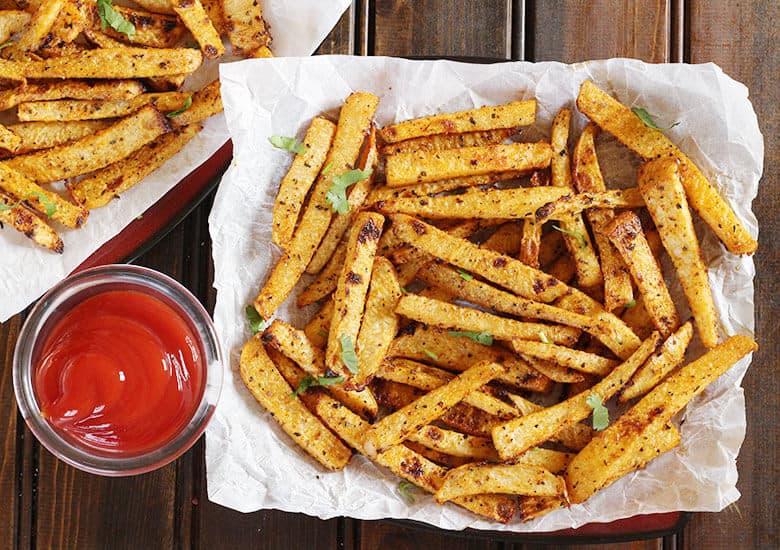 As soon as I reached home I peeled it and tried it raw. It was great. First crunch I felt it was like baby-corn and my husband said it tasted like a crisp apple or pear. Overall it was quite unique. I wanted to cook something with this, and finally zeroed in on making some fries. Honestly, I was a little scared to fry them as they may absorb excess oil. So I baked them instead. You just need to peel them and cut them into fairly evenly sized fingers. The thickness was similar to french fries.
Final verdict – Super Hit! Being a french fries lover I did not even dream that some veggie like jicama would replace it in my kitchen. Whenever you visit a farmers market or super market, do buy this veggie and try out this super delicious recipe. You will seriously thank me for this
And after browsing online I found some names for this in India mishrikand, shankhalu, kesaur. You can check more about this on Wikipedia 
Preparation time : 45 minutes
Serves : 4
Ingredients for Jicama Fries
Jicama medium sized – 1
Vegetable oil / Olive oil – 2 tbsp
Salt – to taste
Pepper powder – to taste
Garlic powder – 1/2 tsp
Cayenne powder / Red chile powder – 1 tsp
Basil leaves – 1/2 tsp
Steps to prepare Jicama Fries
Step I
Preheat the oven to 400 degree F.
Peel the skin of jicama and cut them into fingers of desired thickness (similar to french fries). Do forget to try it raw if you have not done earlier
Step II
In a large bowl transfer the chopped jicama and toss it with vegetable oil, salt, pepper powder, garlic powder, cayenne powder and basil leaves.
Spread this into a single layer on a baking sheet.
Bake this for about 30 to 40 minutes or until they are crispy. Make sure to turn them around halfway mark, i.e. around 15 minutes.
Jicama Fries are now ready. Serve it with ketchup, mayo, yogurt dip or even guacamole.
Tip:
Vary the spices as per your taste. You can also add any additional spices if desired.
You can also spread some cheese once they are out from the oven or before the last 2-3 minutes of the baking time.
For more recent updates, follow me on Pinterest, Facebook, Instagram, Twitter, GooglePlus. 
***Click below to save it on Pinterest***