Rava Coconut Laddu or Semolina Coconut Treats are easy to make and delicious melt in mouth sweet recipe prepared in less than 30 minutes.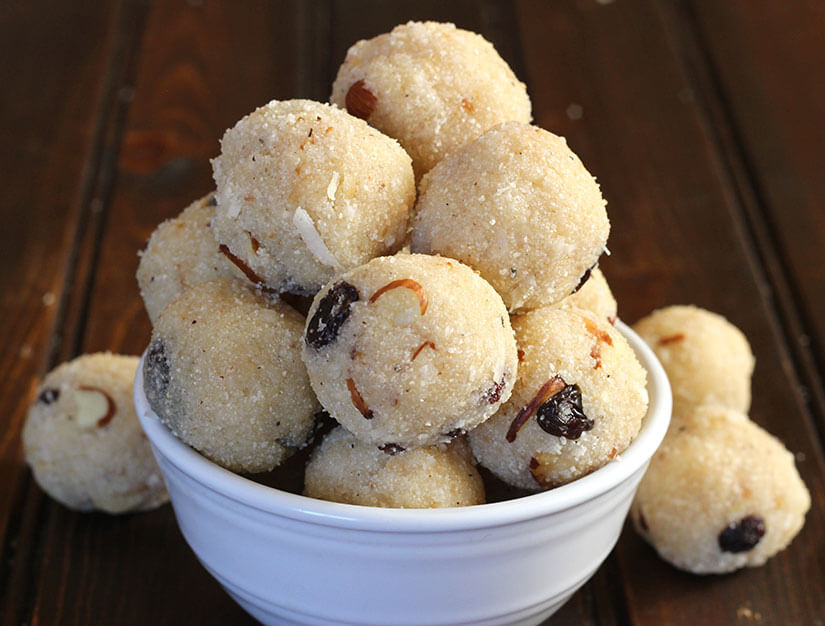 Laddu / laddoo / mithai is also called undo in konkani. Laddu is a ball shaped sweet recipe popular in India prepared using flour or sooji (semolina) and sugar with some additional flavors. This is specially prepared during festivals and special occasions. Each region has its own variation to this recipe. In coastal Karnataka, this laddu is prepared without adding any milk.
Today I am going to share rava laddu recipe that is very special to me. This is the first laddu recipe that I tried after my marriage as I knew it was my husbands favorite! I have been following the same recipe since then, and it comes out perfect every single time. He always tells me that this is the best rava laddu he has ever had. The only reason that I am scared to prepare this often is that he never keeps a count on how much laddu he eats in one sitting whenever I prepare them. It gets over in no time. So to satisfy our sweet cravings and also to make sure that we don't eat in excess I generally do it in small batches, half of the recipe given below
But when my in-laws, parents or friends visit I prepare it ahead of time and hide it from him
These laddus taste the best when served fresh and will last for 2 to 3 days at room temperature but for a week if kept in refrigerator.
In India, fresh grated coconut is used in the recipe. It is difficult to find fresh grated coconut where we stay. So I generally use dry grated coconut in my recipes that calls for coconut. Two important steps one has to follow for perfect laddus are: 1) sauteing the sooji ( semolina) till you get a nice aroma on medium flame and the second one is adding boiling water to the mixture little by little just until everything is combined.
Preparation time : 3 minutes
Serves : 16 to 18 laddus depending on the size
Ingredients for Rava Coconut Laddu
Butter – 5 tbsp
Almond sliced – 1 tbsp
Raisins – 1  tbsp
Sooji / Semolina – 1 cup
Coconut grated – 3/4 cup
Cardamom powder – 3/4 tsp
Sugar – 1 cup
Water – 1/4 cup + 1 tbsp
Steps to prepare Rava Coconut Laddu
Boil around 1/2 cup of water in a pan.
Melt butter in wide non-stick pan. Add sliced almonds and saute for few seconds.
Now add raisins, sooji, coconut and saute it on medium flame for 6 to 8 minutes till you get a nice nutty aroma from sooji and it develops light golden brown color.
Now add sugar, cardamom powder and mix well for 20 to 30 seconds.
Add boiling hot water to this mixture starting with 1/4 cup and mix well to combine. I have added additional 1 tbsp of boiling water. It is good practice to add water little by little and add only if the mixture is crumbly. Switch off the flame.
Cover the pan with a lid and keep it aside for 3 to 5 minutes.
Now make laddus of desired size from the mixture. Caution: the mixture will be warm to touch!
Once it cools down completely store them in an air tight container. It will last for 2 days at room temperature and for 1-2 weeks in refrigerator.
Rava Coconut Laddu is now ready. Serve and enjoy.
Tip:
You can use ghee instead of butter.
Feel free to add any nuts of your choice.
I have used dry grated coconut in the recipe. Traditionally fresh grated coconut is used.
I have used 1/4 cup + 1 tbsp of boiling water to get perfect laddus.
The time it takes to saute sooji and coconut may vary depending on the size and material of your pan.
For more recent updates, follow me on Pinterest, Facebook, Instagram, Twitter, GooglePlus. 
***Click below to save it on Pinterest***