Strawberry Turnovers are quick and easy to make pastries, with delicious sweet and tart filling on the inside, crispy and flaky texture on the outside.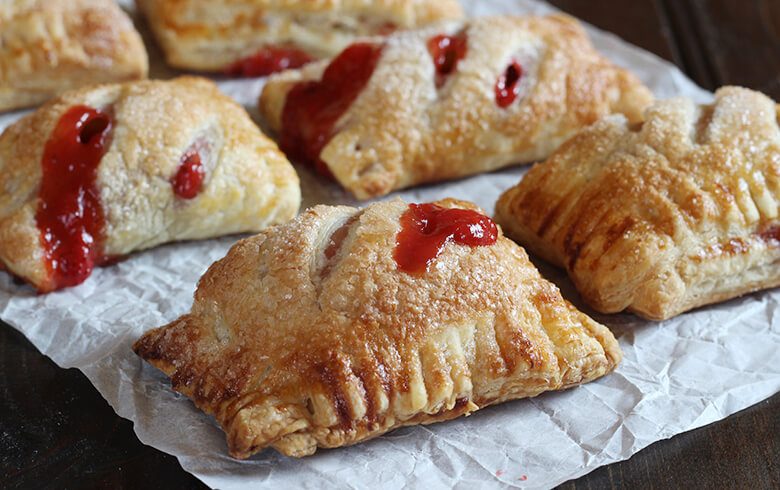 I love fresh strawberries and make the best use of it when it is in season. Plus my obsession with puff pastry continues
This delectable combination of strawberries and puff pastry is completely a wonderful match that everyone will love. The natural strawberry flavor with flaky puff pastry is a WOW factor in every single bite. These are perfect for morning breakfast or even for weekend party. They travel easily in zip-lock bags or lunch boxes, making it perfect for any holiday gathering, picnic, and potlucks where you can substitute desserts, plates and forks with these yummy turnovers. All you have to do is pick them and eat
I am sure you cannot stop having one. Depending on the season you can use any other berries or fruit of your choice.
You can also check some of my favorite puff pastry and strawberry recipes
Preparation time : 40 minutes
Serves : 8 – 10 turnovers
Ingredients for Strawberry Turnovers
Strawberries chopped – 2 cups
Butter – 1 tbsp
Sugar – 1/2 cup + to sprinkle
Lemon juice – 1 tbsp
Cinnamon powder – 1/2 tsp
Salt – pinch
All purpose flour / Corn starch – 2 tbsp
Water – 1/2 cup + 1/4 cup
Puff pastry sheet – 1
Egg – 1
Steps to prepare Strawberry Turnovers
Step I
In a medium non-stick sauce pan, add butter, strawberries, sugar, lemon juice, cinnamon powder, pinch of salt, 1/2 cup water and bring it to boil over medium high-heat for 8 minutes or till the strawberries become soft, stirring them occasionally.
In a small bowl, whisk together all purpose flour and 1/4 cup of water and add this to the mixture above.
Reduce the heat to low and simmer till it is thickened. Switch off the flame and allow it to cool down completely.
Step II
Whisk an egg and keep it aside.

Preheat the oven to 400 degree F.

Once the pastry sheet is thawed, using rolling pin roll it slightly and then c

ut them into 8 squares of 5 * 5 inch each and brush their edges with egg wash.

Place a tablespoon of strawberry mixture at the center of each piece and fold the pastry the way you want to form a triangle or rectangle

Using a fork, crimp to seal the edges. Poke holes with a knife and place turnovers on baking tray.

Apply egg wash on top of each turnover and sprinkle with some sugar.

This will give it a beautiful shiny golden look.

Bake for about 18 minutes or until it is golden brown.

Strawberry Turnovers are now ready.

Serve and enjoy.
Tip:
While sauteing the strawberry in step I, if you feel the mixture is too dry, you can add little extra water and boil.
Vary the amount of sugar depending on the sweetness of strawberry. I love it sweet and tart.
For more recent updates, follow me on Pinterest, Facebook, Instagram, Twitter, GooglePlus. 
***Click below to save it on Pinterest***