Surnali Dosa is a soft and spongy Indian pancake recipe that requires just 3 simple ingredients. This recipe is vegan and gluten free.

Dosas are popular breakfast choice, specially in South India as they are nutritious, good source of carbohydrates, easy to digest and low in fat. My family loves to have dosas for breakfast and therefore I generally prepare a big batch of batter and keep it in the fridge so that I don't have to rush in the morning. Having the batter ready also allows me to prepare something quickly when anyone is hungry at home or when guests show up unannounced. Plus, by making small improvisations with the batter one can prepare different varieties of dosas.
Surnali is a very popular breakfast item in konkani cuisine. As far as I know there are 3 versions of this dosa. The savory, sweet and the one soaked in flavored coconut milk. I love all the three versions and prepare it often. Today, I am going to share a simple savory version. Traditionally surnali dosa is thicker than other South Indian dosas and is cooked only on one side. This dosa is similar to mushti dosa. A perfect surnali should have lot of holes on its surface. The addition of coconut and poha when grinding the batter makes this dosa extremely soft and airy. I generally prefer non-stick pan to cook my dosa, as I can make it oil free and thus more healthier.
This dosa can be served with green coconut chutney, hing chutney, vegetable stew, butter chicken, shrimp curry or any gravy of your choice. I have served it with a very simple onion gravy and will soon share the recipe for the same. You can also check different varieties of dosa / pancake recipes here.
And don't forget this delicious dosa / pancake can be prepared as a breakfast/dinner/snack item for your upcoming tailgating events or game nights or potluck or Easter, Thanksgiving, and Christmas holiday parties!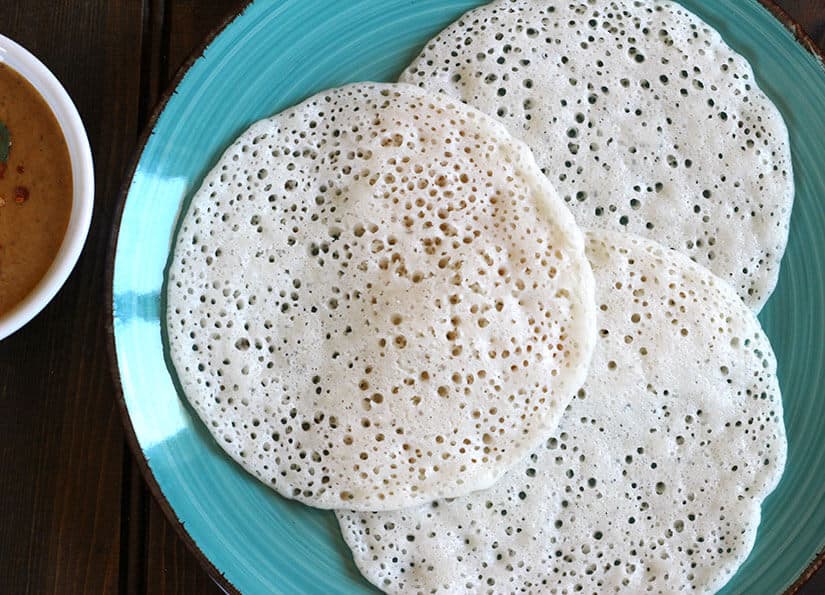 Preparation time : 20 minutes
Serves :  15 dosas
Fermentation time : Overnight
Ingredients for Surnali Dosa
Raw rice – 2 cups
Thick poha / Flattened rice flakes – 1 cup
Grated coconut (fresh / dried) – 1 cup
Salt – to taste
Steps to prepare Surnali Dosa
Step I
Wash and soak rice for 4 hours and drain them. (check the tip section below)
Wash the poha or beaten rice just before grinding the dosa batter.
Now grind together the soaked rice along with poha and grated coconut by adding water little by little to form a smooth batter.
Transfer this to a big bowl and allow it to ferment overnight.
Step II
Next morning, add salt to the batter and mix well.
Heat the non-stick tava / pan on medium heat. If you are using a cast iron tava then lightly grease with oil.
Once the tava is hot and on a medium flame, pour a laddle full of batter and allow it to spread by itself. Drizzle oil around the edges only if desired. You will see the holes appearing on the top surface.
Just cover it with a lid and cook for 2 minutes or until the dosa develops a light golden color at the bottom or until it is done.
Repeat the process for remaining batter.
Surnali Dosa is now ready. Serve hot with your favorite chutney or curry, and enjoy.
Tip:
I use long grain rice for all of my dosa recipes.
You can use dry or fresh grated coconut. I have used the dry coconut flakes.
Because you are adding poha, dosa may turn black soon if cooked in high flame.
If the weather is cold, then grind the batter using warm water or preheat the oven to 150 degree F, switch off the oven and rest the batter overnight.
As this is traditionally prepared as a thick dosa, do not spread the batter once you pour on a hot tava – like you would generally do with other dosas.
I have cooked this dosa on both non-stick and cast iron tavas. If the batter is prepared as instructed, these dosas are very easy to handle.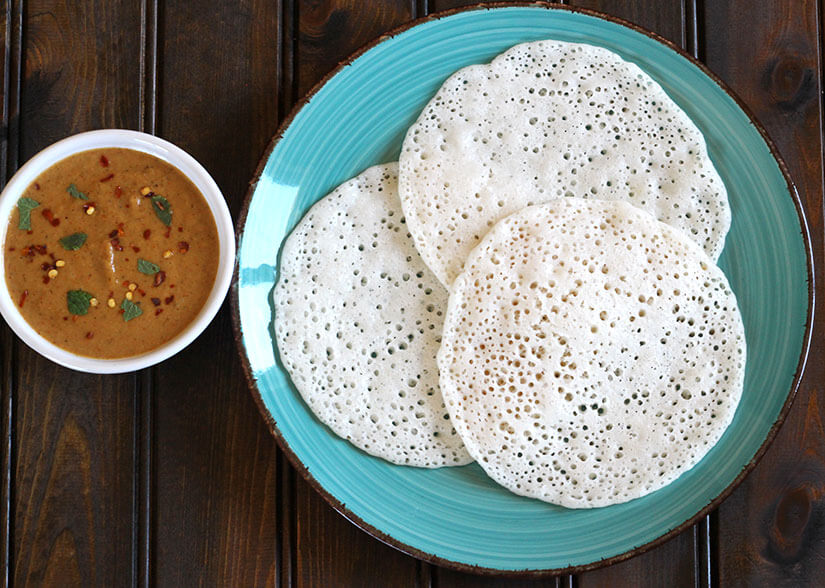 *Click below to save it on Pinterest*