Challah Bread is a soft and super delicious braided, Jewish bread prepared using egg, flour, butter and sugar. This bread is so tasty that it can be served alone without any butter or cheese. I have done a plain challah bread. You can always top it with sesame seeds, poppy seeds or chia seeds or even add raisins to the batter.
Blockbuster bread and one of the best bread baked so far was the compliment that I received after I served this bread 🙂 It truly was a blockbuster. If you love baking bread then don't miss to try out this bread recipe.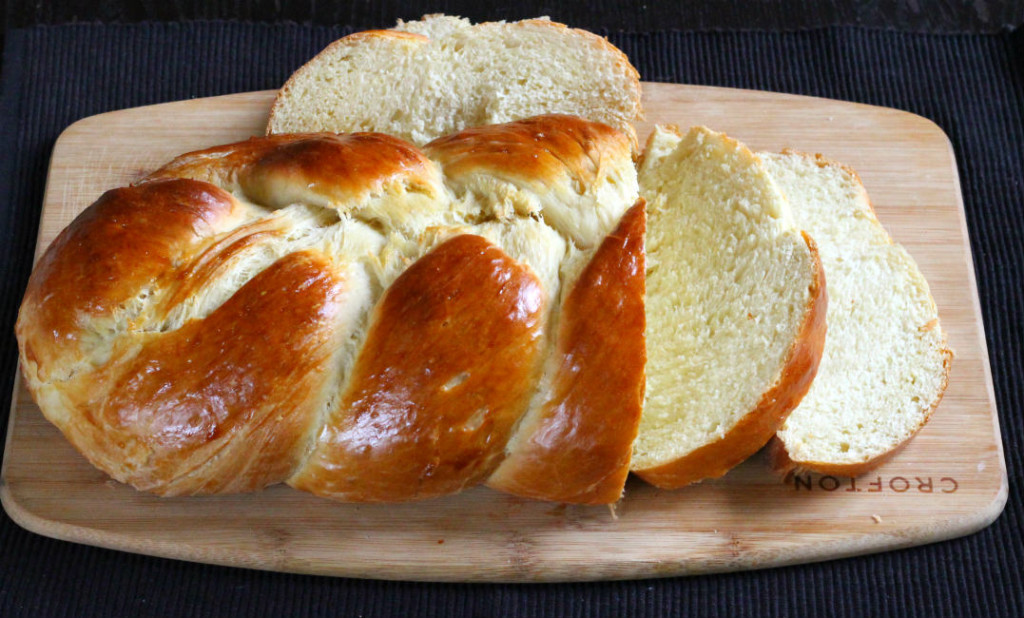 Preparation time : 4 hours
Serves : 1 challah loaf
Ingredients for Challah Bread
Active Dry Yeast - 1 packet ( ¼ oz)
Warm water - 1 cup
Egg - 2
All Purpose Flour - 4 cups
Sugar - ½ cup
Salt - 1 tsp
Melted and unsalted Butter - ½ cup ( 1 stick)
Egg white - 1
Steps to prepare Challah Bread
In a large bowl add lukewarm water, teaspoon of sugar and sprinkle a package of active dry yeast into it. Cover, and let the yeast activate. This will take approximately 10 minutes.
Add the eggs to this bowl and whisk it.
Add 3 cups of all purpose flour, sugar, salt, melted butter and mix using wooden spoon/ spatula. Now add the remaning 1 cup of flour and start mixing with your hands until you get smooth dough. Transfer the dough to the working surface and just knead for a minute so that its evenly mixed.
Grease the bowl with the butter. Transfer the dough onto this greased bowl. Cover it and keep it in warm place for about 2 hours or until it is doubled in size.
Dust the working surface. Divide the dough into 3 equal portions. Make 3 tubes/ropes and then braid them together. Pinch the ends.
Grease the baking pan with the butter. Transfer this braided dough onto it, cover it and keep it in warm place for 1 hour or until it is doubled.
Preheat the oven for 325 degree F.
In bowl add the egg white and 2 teaspoon of water and mix. Brush the risen dough using this egg white and bake for about 30 to 35 minutes till it is golden brown in color or until done. Let it cool for about 15 minutes.
Challah Bread is now ready. Serve and enjoy.