Sandwich Rolls are very easy to make, irresistible and vegan recipe with the crispy crust outside and chewy texture inside.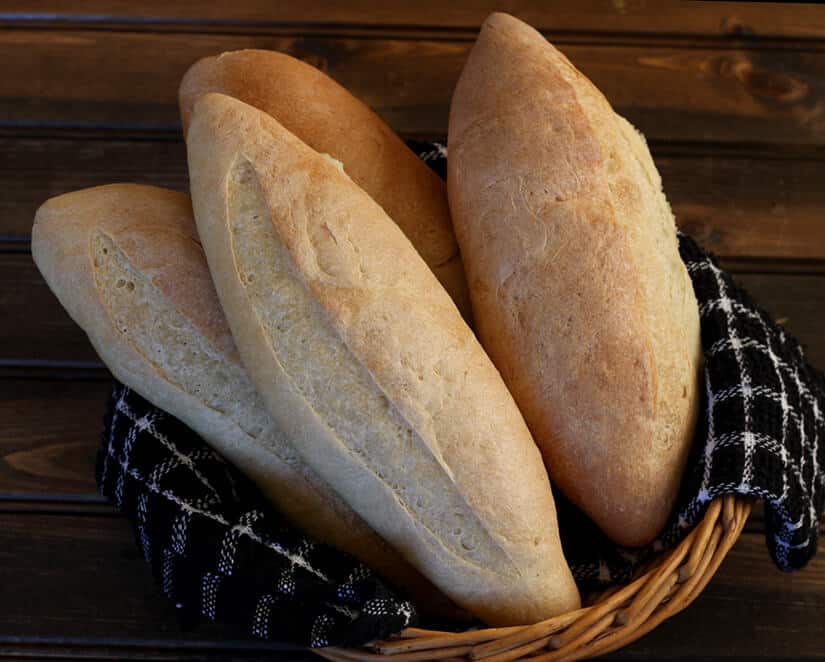 Making sandwich rolls at home is fun. One of the easiest recipe that I have tried so far. The best part is that you can make the rolls of desired shape and size.
This recipe requires very minimum and basic ingredients and once you bake these rolls at home you will never go for the store bought ones. These are in-fact healthier and tastier than any store bought bread.
Make sure you have all the ingredients for sandwich when you prepare this bread. Once this bread is ready, you cannot stop eating it and it may so happen (as was in my case) that you may have to repeat the entire process for sandwich again 🙂
Preparation time : 3 ½ hours to 4 hours
Serves : 4 sandwich rolls (or 10-inch subs)
Ingredients for Sandwich Rolls
Active dry yeast - 1 packet ( 2 ¼ tsp)
Sugar - 1 tsp
Warm water - 1 ½ cup
Salt - 1 ½ tsp
All purpose flour - 3 cups
Vegetable oil - to grease the bowl
Steps to prepare Sandwich Rolls
Step I
In a bowl add warm water and sugar and mix well. Now sprinkle the yeast.
Cover it and leave it undisturbed for 5 - 10 minutes. Let the yeast activate.
Step II
Add all purpose flour and salt. Now mix well to form a dough.
Dust the working surface. Transfer the dough and knead it for 6 - 8 minutes till you get a soft and smooth dough.
Transfer this dough to lightly oiled bowl. Cover it and keep it in a warm place for about 1 hour or until it is doubled in size. Time to rise would depend on temperature in your kitchen.
Step III
Transfer the risen dough to the working surface. Pat to form a thick rectangle and cut them into 4 equal portions.
Shape each portion into balls and cover it with the warm towel. Let it rest for 15 minutes.
Step IV
On a baking tray place the parchment paper or grease the tray with some oil and keep it ready.
Flatten each ball to form a 6 x 4 inch rectangle. Using the 6 inch side of the flattened dough roll from one end to the other to form a cylinder. Roll the dough from center - moving towards the ends, applying some extra pressure at the ends to get a pointed tip. (This is optional, if you do not apply extra pressure as you roll at the ends you will get long cylindrical subs, which is totally fine)
Transfer this to the baking tray and repeat the the process for the other 3 balls. Do not overcrowd the baking pan.
Cover it with a warm towel and let it rest for 1 hour or until it is doubled in size.
Step V
Preheat the oven to 400 degree F. Place bowl of water in oven safe bowl on the bottom rack. This is done to get good amount of moisture in the oven and nice crust to the rolls.
Using the sharp knife or blade, score one end of each roll and then spray each roll lightly with water.
Bake in the oven for about 20 - 25 minutes or until it is golden brown in color. Spray the rolls lightly with water half-way through the baking time.
Allow it to cool down for 15 minutes.
Sandwich Rolls are ready. Serve and enjoy.
Tip:
The amount of flour in the dough may vary depending on the weather conditions. However see that you do not add more flour than required as this may make your bread very dry and dense.
During winter, for warmer temperature preheat the oven to 150 degree F, switch it off, and then rest the dough in the oven.
If the dough becomes sticky while shaping the rolls, dust your palms with flour.
Shape the rolls to desired length and thickness.
I have made 4 sandwich rolls that was 9 - 10 inch long. Depending on the desired size of rolls, divide the dough accordingly.