French onion soup is a rich and classic soup prepared using melt in mouth caramelized onions and topped with cheesy and crunchy bread slices or croutons. This soup makes a hearty meal in itself.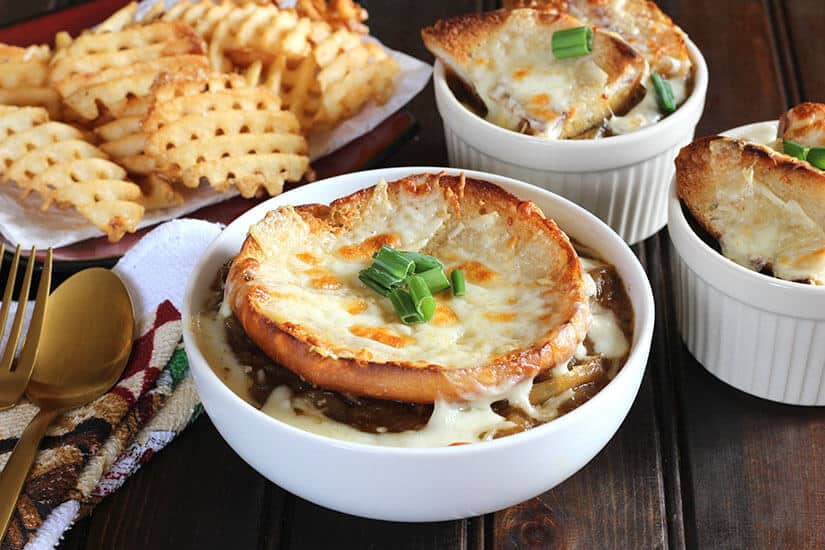 There is nothing more comforting than a hot bowl of soup on a chilly day. The weather is getting colder and days are getting shorter and this makes me hungrier. My appetite seems to change with season and I hope this is the same for all you. To compensate for frequent food intake, I try my best to eat and drink healthy. Specially during winter months soups come to my rescue. Most soup recipes are really easy to make, and when consumed leaves you full and satisfied for a long time. You can check out some of my favorite soup recipes here.
Today I wanted to make a thick and rich soup that is a complete meal in itself. French onion soup is one such recipe. I prepare this every year during Thanksgiving or Christmas but due to holiday rush I never got a chance to click pics all these years. This year I have made it ahead of time so that you all can try this along with me during the upcoming holiday season
This recipe calls for very basic ingredients. The key to success while preparing french onion soup is in the way onions are cooked. I saute onions on a medium to medium-low flame so that bold flavors develop and the onions perfectly caramelize to deep golden brown color. Every single minute spent in sauteing onions is completely worthwhile, and I suggest you do not rush while preparing this dish. This soup can also be a great accompaniment for upcoming tailgating events or game nights or potluck or Easter, Thanksgiving, and Christmas holiday parties! Do try this recipe and don't forget to let me know how it turned out.
Preparation time : 1 hour 15 minutes
Serves : 5 to 6
Ingredients for French Onion Soup
Vegetable oil – 2 tbsp
Butter – 1 tbsp
Garlic cloves chopped – 2
Big Onions – 1 kg (around 5 onions)
Spring onions / Scallions – 6 (1 bunch)
Salt -3/4 tsp
Vegetable stock – 4 cups
Black pepper powder – 1/4 tsp
Cayenne powder – 1/2 tsp
Bread slices – 3 or 4
Cheese of your choice – as needed
Steps to prepare French Onion Soup
Step I
Peel and slice the onions. Keep this aside.
In a large non-stick pan, add oil, butter, garlic cloves and saute for a minute.
To this add the onions, spring onion, salt. Cover it with the lid and cook it on medium flame for about 20 to 25 minutes stirring it occasionally so that nothing sticks to the bottom. Cooking the onions slowly is the key here. This is what will bring out the amazing sweetness of onions and intense flavor. So if you are in hurry, then this soup is not for you  The timing mainly depends on the size of your pan and the heat level.
Now open the lid and cook for another 10 minutes till the moisture evaporates and onions look golden and silky.
Step II
Add in vegetable stock, pepper powder, cayenne powder and bring it to boil on medium high heat and simmer for around 20 minutes till 4 cups of stock gets reduced to half.
You can vary the seasoning as per your taste now.
Step III
Preheat the oven to maximum or broil.
Toast the bread slices in a non-stick pan with some butter on both the sides.
Laddle soup into ramekins or oven safe serving bowl. Place one toasted bread slice on top of it and top it with cheese of your choice.
Broil it in preheated oven until the cheese bubbles and starts turning golden brown. This should take about 2-4 minutes.
French Onion Soup is now ready. Serve and enjoy.
For more recent updates, follow me on Pinterest, Facebook, Instagram, Twitter, GooglePlus. 
***Click below to save it on Pinterest***