Immaculate Biscuits with a Twist are delicious and easy to prepare savory biscuits that will surely impress your guests this holiday season. This recipe can be prepared in a matter of minutes with few basic ingredients, and can be served as a appetizer or as a side with your dinner or lunch entree.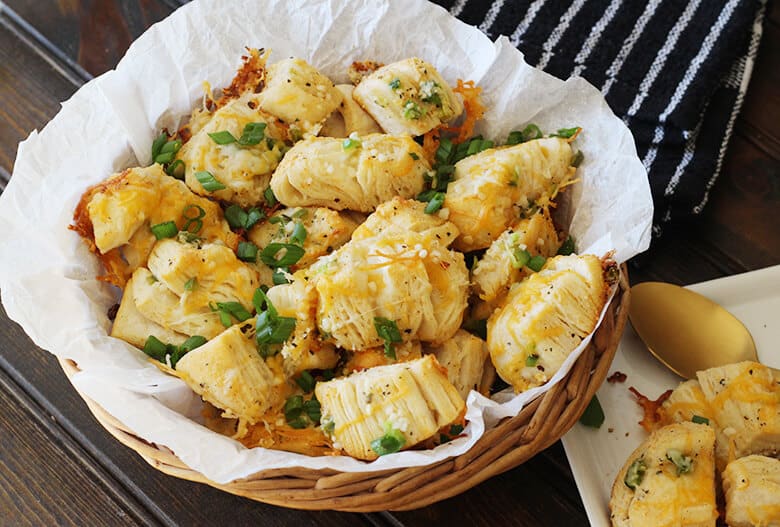 For this blog post I have partnered with Immaculate Baking Co. to prepare a savory recipe using their Organic Flaky Biscuits. This product can be found in the refrigerator section of your grocery store. The biscuits are organic, and when baked your home smells like a bakery. The biscuits are extremely flaky and light, and they taste fresh and flavorful. I have used several Immaculate Baking products in the past and vouch for their quality. Check out my Chocolate Almond Upside Down Cake here! They have a wide range of baking products, some of which are organic and/or gluten-free, and you can check their availability at your grocery store using the product locator option on their website. Also, click here for $1 off any Immaculate Baking product!
In this recipe, I add a simple twist by coating the biscuits with seasoned parmesan cheese, and then topping with butter, garlic, jalapenos and melting cheese. Including baking time, they are ready for serving in less than 30 mins. The biscuits can be served as an appetizer or as a side with an entree. As we were having some guests over for game night this weekend, I served these biscuits as an appetizer with drinks. I had to prepare an additional batch, as the first batch got over in no time. I would highly recommend to bring some extra quantities of this product, as it is definitely going to be a crowd favorite and will come back for seconf helpings. Also, the best part is, you can prepare these biscuits in advance and they will stay fresh for a long time – which makes it a must have item on your dinner table this holiday season. Do give this product and recipe a try, and let me know how it turned out.
Preparation time : 24 minutes
Serves: 6- 8

Ingredients for Immaculate Biscuits with a twist
Immaculate Baking Organic Flaky Biscuits – 1 box
Butter – 3 Tbsp
Jalapenos – 1 (finely chopped)
Minced Garlic – 1tbsp
Grated parmesan – 1/2 cup
Red chilli or Cayenne powder – 1/4 tsp
Basil powder – 1/2 tsp
Grated cheese – 1/2 cup
Green onion – 2 (finely chopped)
Steps to prepare Immaculate Biscuits with a twist
Heat oven to 350 F. Line two large pans or pizza sheets with parchment paper.
Following package instructions, remove the biscuits from the container. Divide each biscuit into quarters.
In a large bowl, mix grated parmesan, basil powder, cayenne powder, and salt. Add biscuits to this bowl, and coat them in the seasoned parmesan mix, and then transfer the biscuits to the parchment lined baking sheet.
Melt butter in a skillet on medium heat. Once the butter is melted, remove the skillet from heat and add minced garlic and finely chopped jalapenos, and keep it aside.
Spoon over flavored butter onto each biscuit. Then top each biscuit with grated cheese (mozarella or colby jack or a blend of melting cheese) and bake them in a preheated 350 F oven for 18 mins or until the cheese has melted and the biscuits have turned light golden brown.
Transfer the biscuits to a serving bowl, and garnish it with chopped green onions. Immaculate Biscuits with a twist are now ready. Serve them warm, and enjoy!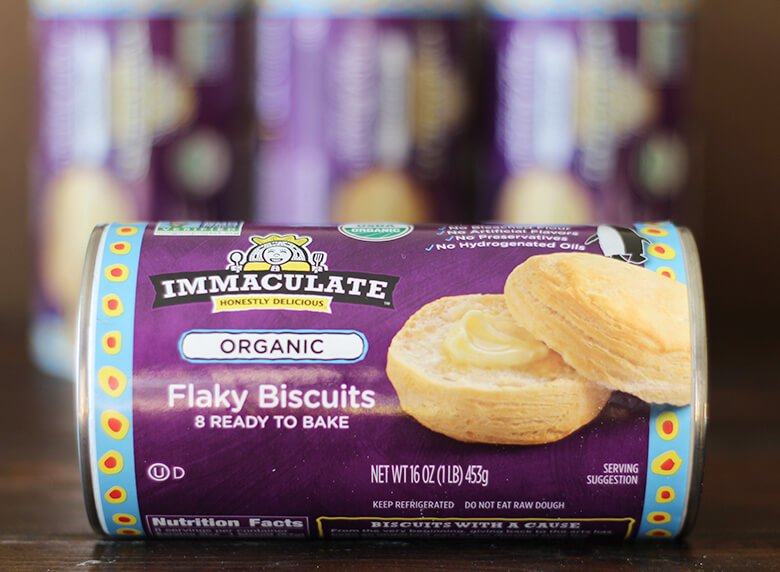 To see the quick steps on how to make these delicious Immaculate Biscuits with a twist, check the video below:

For more recent updates, follow me on Pinterest, Facebook, Instagram, Twitter, GooglePlus. 
***Click below to save it on Pinterest***