Chocolate Almond Upside Down Cake is super soft and moist, delicious melt in mouth cake with caramelized topping in every single bite making it a perfect treat for this holiday season.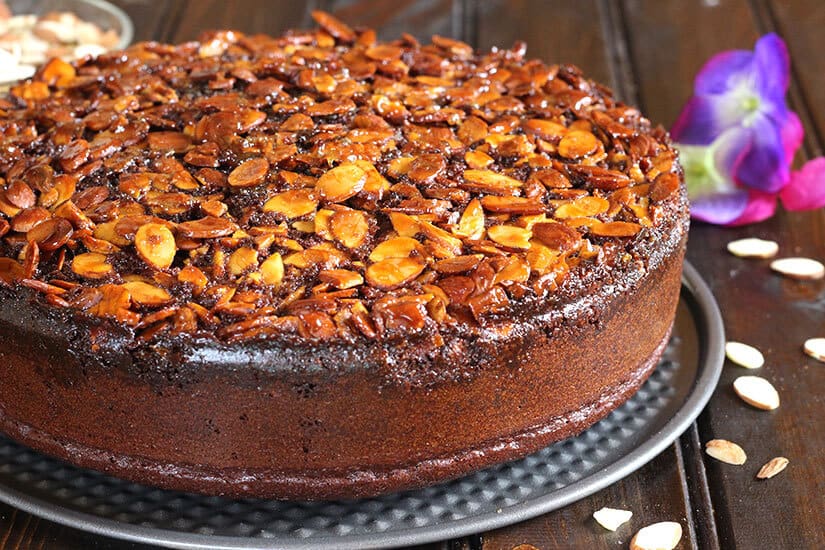 Today I have partnered with Immaculate Baking Company to prepare this gorgeous cake using their Chocolate Cake Scratch Baking Mix.
I love to prepare cakes from scratch but sometimes I am too busy and tired to prepare everything and I always look out for shortcuts to satisfy my sweet tooth. These boxed cake mix are the best and comes to my rescue every single time. Immaculate offers everything that I want in its box mix. Holiday season is also here, and entertaining guests can become stressful at times. I am sure, in preparation for the upcoming holidays, most of you have already started planning your menus and chalked out shopping strategies so that on the big day you get to spend more quality time with your family and friends, and less time in the kitchen. You do not have to worry anymore. The products from Immaculate Baking Company will make preparing delicious goodies this holiday season a breeze, and make your Thanksgiving stress-free.
The Immaculate Baking Co products are easy to find either in baking aisles, freezer sections, or organic & gluten free aisles at most local stores. I always stock-up some of their products in my pantry, and I find them easily at Kroger Payless, Target, Walmart, and local co-op Farmers Market. In addition to the cake mix, I have also tried few other products from Immaculate Baking Co and are shown below in the picture. I love all of them.

Most of my readers already know that I love spending time with kids - and on most evenings, ofcourse weather permitting, kids and their parents have fun in our pool or backyard. Last Monday (Halloween) was actually my friend's birthday who turned 8 years old. I was so busy that I forgot it was her birthday and only when she invited me for her party I knew what I was missing. I felt bad for not wishing her that morning and to compensate and impress her I decided to prepare something using chocolate because she is a chocolate lover, and I believe everyone is. But I did not have much time to prepare a cake from scratch and that is when this cake box came to my rescue. I did not think twice and prepared a cake using this box mix and just wrote her name on it.
The cake was not only loved by all, but many of our neighbors who were also attending the party requested me to bake the same cake for upcoming Thanksgiving dinner get-together. Thanks to Immaculate Baking Co for making my life easier.Their products are so easy to use that along with the cake, I have decided to bake some cinnamon rolls and gluten free cookies using their box mix for Thanksgiving party.

Don't miss to check out their website for other super creative recipes. You can check product availability at nearby stores using their product locator. Also do not forget to download your $1 coupon before heading to the store. Grab a box right away and impress your family and friends 🙂
The cake recipe below is a no fail recipe. I haven't changed anything and I've simply followed the exact instructions given in the box. The cake is super moist and flavorful. To enhance and take it to the next level I have used almonds to prepare an upside down cake. You can again substitute almonds with pecans or pistachios. Also if you do not want an upside down cake, simply prepare cake as per instructions and pour chocolate ganache on top of it or you can even serve the cake as is along with a scoop of ice-cream and impress your guests.
Preparation time : 1 hour
Serves : one 9 inch cake
Ingredients for Chocolate Almond Upside Down Cake
For Almond topping
Butter melted - 5 tbsp
Brown Sugar - ⅔ cup
Honey - 3 tbsp
Sliced Almonds - 1 ⅓ cup
For Cake
Immaculate Chocolate Cake Scratch Baking Mix - 1 box
Butter melted - ¾ cup (or 1 ½ sticks)
Whole Milk - 1 ¼ cup
Eggs - 4
A quick video showing some of the steps:
Steps to prepare Chocolate Almond Upside Down Cake
Step I (For the topping)
Preheat the oven to 350 degree F.
Take a greased 9 inch cake pan. To this pan add melted butter, brown sugar, honey, and mix well. Spread sliced almonds and gently press into the sugar mixture.
Step II (For the cake)
In a large mixing bowl whisk together melted butter, milk, eggs until well combined.
Add the cake mix and whisk gently until the cake mix gets incorporated with the liquid ingredients.
Then whisk on medium speed for about 2 minutes. Transfer the cake batter to pan pan - thereby covering all the almonds.
Step III
Bake in a preheated oven for 45-55 minutes or until a cake tester comes out clean.
Remove the pan from oven, run a knife through the edges to loosen the cake slightly and then immediately flip over a serving platter.
Gently tap the pan and platter together on the kitchen working surface couple of times, and carefully remove the cake pan. Let the cake cool for about 30 minutes even before you slice.
Chocolate Almond Upside Down Cake is now ready. Serve along with scoop of ice cream if desired and enjoy.
Tip:
I have melted the unsalted butter in microwave for approx 15 to 30 seconds.
For more recent updates, follow me on Pinterest, Facebook, Instagram, Twitter, GooglePlus. 
***Click below to save it on Pinterest***