Appam is a very soft and delicious, popular South Indian dosa / pancake recipe prepared using rice and coconut.
This dish is vegan, gluten free, healthy and very easy to make. It is very soft, fluffy at the center. This tastes the best when served with vegetable korma, vegetable stew, coconut milk.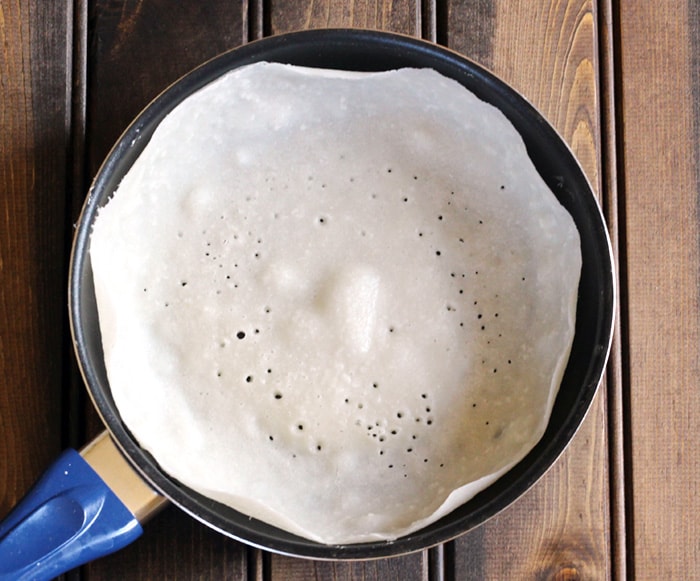 Today I have served this with vegetable stew I will soon post the recipe for the same !
Preparation time : 30 minutes
Soak and fermentation time : 5 hours + overnight
Serves : 2
Ingredients for Appam
Rice - 2 cup
Grated coconut - 1 cup (fresh)
Sugar - 2 tsp
Active dry yeast -  1 tsp
Salt - to taste
Warm water - to prepare the batter
Vegetable Oil / Coconut oil - for cooking dosa
Steps to prepare Appam
Step I
Wash and soak the rice for 4 - 5 hours and then drain them.
Grind the soaked rice along with grated coconut, sugar and little warm water to form a fine, smooth paste.
Step II
In a pan add very little warm water, dry yeast and mix well.
Now add the ground paste (batter) to this yeast mixture and allow it to ferment overnight.
Step III
Once its fermented, next morning add the salt to batter and mix well.
Heat the appam tava / deep non-stick pan. Grease it with little oil.
Pour a laddle full of batter and rotate it in circular motion so that the edges are thin and the center is still thick. Cover this with lid.
Cook for about one minute till the middle thick part is cooked. Repeat the process for remaining batter.
Appam is now ready. Serve hot with vegetable stew or Vegetable Korma and enjoy.
Tip:
If you are using dry grated coconut then soak it in little water for 2 hours and grind it along with the rice in this recipe.
I do not have appam pan here and I have used a deep non-stick pan.