Baked Potato With Rice is an irresistible, flavorful and a delicious dish prepared using potatoes, rice, cheese and wheat flour. I had a craving for casserole-style cheesy potato dish, but I also wanted it to wholesome. My husband on the other hand wanted to have pulav or a biryani. So I decided to prepare a layered dish with flat bread or roti, flavored basmati rice, and cheesy potato topping. The outcome was a super hit. I hope you prepare it as well and let me know the outcome.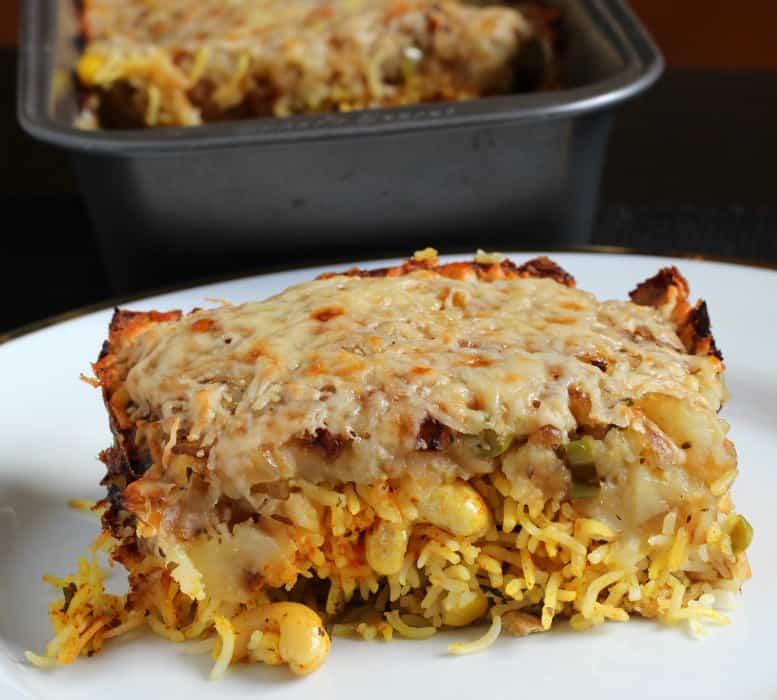 Preparation time : 1 hour
Serves : 3
Ingredients for Baked Potato With Rice
Potatoes - 3
Cumin seed - 1 tsp
Onion chopped  - 1
Garlic cloves  chopped - 3 to 5
Green chilies chopped - 2
Rice - ¾ cup
Cloves - 2
Cinnamon - 1 inch
Cashews - 4
Frozen green peas - ¼ cup
Frozen corn kernels - ¼ cup
Salt - to taste
Yogurt - 3 tbsp
Turmeric powder- ½ tsp
Red chile powder - 1 tsp
Butter - 1 teaspoon + ½ tbsp
Wheat flour - ½ cup
Parmesan cheese - ¼ cup
Steps to prepare Baked Potato With Rice
Step I
Heat teaspoon of butter in small pan on a medium heat. Add cumin seeds and the chopped onions and saute them until light brown in color.
Then add the chopped green chillies and finely chopped garlic cloves and saute for 2 mins.
Step II
Peel, and boil the potatoes until completely cooked. Alternatively, cut the potatoes into cubes and microwave for 5 minutes.
Mash the potatoes and add sauteed ingredients from Step I and mix well.
Step III
In another vessel bring water to a boil, add salt, cinnamon, cloves, and rice. Cook until the rice is 80 % done and drain. Add cashews, corn, green peas to it and mix well.
Step IV
In a small bowl add yogurt, pinch of salt, red chilli powder, turmeric powder and mix well.
Step V
Add wheat flour and salt to taste in bowl. Using hot water knead this to form soft dough like that of chapati. Roll it to the size of the pan that you will use to bake. This will form a base for the dish.
Step VI
Preheat the oven to 375 degree F.
Grease a loaf pan/ baking pan and place the base prepared in Step V. Spread the rice on top of the base. Then add the yogurt mixture from Step IV and spread the potato mixture evenly and top it with ½ tablespoon of butter.
Bake this for about 35 to 40 minutes. Add the parmesan cheese towards the last 10 minutes.
Broil for last 3 minutes till the cheese becomes golden brown or till you get the desired color for the cheese.
Baked Potato with Rice is now ready. Serve and enjoy
Tip:
I have used basmati rice. you can also use jasmine rice or any rice of your choice.
Vary the amount of green chilies as per your taste.