This post is for all bloggers who want to increase organic traffic to their blog. You will learn about google web stories and how to get more traffic to your blog.
Stories have become very popular these days across all social media platforms. Even before you start creating stories on any platform (Facebook, Instagram, Pinterest, and Google) I would like to share my experience on all of these as I have created stories on all these platforms.
If you are looking for just visual views for your content, create Facebook or Pinterest, or Instagram stories. I don't see any massive amount of traffic coming from these stories for your blog.
But if you really want to grow organically and increase traffic to your blog then Google Web Stories are the best.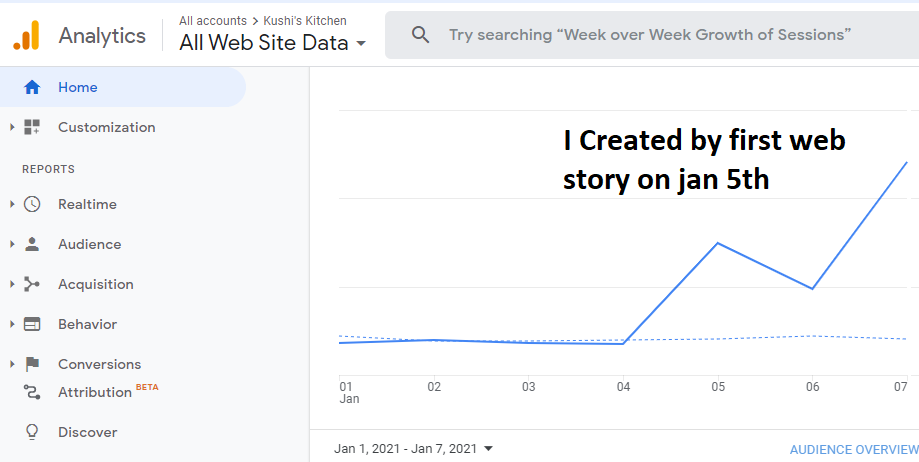 What are Google Web Stories?
Google Web Stories are rich, short visual format or slide show content like any other social media stories on mobile devices that lets you explore variety of content by swiping from one to another.
Google Web Stories have their own carousel in their platforms like Google Discover, Google Images and Google App. This opens a very big opportunity for publishers or bloggers like you and me to have the content created by us discovered through organic search traffic.
Sounds interesting right...
Additional plus points ...
Google has also released plugin on WordPress called Web Stories which helps publishers to easily create web stories in drag and drop style.
Another good feature is that, you don't have to worry about number of followers to activate swipe up feature like Instagram. You can freely link out story to your own blog content.
Excited to create your first story? Lets start.
How to build Google Web Stories in WordPress with WordPress plugin?
Google has released Web Story Plugin for WordPress publishers and all you have to do is to install it to create your web stories. It has one of the best drag and drop interface with templates to make your tasks even easier.
I followed the documentation given by Google - Web stories for WordPress - to create my first Google Web Story.
Once you create the story, the plugin lets you publish custom new web story. The web stories won't be visible on your blog's home page.
Are you curious to know where can you find your post and traffic for the same?
How do I get traffic to my web stories?
Once you have created web stories, they are available on their own page within WordPress and you don't have to embed in your blog post or share it on any social media. I would say don't even do it.
If you ask me why? I have an honest answer.
Web stories as of now don't monetize well like your blog posts. Also, if you embed them your page speed is definitely going to go down. So you don't want visitors to divert from your blog post to web stories.
Bring thousands of visitors to your stories from Google platforms (Discover, Images, or App), and then if the audience likes your content they will definitely click through the website link (CTA) wherever you have mentioned in the story. Definitely, your site is better optimized with ads from your Ad-Network. Create stories with amazing content == increase in traffic + money.
In short, short and sweet content is the king to win in Google Web Stories. I hope you guys agree.
Few tips out of many that I followed from Mediawine's recommendations for Google Web Stories SEO have also helped me increase my traffic and be successful.
Google Web Stories SEO
Create Web Stories for top posts first : I would love to stress this. Guys, this works.
I thought this wouldn't work but it actually did. I did by creating stories for my top and average working posts. The stories that showed sudden spike and increase in traffic were my popular posts.
Don't embed your web stories in your blog posts : This is only going to ruin your page speed.
Link to your web story Landing page : Create a separate landing page which links to all the stories you create. Even Google recommends this.
I have used default landing page that WordPress makes. You can check here https://www.cookwithkushi.com/web-stories/
Naming your web stories : One of the key elements to increase traffic is to optimize the page or story title. Make sure not to duplicate the title. If you creating a blog post for Pita Bread, then create a web story with atleast one different word - for example, Easy Pita Bread or Pita Bread Story.
Content still and will always remain king : How many slides do you have to create to make your web stories successful? 5 to 20 is what is recommended. Make sure that its brief, visual with images and videos.
Once you are creating story for top posts, start creating stories for new content.
Follow SEO advice : Make sure you specify alt texts to keywords for your media content included in the web stories. This is going to make a lot of difference in terms of ranking higher in Google.
Submit your Web Story XML sitemap to Google : If you are already running plugins like Yoast to generate XML sitemaps, you will have one for web stories too.
GOOGLE WEB STORIES TO GET MORE TRAFFIC TO YOUR BLOG | HOW TO GROW ORGANIC TRAFFIC TO YOUR BLOG
This post explains how to create Google Web Stories for WordPress. SEO and how to increase traffic and money to your blog.
Was this post helpful? Do you want me to post similar content or are your interested to know how I started my food blog for passion with zero traffic and how my blog grew and now earning very good money out of it?
Comment below and Pin image below to read later.