Pavlova is a meringue-based 5 ingredient cake dessert which is soft and light on the inside like a marshmallow, crunchy and crispy around the edges, and chewy on the top. This is then topped with fresh whipped cream and fresh seasonal fruits making it a total gluten-free dessert.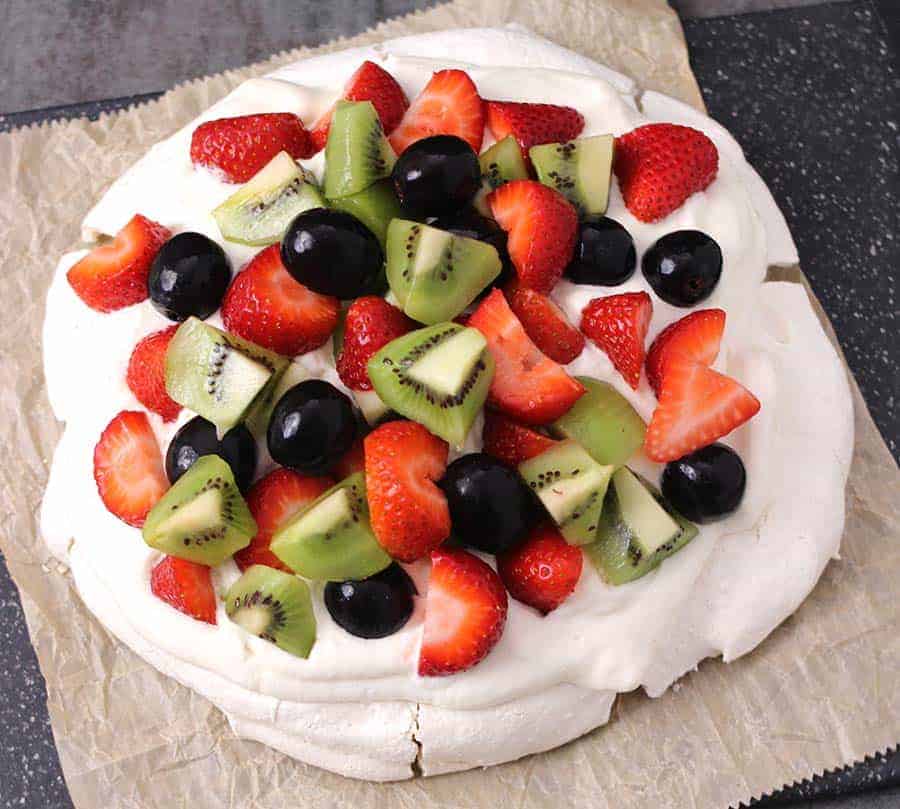 'pav' is named after Russian Ballerian Anna Pavlova and this is a very popular dessert from Australia and New Zealand. Pavlova is frequently served during special occasions, celebrations, and holiday meals or dinner.
For me, this is one of the best desserts to try summer time. A perfect warm-weather treat. Having said that you don't have to wait for summer to prepare this beautiful dessert. These are also perfect for the 4th of July, Easter, Thanksgiving, and Christmas holiday parties! Totally a perfect treat for any time of the year! This recipe is inspired by my favorite chef John.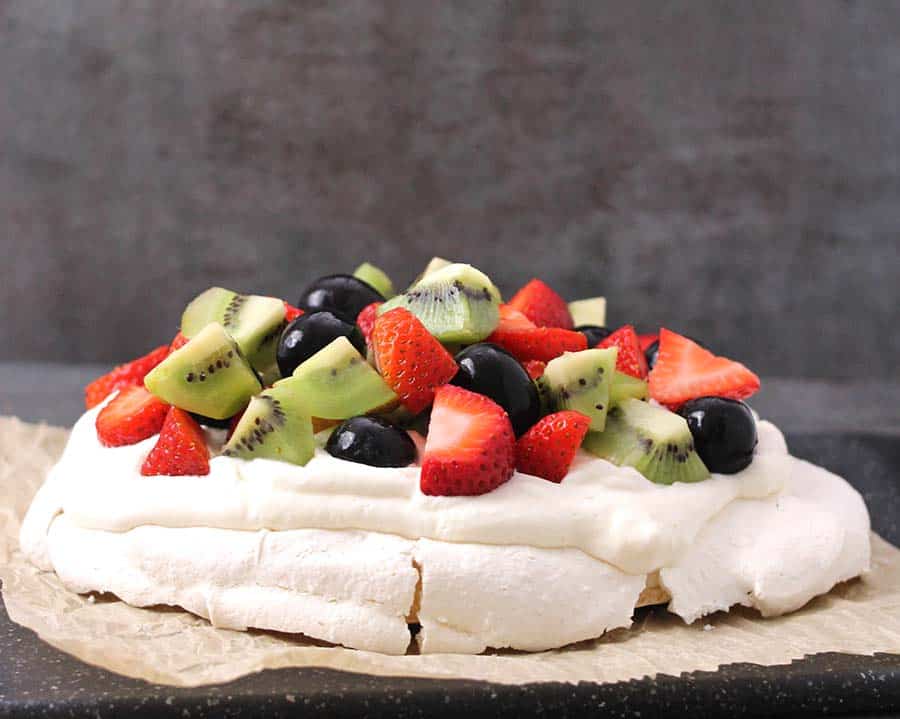 What are the ingredients used to make pavlova?
This dessert needs just 5 ingredients and I am sure you have all of them in your pantry.
Egg whites -  beaten to get stiff peaks. This is what will be the base for your gorgeous dessert. Make sure you do not get any yolk in the mixture. Else this is not going to work.
Sugar - not only does it gives the sweetness to the dessert, this is used to stabilize egg whites by holding them together while baking and also while it cools down.
Corn starch - This is what makes your pavlova fluffier and light at the center and crispier outside. So please do not skip this ingredient.
White vinegar or lemon juice or apple cider or cream of tartar- This is used to make your meringue sturdier. This not only improves the structure but also helps the meringue to whip up and aerate quickly.
Vanilla extract - For flavor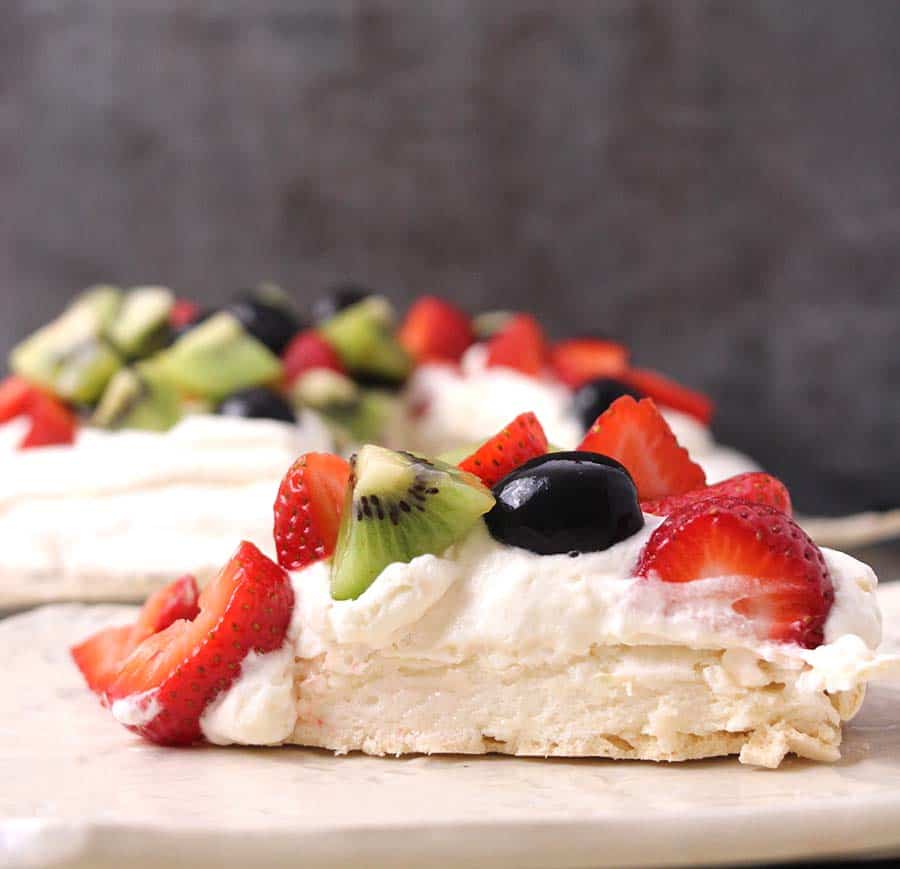 How to serve pavlova?
Pavlova is usually served with fresh whipped cream and fruits. Because the meringue is sweet, I like to compliment with tart fruits. Some of my favorite fruits include strawberries, blueberries, blackberries, raspberries, kiwi,  grapes, stone fruits such as peaches, plums, and nectarines, and mint for garnish if available. You can also serve with lemon curd, coconut cream, or fruit jam.
Can you make pavlova the day before?
You can make the meringue layer a couple of days ahead and wrap it loosely in plastic or airtight container until you are ready to serve if the weather is not humid.
The only thing to keep in mind is to assemble the dessert only when you are ready to serve. Meringues will dissolve if you do it soon.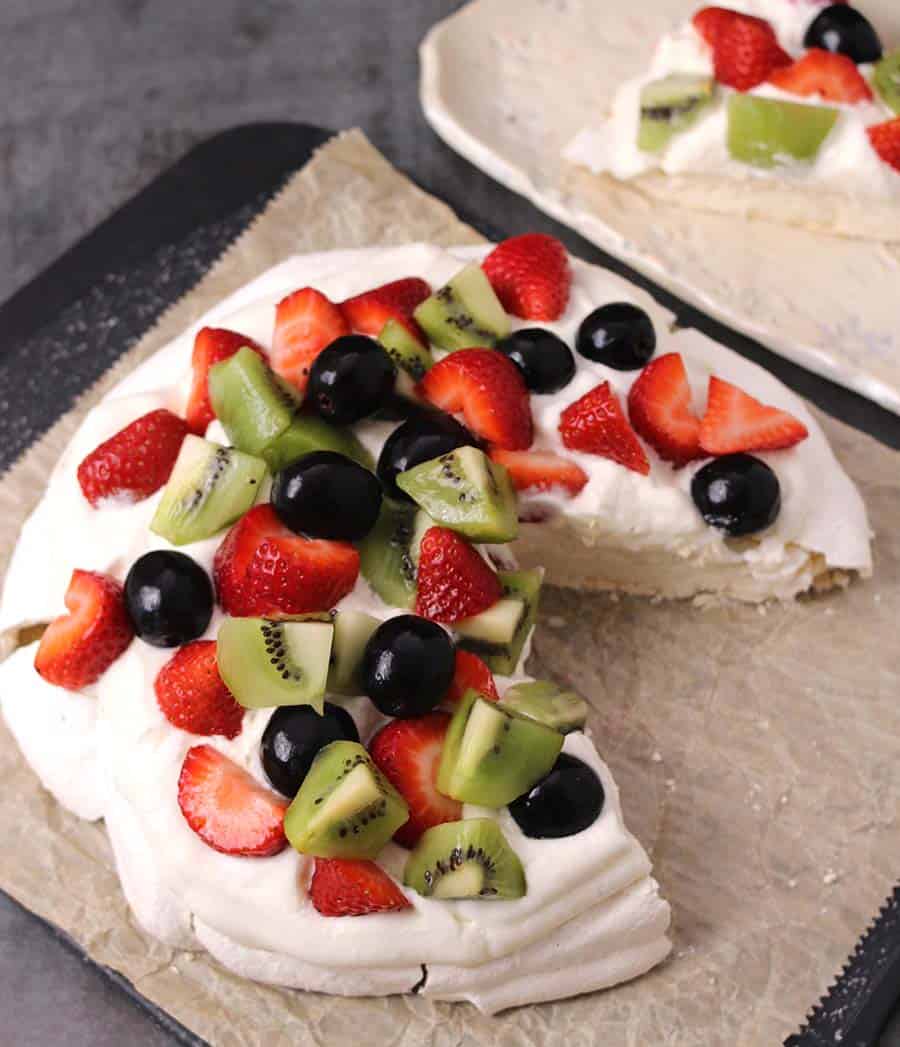 What does pavlova taste like?
This is a unique dessert where you experience three different textures with cream and fruits in every single bite. It is crispy at the edges chewy on the top and marshmallowy at the center.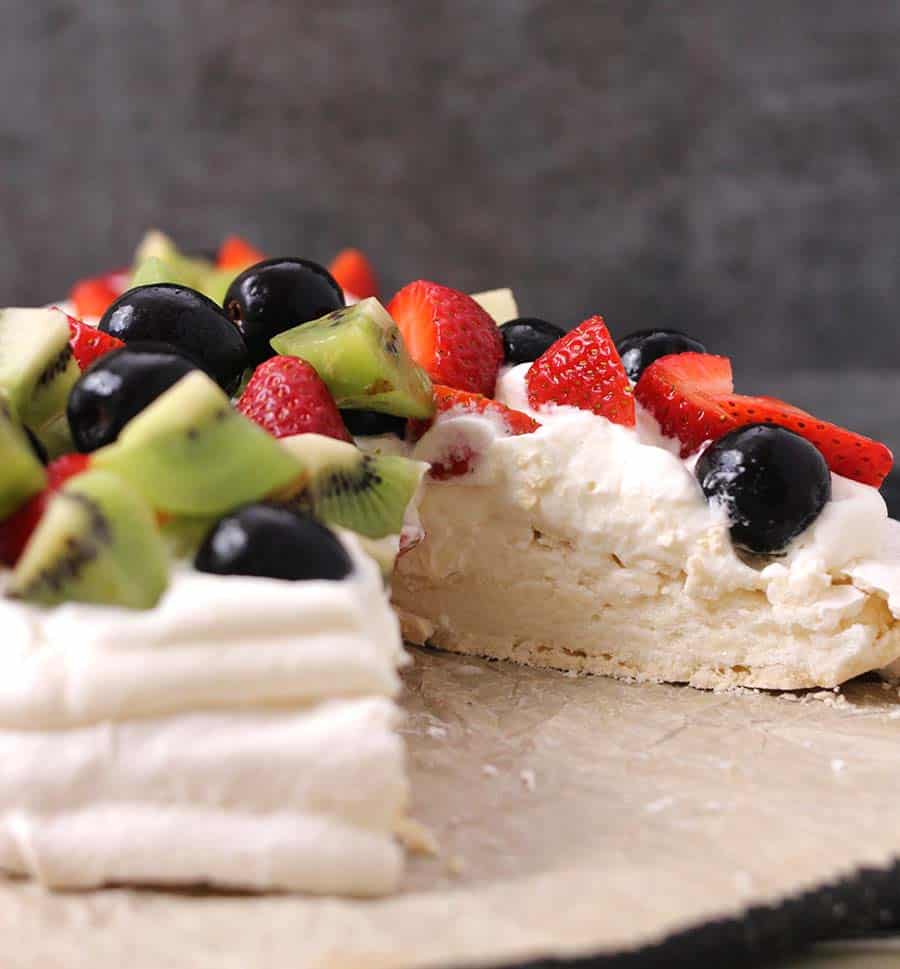 What is the difference between a meringue and a pavlova?
Meringue is a mixture of egg whites and sugar. Pavlova is a type of meringue with cornstarch (corn flour) added to the mixture to get the soft center like a marshmallow.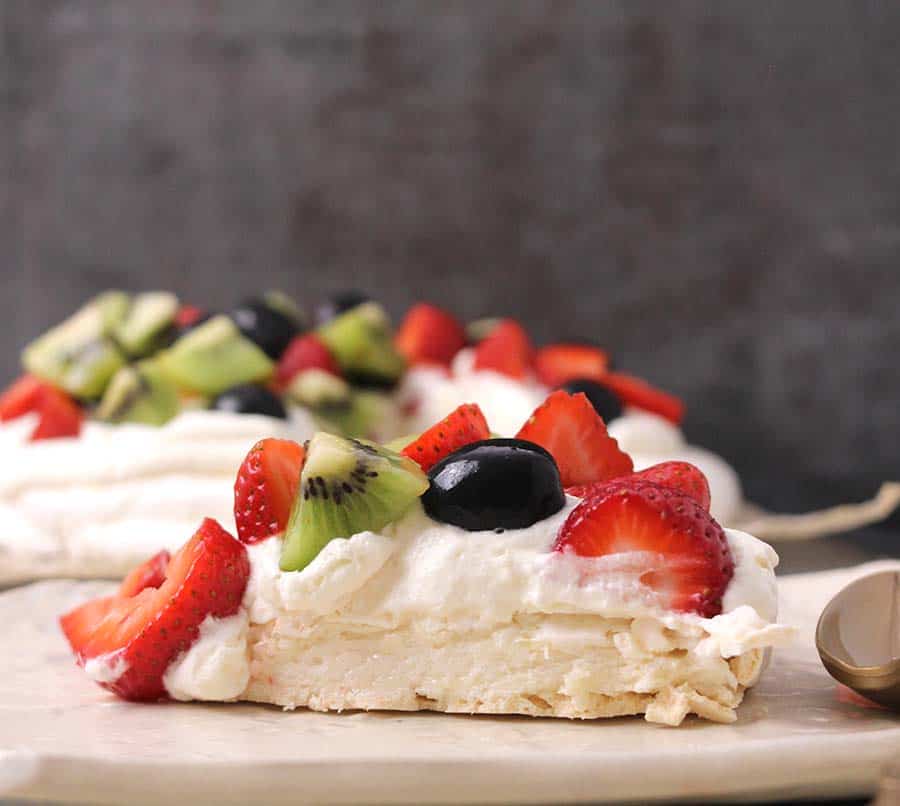 How do you store meringue or pavlova??
Leftover assembled pavlova can be refrigerated but because this dessert absorbs moisture, the crispiness will be lost.
If you have not yet assembled the base with cream and fruits,  you can leave it overnight in the oven or for a couple of days in an airtight container.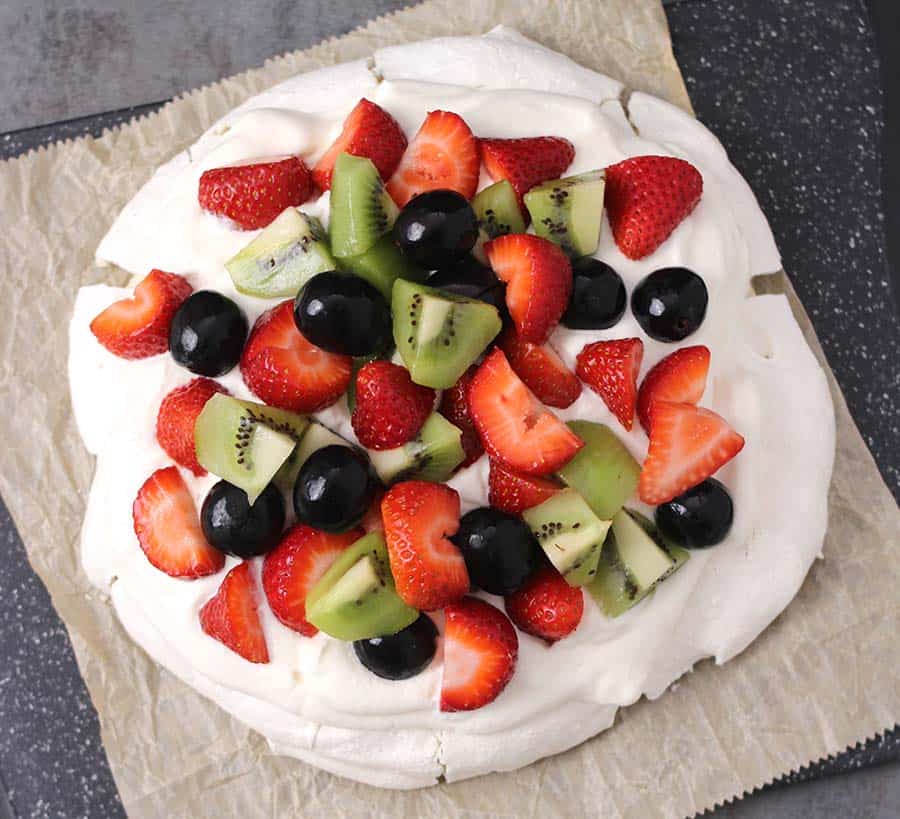 Follow me on Instagram and tag me with #cookwithkushi so that I get a chance to see all the recipes you make and give it a  ♥
Detailed recipe for Pavlova Cake or Pavlova Dessert
Recipe card
Pavlova Cake | Pavlova Dessert Using Fresh Fruits And Whipped Cream
Pavlova is a meringue-based 5 ingredient cake dessert which is soft and light on the inside like a marshmallow, crunchy crisp around the edges, and chewy on the top. This is then topped with fresh whipped cream and fresh fruits in season making it a total gluten free dessert.
Ingredients
For Pavlova
3

large

Egg whites

, room temperature

¾

cup

Sugar

2

teaspoon

Cornstarch

1

teaspoon

White vinegar

or apple cider

1

teaspoon

Vanilla extract
For Whipped cream
2

cups

Heavy whipping cream

4

tablespoon

Confectioners sugar

1

teaspoon

Vanilla extract
Fresh Fruits
8

Strawberries

chopped

3

Kiwi

10

Grapes
Instructions
Step 1
Preheat the oven to 250 degrees F. Line a baking sheet with parchment paper

In a bowl mix sugar and cornstarch, keep this aside.

¾ cup Sugar,

2 teaspoon Cornstarch

Beat egg whites in a large bowl until it is thick and foamy in texture. This may take about 2 to 3 minutes.
Step 2
Pour ¼ cup of sugar mixture (from Step 1) into egg whites and whisk until completely incorporated. This may take about 30 seconds.

Repeat this step for every addition of ¼ cup of sugar mixture, whisk every time until all the sugar mixture is incorporated and egg whites turns glossy and thick.

Add vinegar and vanilla extract to this mixture and continue whisking till you are able to lift your whisk or beater straight up and egg whites for sharp peak and hold its shape. This may take another 3 minutes.

1 teaspoon White vinegar,

1 teaspoon Vanilla extract

Now spread out this mixture on parchment paper to 6 or 7 inch wide disc, and between 3-4 inches thick.

Bake in preheated oven for 1 hour. Turn the oven off. Let the pavlova cool for one hour with oven door half open.
Step 3
Whip cream, confectioners sugar and vanilla extract in bowl to form soft peaks.

2 cups Heavy whipping cream,

4 tablespoon Confectioners sugar,

1 teaspoon Vanilla extract

Transfer the pavlova to serving plate. Top it with whipped cream and fresh fruits of your choice.

8 Strawberries,

3 Kiwi,

10 Grapes

Pavlova Dessert is now ready. Serve and enjoy.
Notes
Lemon curd, greek yogurt, jams and jellies, coconut cream, etc., are good alternatives for whipped cream topping.
Nutrition
Calories:
329
kcal
Carbohydrates:
32
g
Protein:
4
g
Fat:
22
g
Saturated Fat:
14
g
Polyunsaturated Fat:
1
g
Monounsaturated Fat:
5
g
Cholesterol:
67
mg
Sodium:
39
mg
Potassium:
177
mg
Fiber:
1
g
Sugar:
29
g
Vitamin A:
910
IU
Vitamin C:
33
mg
Calcium:
55
mg
Iron:
0.2
mg
For more recent updates, follow me on Pinterest, Instagram,Twitter.
***Click below to save it on Pinterest***