Rice Pulao or Pilaf is a delicious and flavorful vegan recipe prepared using vegetables of your choice and aromatic spices.

I love pulao since childhood and whenever I have tried it at different places the preparation and the taste was completely different. Only thing that was common was the whole garam masalas that were added in the recipe. Based off these experiences I have recreated many of these pulav versions at home. Here I am presenting a recipe that is simple to prepare and tastes absolutely delicious.
Traditionally the rice is cooked along with a masala. But for this recipe I have cooked the rice separately and then tossed it with the masala. This allows you to make use of any left over rice for preparing pulav. Add any vegetables of your choice. I generally add those available in my pantry.
I recommend you to add whole garam masala in the recipe. But see that you do not add too much, as this may give a strong flavor. This recipe is so tasty that it can be served alone and you will not need any raita or side dish.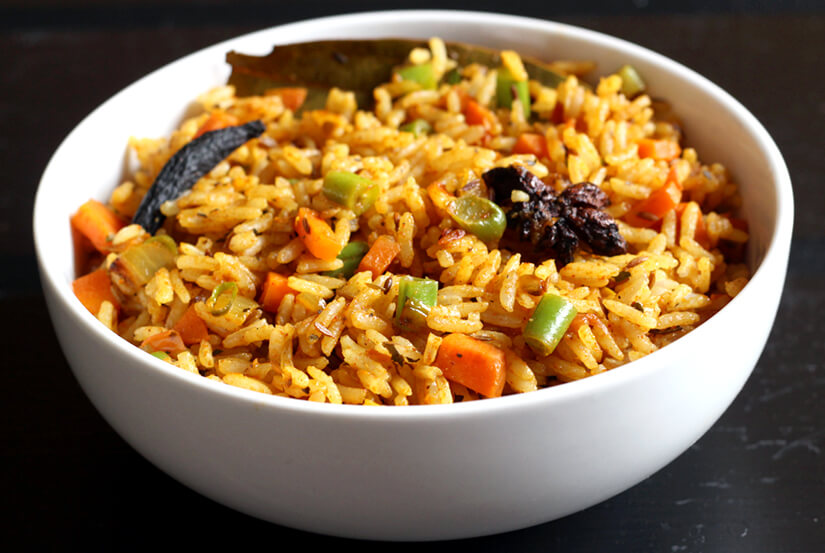 Preparation time : 30 minutes
Serves : 2
Ingredients for Rice Pulao
Rice - 1 cup
Onion chopped - 1
Ginger grated - 1
Garlic chopped - 3
Green chilies chopped - 1
Tomato chopped - 1
Carrot chopped - 1
Green Beans chopped - 6
Garam masala powder - ½ tsp
Kitchen king masala - ½ tsp
Red chile powder - ½ tsp
Salt - to taste
Dried mint leaves - ½ tsp
Asafoetida - ⅛ tsp
Turmeric powder - ¼ tsp
Bay leaf - 1
Cumin seeds - 1 tsp
Cardamom seeds - 2
Cloves - 1
Star anise - 1 (optional)
Marati moggu - 1 (optional)
Mace - 1 (optional)
Cashews - 1 tbsp
Vegetable oil - 1 tbsp
Steps to prepare Rice Pulao
Step I
Wash and cook the rice according to package instructions.
I have used jasmine rice. For 1 cup of rice, add 1 ½ cup of water, bring it to boil and simmer it for 10 minutes. Add salt and drizzle oil while cooking the rice.
If you are using left over rice, then ignore step I
Step II
Heat oil in a non-stick pan. Add bay leaf, cumin seeds, cardamom seeds, cloves, star anise, marati moggu, mace and saute for 30 seconds.
Now add the cashews, onion, garlic, ginger, green chillies and saute till they become translucent. Add pinch of salt while sauteing the onion as this makes it cook faster.
Step III
Add turmeric powder, asafoetida and tomato and saute till tomato becomes soft.
Add vegetables of your choice, salt, garam masala, kitchen king masala, red chilli powder, sprinkle some water and cook for 2 to 3 minutes.
Step IV
Add the cooked rice, dried mint leaves and toss till everything is well combined.
Rice Pulao / Pilaf is now ready. Serve hot and enjoy.