Baked Sweet Potato Fries is a healthy and irresistible, incredibly delicious accompaniment for any type of gathering. Its crispy, sweet, salty and spicy - all in one 🙂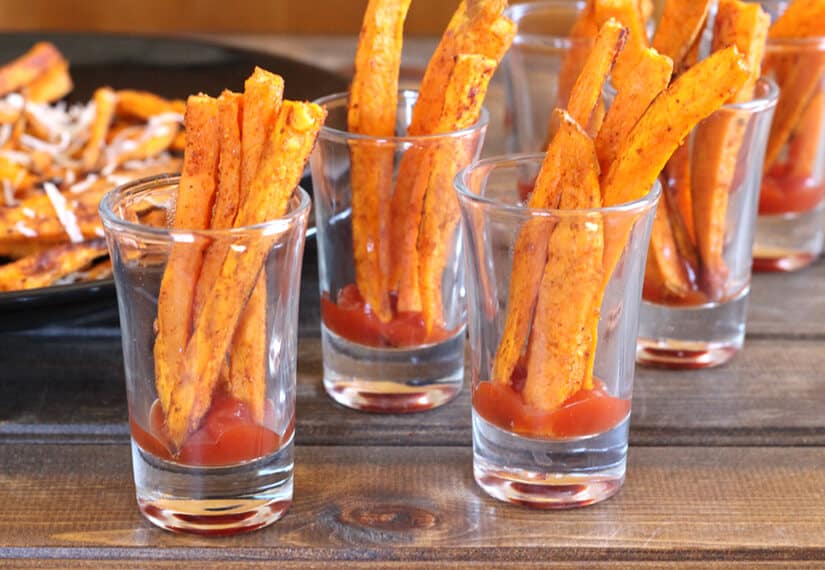 Sweet Potatoes are good source of nutrients (mainly vitamin A), fiber and also regulate blood sugar. They are also low in calorie and therefore a good alternative to french fries. So if you are on a diet or a weight watcher do try out guilt free recipe given below.
I have tried both fried and baked version. My family loves the baked version more. You will enjoy the natural sweetness of the potatoes in this baked version. I have topped few fries with parmesan reggiano and served the rest with tomato ketchup. You can add any seasonings of your choice.
Preparation time : 30 minutes
Serves : 5
Ingredients for Baked Sweet Potato Fries
Large Sweet Potato - 1
Olive oil / Vegetable oil - 2 tbsp
Cayenne powder / Red chile powder - to taste
Salt - to taste
Steps to prepare Baked Sweet Potato Fries
Preheat the oven to 450 degree F.
I have washed the sweet potato and not peeled it. (Its your choice to peel or not )
Cut them into 3 inches long and  ¼ inch wide slices.
Transfer it to a bowl and toss with olive oil or vegetable oil so that its coated.
Sprinkle salt and cayenne powder / red chile powder as per your taste.
Spread the sweet potatoes on a baking pan in one single layer. Do not overcrowd the pan.
Bake it for about 20 minutes until till they are crisp or till you obtain the desired color and crispiness. Turn them occasionally while baking.
Baked Sweet Potato Fries are now ready. Serve hot with tomato ketchup and enjoy. Garnish it with cheese if desired.
Tip:
You can also sprinkle any one of these : cajun seasoning, pepper powder, garlic salt, red pepper flakes if desired.