This post is sponsored by Barilla Brand but the content and opinion expressed here are my own.
Cheese Tortellini With Tuscan Herb Sauce is classic favorite prepared using Barilla's tuscan herb sauce, three cheese tortellini, onion and garlic as main ingredients.
This recipe is quick and easy to make, super delicious meal in hurry! The sauce was so tasty that I just had to add few ingredients along with the sauce. To retain the original taste of the sauce, I have kept the recipe very simple. This sauce is definitely worth try.
Preparation time : 25 minutes
Serves : 2
Ingredients for Cheese Tortellini With Tuscan Herb Sauce
Three cheese tortellini - 9 oz ( 225 g)
Tuscan herb sauce - 1 cup ( I have used Barilla's Tuscan Herb Sauce )
Olive oil - 1 tbsp
Butter - 1 tbsp
Cashews chopped - 1 tbsp
Onion chopped - 1
Garlic cloves chopped - 5
Ginger grated - 1 inch
Mushroom - 4 oz
Frozen green peas - ¼ cup
Frozen sweet corn - ¼ cup
Alfredo sauce / cream - ¼ cup
Pepper powder - ½ tsp
Red chile powder / Cayenne powder - 1 tsp
Dried basil leaves - ½ tsp
Parmesan grated - ¼ cup
Spring onions - for garnish
Salt - to taste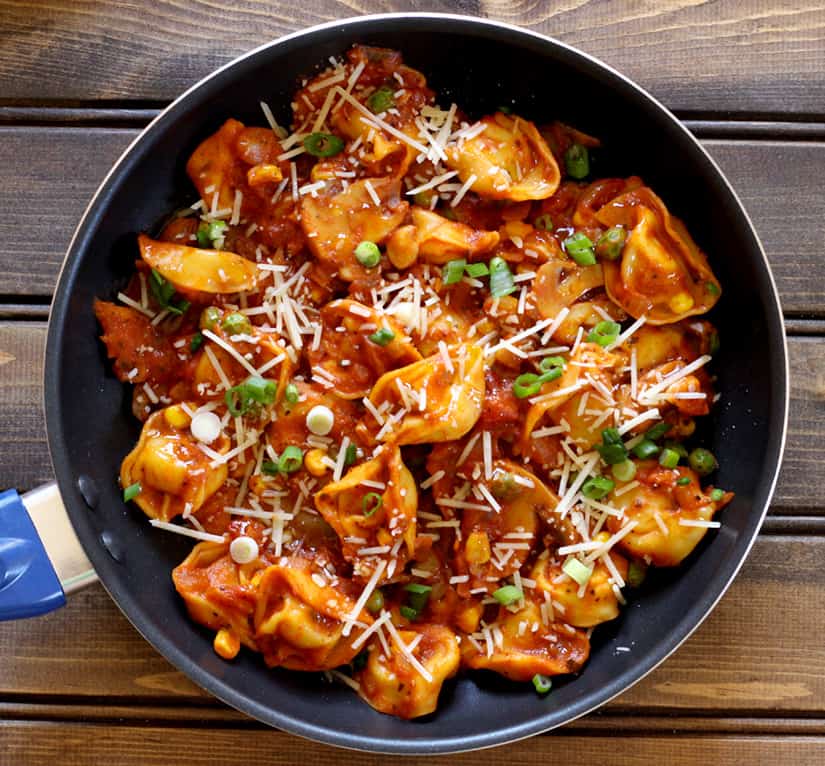 Steps to prepare Cheese Tortellini With Tuscan Herb Sauce
Step I
Cook the three cheese tortellini according to the package instructions. Drain them and keep it aside.
Step II
Meanwhile, heat oil and butter in non-stick pan. Add cashews and saute till it becomes light golden in color.
Add the onion, ginger and garlic cloves and saute for 6 - 8 minutes  on medium - high flame till it becomes golden brown.
Add the mushroom, green peas and sweet corn and saute for another one minute.
Step III
Add Tuscan Herb Sauce, alfredo sauce, pepper powder, red chile powder, dried basil leaves, mix well and bring it to to boil.
Add the cooked tortellini and toss till its well combined with the sauce.
Cheese Tortellini With Tuscan Herb Sauce is ready. Garnish it with Parmesan, spring onions and drizzle olive oil. Serve immediately and enjoy.
Tip:
Always taste the sauce before adding it to the recipe. Vary the amount as per your taste.
If you like to have to have the dish spicy, vary the amount of red chile powder.