Lemon Orzo is a quick, flavorful, delicious pasta recipe that can be served alone or as side with soup for lunch / dinner. I love the texture and aroma of this dish. Whenever we visit Walmart I make sure that I get packet of Orzo. This is also my family's favorite lunch box recipe.
Check basic orzo and tomato basil orzo recipe.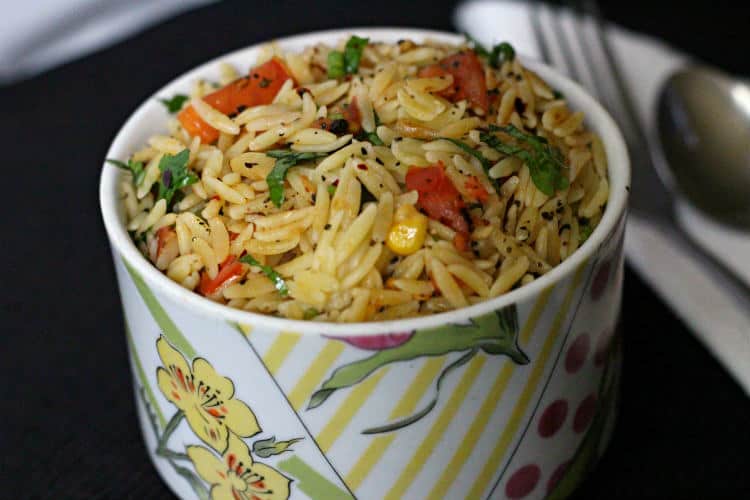 Preparation time : 20 minutes
Serves : 2
Ingredients for Lemon Orzo
Orzo -  1 cup
Olive oil - 1 tbsp
Red pepper flakes -  1 tsp
Garlic cloves chopped - 5
Lemon grass finely chopped - ½ to 1 tsp
Black pepper powder - ½ tsp
Frozen sweet corn - 1 /4 cup
Cilantro/Coriander leaves chopped - 1 tbsp
Tomato chopped - 1
Lemon Juice - 2 tsp
Dried Basil leaves -  1 tsp
Garlic Salt/ Regular Salt to taste
Steps to prepare Lemon Orzo
Cook the pasta according to package instructions and keep it aside.
Heat olive oil in non-stick pan. add the red pepper flakes, garlic cloves and lemon grass and saute till garlic becomes light in color.
Now add the tomato chopped,frozen sweet corn and black pepper powder and saute till tomato becomes soft.
Add the basil leaves, garlic salt, lemon juice, cilantro and mix well.
Finally add the cooked orzo and mix till everything is combined.
Lemon Orzo is now ready. Serve hot and enjoy.