Paneer Tikka Masala is a spicy, irresistible and incredibly delicious dish that is a classic accompaniment for breads like naan, roti or any variety of dosa.

Whenever I visit an Indian restaurant with my family, one paneer / cottage cheese item is ordered from the menu. It might be paneer tikka, paneer ghee roast, paneer butter masala or paneer makhanwala. And within the next few days, that item is replicated in my kitchen 🙂
In the recipe below paneer is marinated along with capsicum and onion and then grilled in an oven or on stove top. This is called paneer tikka. This is then added to the onion tomato gravy along with other spices and cream. There are two way in which you can make the onion tomato gravy. I have mentioned one in the steps and other one in the tip section.
Non-vegetarians can substitute paneer with your favorite meat or fish and vegetarian can even substitute it with tofu, babycorn, mushroom or potatoes.
You can check out my recipe on homemade paneer. You can also check out other delicious recipes like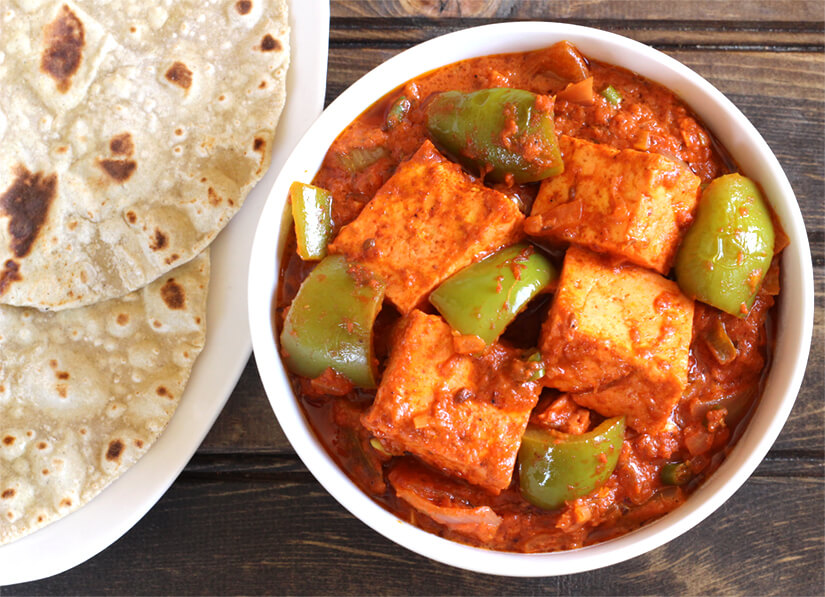 Preparation time : 1 hour
Serves : 3
Ingredients for Paneer Tikka Masala
For the Marination
Paneer cubes / Tofu cubes - 350 g
Onion chopped into cubes - 1
Capsicum chopped into cubes - 1
Yogurt - ¼ cup
Garlic finely chopped - 3
Ginger grated - 1 inch
Green chilies chopped - 1
Tandoori Masala - 2 tsp
Red chile powder - ½ tsp
Chaat masala - ½ tsp
Lemon juice - ½ tbsp
Turmeric powder - ¼ tsp
Salt - to taste
For the Masala
Cumin seeds - 1 tsp
Onion chopped - 1
Garlic cloves chopped - 2
Ginger grated - ½ inch
Green chilies chopped- 1
Tomatoes - 2
Turmeric powder - ¼ tsp
Red chile powder - ½ tsp
Garam masala Powder - ¼ tsp
Chaat masala - ¼ teaspoon (optional)
Coriander powder - ½ tsp (optional)
Cream - 2 tbsp
Dried kasuri methi - ½ tsp
Salt - to taste
Vegetable oil - 2 tbsp
Steps to prepare Paneer Tikka Masala
Step I (Marination)
Add all the ingredients mentioned in 'For the Marination' and mix well till the spices are combined except paneer, onion, capsicum
Now add the cubed paneer, onion, capsicum and toss so that it is well coated. You can also check homemade paneer.
Cover and keep it aside for 30 minutes (in a refrigerator).
Step II (For the Tikka)
Heat a non-stick pan and drizzle oil (about a tablespoon or as required). Add the marinated ingredients and cook it on a pan till it develops some color. ( I personally love this method as it is quick and easy)
Alternatively, paneer tikkas can also be prepared in an oven using skewers. This process will be little longer.
Step III (Masala)
Meanwhile you can heat oil in a pan. Add cumin seeds and saute for few seconds.
Add onion, green chilies, ginger, garlic, turmeric powder, pinch of salt and saute till onions become translucent.
Puree the tomatoes and add it along with red chile powder, garam masala powder, chaat masala, coriander powder and little water for desired consistency, salt and bring it to a nice boil till oil separates. (check alternate method in tip section or here - > Chole tikka masala )
Add the cream, kasuri methi and again boil for 2 - 3 minutes or till you get desired consistency.
Finally add the sauteed paneer or paneer tikkas and mix.
Paneer Tikka Masala is now ready. Serve hot and enjoy.
Tip:
Alternatively, instead of making puree, you can also saute the tomatoes along with onions and then grind it to smooth paste like the one done in this dish Chole tikka masala
If you like it creamy, vary the amount of cream. You can also substitute cream with milk.
Vary the spices as per your taste.
For more recent updates, follow me on Pinterest, Facebook, Instagram, Twitter, GooglePlus.
***Click below to save it on Pinterest***