Prawns Curry is a very easy to make and a spicy mouth-watering dish that tastes the best when served with hot steamed rice.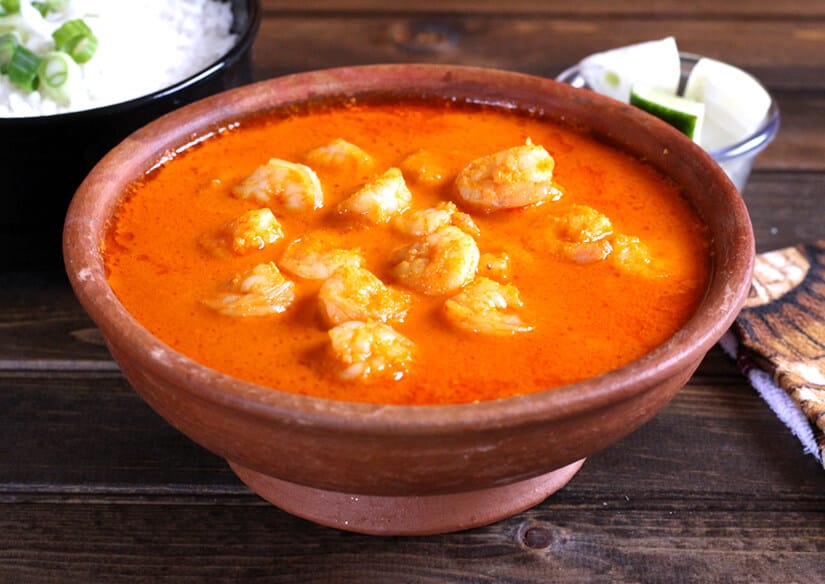 Prawns also known as shrimp is called sungata in konkani. This dish is called sungata hinga udda and is very popular in Mangalore and Udupi region. Hinga udda means asafoetida water. One of the best preparation and signature dish of konkanis.
The shrimp is cooked in red hot coconut gravy. The flavor of asafoetida or hing and coconut oil is highlight of this dish. Add enough asafoetida powder or hing water so that you can smell it in the dish. But be careful not to add excess of it as it may make your dish bitter.
This recipe is prepared using very basic ingredients. Substituting the ingredients will not give you the authentic taste. But if you are a vegetarian, then substitute only the fish with potatoes. Rest of the recipe remains the same. This dish will tastes the best the next day. So try to save some if possible 🙂
I love fish and this recipe along with phanna upkari and rava fry are my all time favorite. I will share the recipes for the same in my upcoming posts.
Follow the recipe below and I am sure this will be a frequent item in your kitchen.
Preparation time : 20 minutes
Serves : 2
Ingredients for Prawns Curry
Shrimp / Prawns - 20
Coconut grated - ¾ cup
Dried red chilies - 6 to 8
Asafoetida / Hing - ½ tsp
Cashews - 1 tbsp
Coconut oil - 1 tbsp
Salt - to taste
Steps to prepare Prawns Curry
Peel and devein the shrimp and wash them. If using frozen shrimp, follow the instructions given on your package.
Grind the coconut, dried red chilies and cashews with water to form a smooth paste.
Transfer this ground paste to a pan, add salt and adjust the water for desired consistency and bring it to a nice boil.
Now add the shrimp and cook it for 3 to 5 minutes depending on the size of the shrimp. Shrimps cook faster. Do not over cook the shrimp. When the shrimp is cooked it will turn orange in color and opaque in the center.
Finally add the asafoetida / hing powder or hing water and drizzle coconut oil. Switch off the flame. Cover the pan for 2 minutes.
Prawns curry is now ready. Serve hot and enjoy.
Tips:
You can use dry / fresh / frozen grated coconut. The gravy tastes the best when fresh coconut is used.
Vary the amount of dry red chilies as per your taste. If you want to make the dish spicier or if the dried chilies used was not spicy enough, then add red chile powder.
If the gravy is too thick, add water. I love the gravy to have medium thick consistency when serving with rice.