Puris For Chat are small, tasty and crispy puffed or flat snack used in all Indian chat recipes. They are irresistible so make sure you do it in plenty.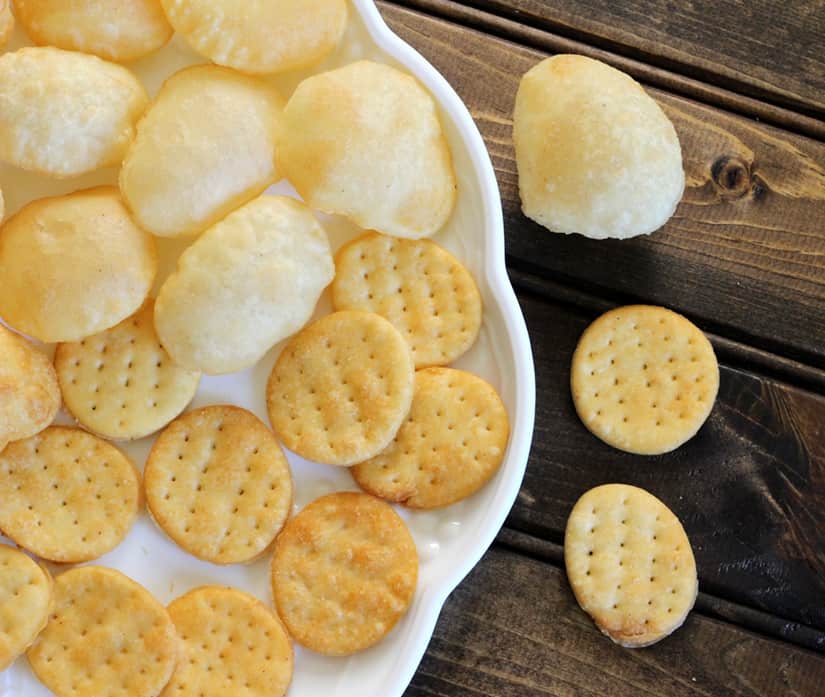 Home made puris are easy to make and tastier than store bought puris.  I have already posted the recipe for dates chutney and mint chutney. I will post my favorite chat recipes soon. Do try out preparing it from scratch and I am sure you are going to love this.
Preparation time : 45 minutes
Serves : around 30 to 40 (depending on size of puris)
Ingredients for Puris For Chat
Sooji / Semolina - ½ cup
All purpose flour / Maida - 1 tbsp
Baking powder - ⅛ tsp
Water - approx ¼ cup
Salt - to taste (pinch)
Oil - 1 teaspoon + for frying the puris
Steps to prepare Puris For Chat
In a small bowl add sooji, baking powder, all purpose flour, salt and hot oil and mix thoroughly so that all the flour gets the oil.
Now add water as required little by little and knead till you get a smooth and firm dough. ( Add warm water for kneading.).
Cover the dough and keep it in warm place for about 30 minutes.
Heat oil for frying. See that atleast 40 % of pan is covered with oil.
Divide the dough into 2 or 3 portions.
Roll each portion into very thin sheet. Using cookie cutter or any bottle cap, cut them into round/oval shapes.
For flat puris  : Once you cut them into round shapes, use a fork and pierce holes. By doing this, the puris will not get puffed.
Deep fry them till they are crisp and golden on both the sides. Transfer it to paper towel to absorb any excess oil.
Puris are now ready. Use it in your favorite chat recipes and enjoy.
Tip:
Once the oil is hot, fry the puris in medium flame. Do not over crowd the pan. To check if the oil is hot, add small piece of dough and see if it sizzles.
Fry flat puris and regular puris separately.
Number of puris you get from the dough depends on size and how thick / thin you roll the dough.
The amount of water required to knead depends on weather conditions.