Spicy Butter Biscuits are eggless, buttery and melt in mouth bakery style biscuits. These biscuits can be served alone or along with a cup of coffee or tea. They are also great accompaniments for soups or with a bowl of salad.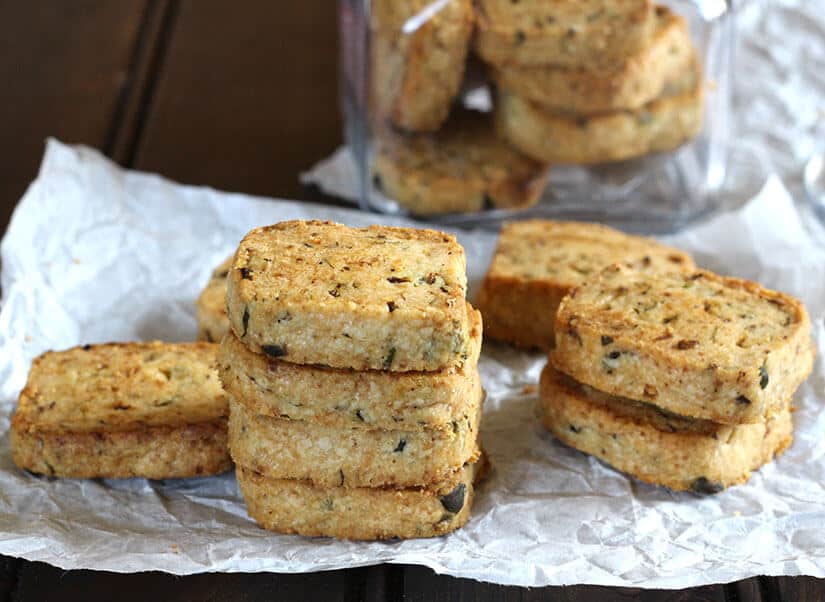 Indian bakeries are famous for variety of fresh biscuits that they serve. They come in different flavors, colors and textures. They are neatly stacked in several large glass jars, as a result of which most bakeries have the same characteristic look. Bakeries sell these biscuits piece wise or in terms of weight (lbs or kg), and given their popularity they get over in no time. I am sometimes pleasantly amazed on how these bakeries survive the competition from big market brands. I know several bakeries in Bangalore that prepare multiple batches of fresh biscuits everyday, and I am sure it is the case in several other cities and town across India. To appeal to the young IT crowd in cities like Bangalore small vendors within and outside sprawling campuses selling these biscuits with cup of tea or coffee is a common sight these days.
I remembered these biscuits recently when I was sharing some of my sweet office memories with husband. I told him about this chai wala (tea vendor) outside my office. He had a small shop where he used to sell different biscuits and tea. I used to hang out with my colleagues during tea break munching on these biscuits and sipping hot cutting-chai almost everyday. Those were indeed good times!
Among several biscuits that the chai wala sold, my favorite ones were khara (spicy) biscuits and butter biscuits. I decided to combine the two flavors in one biscuit. I started writing down the recipe thinking of the taste. Oh yes, I still remember it. I tested it couple of times with different variations and finally converged to this recipe that I am sharing here. These biscuits turned out to be super tasty and were irresistible. Just follow the steps given and you cannot go wrong. My husband took a batch of these babies for his colleagues and I received a lot of compliments. They have also demanded a big batch of cookies for their meeting next week!
Make sure you reserve some cookies for yourself. You might feel that you have enough but the moment you serve, these cookies will disappear in no time. Why wait? Try making a batch of these at your earliest and don't forget to share your comments and variations.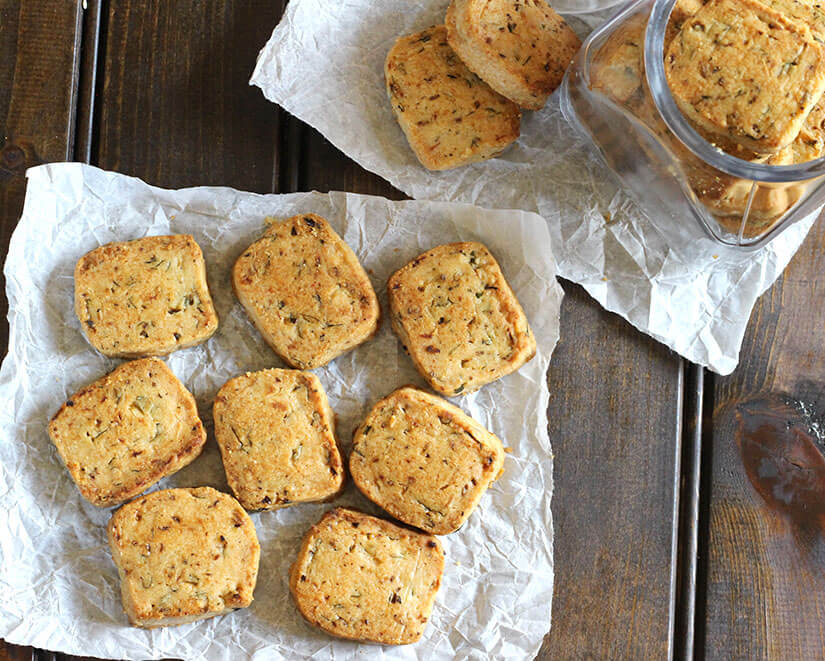 Preparation time : 30 minutes
Rest time : 1 hour to overnight
Serves : 30 biscuits
Ingredients for Spicy Butter Biscuits
Butter - ½ cup (1 stick)
Green chilie / Serrano pepper finely chopped - 1
Ginger grated - 1 tbsp
Coriander leaves / Cilantro chopped - 6 strands
Cumin seeds - 1 tsp
Baking powder - 1 tsp
Pepper powder - ¼ tsp
Red chile powder - ¼ tsp
Asafoetida / Hing - ¼ tsp
Salt - ¼ to ½ tsp
Sugar - 2 tsp
All purpose flour - 1 cup
Steps to prepare Spicy Butter Biscuits
Step I
In a pan, add the butter and heat on medium flame till it starts to melt. Switch off the flame.
To this add all the other ingredients mentioned in the list to form a dough. The amount of butter is sufficient to bind the dough together, however if you find that your dough is dry add small amount of water and knead gently.
Place this dough onto a plastic wrap and form a 3 centimeter diameter log (or a 3 cm wide square).
Cover this and place it in refrigerator for 1 hour or overnight. I kept it overnight. (Check tip section for alternate method)
Step II
Preheat the oven to 350 degree F.
Cut the dough into ½ inch thick biscuits / cookies. Place these on a greased baking sheet or silicone mat.  (see tips)
Bake for about 9 minutes. Then flip these biscuits and bake for another 8 minutes, i.e. 17 minutes in total. They will be light golden in color when they are done. The baking time may vary depending on the thickness of your cookies. These cookies turn brown fast, so be alert and keep checking on them frequently after 14 minute mark.
Spicy Butter Biscuits are now ready. Serve and enjoy.
Tip:
If you do not want to make a log out of the dough, just cover the dough ball in plastic wrap and let it chill. Then using a rolling pin roll the dough and cut them into cookies using cookie cutter.
Vary the spices as per your taste.
Also check out the dessert and sweet recipe contest and win exciting prizes. For more recent updates, follow me on Pinterest, Facebook, Instagram, Twitter, GooglePlus. 
***Click below to save it on Pinterest***