This post is sponsored by Steviva brand but the content and opinion expressed here are my own.
Sweet and sour tofu with roasted cashews is a super delicious entree that can be prepared for any occasion in less than 20 minutes. I am always on the look out for quick recipes for lunch or dinner, as they become lifesavers whenever we are on busy schedules. The recipe presented here frequently features on our dinner table and is one of my husbands favorite. By using MonkSweet+ as a natural sweetener, I was able to completely avoid the addition of sugar or honey in this recipe.
I decided to participate in the Steviva sweeten it-up blogger recipe challenge using their premium sweeteners. This challenge required me to prepare a recipe (baking or entree or beverage) using Steviva's sweetners. I am always in the pursuit of replacing plain old white/brown sugar with natural sweeteners in my recipe, and therefore I did not have to think twice before applying to this contest. I am glad that I was selected to participate in this challenge. The folks at Steviva were prompt in sending me their products and following up with me during the process. It has been a pleasure working with them!  While I am submitting this recipe as an entry to the Entree category, do check out my recipe for Strawberry Tarts that was submitted as an entry to the desserts category. Also, while you are here please do not forget to follow Steviva on Facebook, Twitter, Instagram, and Pinterest as they provide regular updates on products, contests, recipes and more. Also check out their online store for their great products.
The recipe is very simple as it involves stir-frying tofu in a sweet and sour sauce, and garnishing with roasted cashews. We like our food to be on the spicier side, so I have add a combination of hot sauces and cayenne powder to take this recipe to the next level. You can adjust the spice level according to your taste. The dish can be served as a side with rice or bread. But more often than not, I simply load individual portions of sweet and sour tofu on a bed of freshly cooked jasmine rice along with a side of salad. Do try out this quick and easy recipe that uses tofu and Steviva's MonkSweet+ sweetener, and do not forget to let me know how it turned out.
Preparation time : 20 minutes
Serves: 2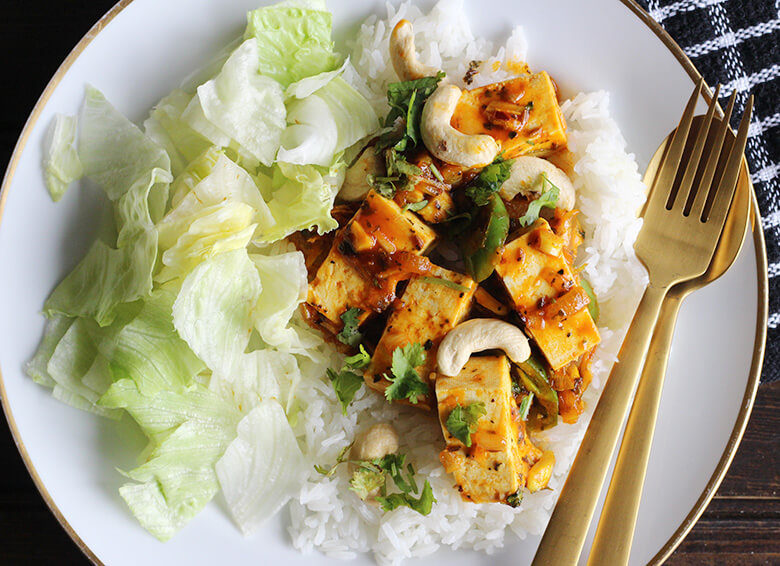 Ingredients for Sweet and Sour Tofu with Roasted Cashews
Tofu (firm) – 1 pack (14 oz)
Cumin seeds - ¼ tsp
Onions - 1 medium
Garlic cloves - 2
Ginger - 1 inch
Jalapenos - 1
MonkSweet+ - 2 tbsp
Soy sauce- 2 tbsp
Sriracha - 2 tablespoon (optional)
Cayenne or Red chilli powder - ¼ teaspoon (optional)
Dry Parsley - ½ tsp
Oil - 2 tbsp
Salt - pinch or to taste
Coriander leaves - 2 tbsp
Cashews - ¼ cup (roasted)
Steps to prepare Sweet and Sour Tofu with Roasted Cashews
In a pan on medium high heat add oil. Once the oil heats up add cumin seeds; finely chopped onions, ginger & garlic; pinch of salt; and saute until onions turn light golden brown in color or for about 6 mins.
Add chopped jalapenos, sliced tofu and saute for 3-4 minutes.
Add Steviva's MonkSweet+ sweetener, Sriracha sauce, Soy sauce, cayenne or red chilli powder and mix gently. At this point you may add 2 tablespoon of water if needed. Cover and cook 3-4 minutes.
Its now time to add parsley, chopped cilantro and roasted cashews as garnish, lightly mix and switch off the flame.
Serve over a bed of cooked jasmine rice, along with a side of salad and enjoy!
For more recent updates, follow me on Pinterest, Facebook, Instagram, Twitter, GooglePlus. 
***Click below to save it on Pinterest***