This post is sponsored by Steviva brand but the content and opinion expressed here are my own.
Strawberry Tarts are super easy to make, light and flaky dessert or snack item that can be prepared using fresh strawberries or other berries that are available in your market in less than 30 minutes. Strawberry tarts are one of my all time favorite dessert because they have the right balance of sweetness and tartness. By using Fructevia as a natural sweetener, I was able to completely avoid the addition of sugar in this recipe.
I decided to participate in the Steviva sweeten it-up blogger recipe challenge by Steviva using their premium sweeteners. This challenge required me to prepare a recipe (baking or entree or beverage) using Steviva's sweetners. I am always in the pursuit of replacing plain old white sugar with natural sweeteners in my recipe, and therefore I did not have to think twice before applying to this contest. I am glad that I was selected to participate in this challenge. The folks at Steviva were prompt in sending me their products and following up with me during the process. It has been a pleasure working with them!  Also, while you are here please do not forget to follow Steviva on Facebook, Twitter, Instagram, and Pinterest as they provide regular updates on products, contests, recipes and more. Also check out their online store for their great products.
When strawberries are in season, I do not think twice before loading them in my shopping cart. Not only are they great to be consumed on their own, but you can also prepare delicious recipes using them. Here, I am presenting a recipe for strawberry tarts - a simple a dessert recipe that uses Puff pastry sheets as the base and strawberry compote as its filling. Addition of chopped pistachios gives these tarts a whole new dimension, which I am sure you will love. The recipe completely avoids the use of plain old white sugar, and instead substitutes it with Fructevia, a natural sweetener by Steviva. Fructevia is particularly suited for cooking and baking. Just substitute the regular sugar with just half the amount of Fructevia - and I can assure that you will not make out the difference. I have also tried other products from Steviva, and I will soon present other recipes using some of them.
This is a no-fail recipe that can be prepared well ahead of time to entertain you family and friends during the busy holiday season. Do give this recipe a try and let me know how it turned out!
Preparation time : 30 minutes
Thaw time : 40 minutes
Serves: 4-6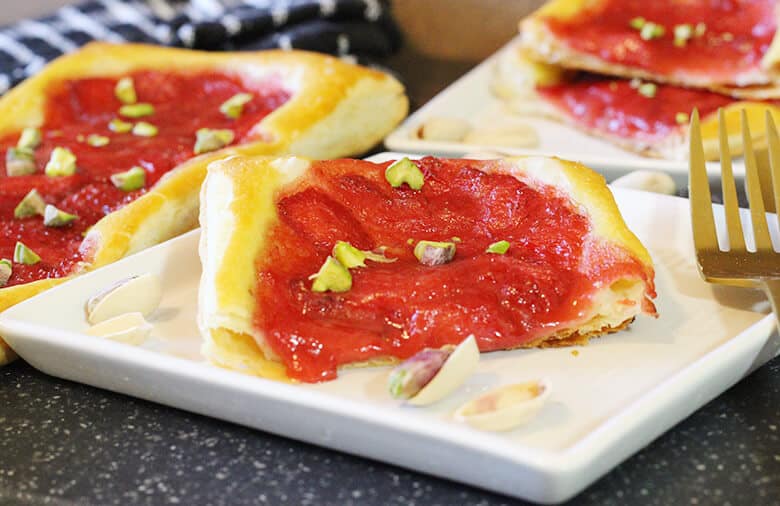 Ingredients for Strawberry Tarts
Puff pastry sheets – 1 (or ½ box)
Egg - 1
Strawberries - 1 pint box (aprrox. 20 berries)
Butter - 2 tablespoon (optional)
Fructevia - 3 tbsp
Salt - pinch
Chopped Pistachios - ¼ cup (optional)
All purpose flour - for dusting
Steps to prepare Strawberry Tarts
Step I
Thaw the Puff pastry sheets according to package instructions.
Remove the stems and leaves from the strawberries, wash and slice them.
In a non-stick pan on medium-high heat, melt butter until light golden brown (about 2 mins).
To this, add sliced strawberries, Fructevia and salt, and saute for about 6-8 mins.
Remove from heat and allow the strawberry compote to cool down to room temperature.
Step II
Preheat the oven to 400 F.
Dust the working surface with some flour and place the thawed Puff pastry sheet on it.
Using a rolling pin, lightly roll the sheets till they are about ½ inch longer on each side.
Then, using a pizza cutter or a kitchen knife divide them into half.
Transfer the pastry sheets to a parchment sheet line baking tray.
Brush all edges of the pastry sheet with egg wash - this gives the baked strawberry tart its beautiful golden brown color.
Add spoonfuls of strawberry compote (prepared in Step I) onto the center of each pastry sheet.
Bake for about 20 minutes or until the edges are golden brown and crispy. Allow them to cool down for few minutes before serving.
Strawberry tarts are now ready.These go well by themselves, or can be served with a scoop of ice cream. Enjoy!
For more recent updates, follow me on Pinterest, Facebook, Instagram, Twitter, GooglePlus. 
***Click below to save it on Pinterest***