Banana Buns / Fried Doughnuts are sweet and soft, fluffy and delicious buns or pooris prepared using overripe bananas. This recipe is vegan and can be served for breakfast or as a snack and will be loved by people of all age group. A perfect way to use overripe banana.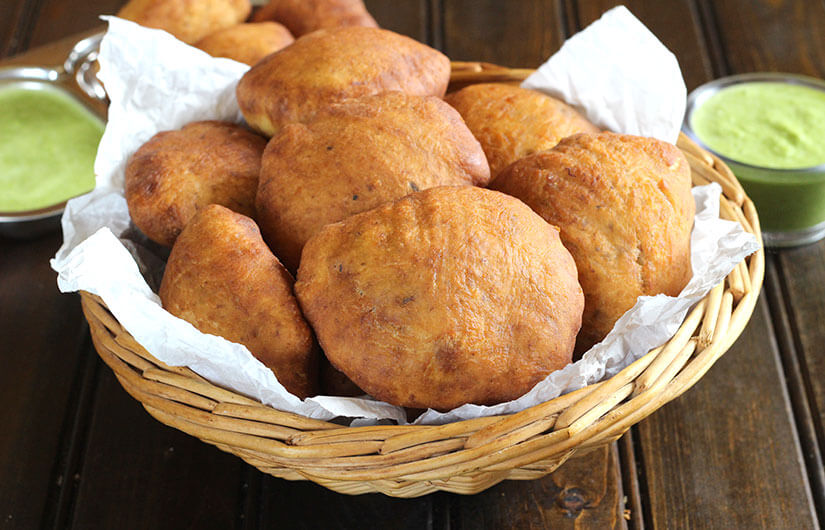 This is also called Mangalore buns and is a popular recipe in all the restaurants of coastal Karnataka. This recipe is very special to me. As it is with this recipe that I started my food blog journey. I had prepared this for breakfast, clicked a picture using my cell phone camera so that I can share it with my folks back in India. Since my husband liked the buns very much I immediately jotted down the recipe on a piece of paper as a reference for future. That is when my husband encouraged me to write it down in the form of a blog, so it is organized and accessible whenever needed. It has been a long journey since then. Today, when I prepared Mangalore buns again I remembered my early blogging days. I quickly grabbed my camera and snapped a few shots, and I am re-sharing this post again.
In India, mysore kele or baale (mysore banana) or pachabale is used to make this recipe. My mom prepares the best buns. I have beautiful memories from my high school days. I used to come back home and help my mom prepare these yummy buns as a snack along with evening tea. As my sister had a sweet tooth, so she always demanded mom to add more sugar to the dough. But I prefer to use smaller amount of sugar, therefore that buns that I prepare are mildly sweet, similar to what we get in restaurants. You can vary the sweetness as desired. Remember that when you add more sugar, the buns may turn few shades darker upon frying.
This recipe is so delicious that it can be served without any accompaniments. However, in restaurants it is generally served with green coconut chutney and sambhar. Again there are many variations to this recipe. Some people add curd, ghee, coconut oil or even had half portion of wheat flour instead of maida. This is my take on popular banana buns / Mangalore buns. Do try out this delicious recipe and share your comments. If you click a picture don't forget to tag me on social media.
Preparation time : 10 minute
Rest time : 6 hours or overnight
Serves : 15 to 20 buns
Ingredients for Banana Buns
All purpose flour/ Maida – 2 cups + more for dusting
Sugar – 5 tbsp
Ripe long bananas – 2
Cumin seeds / Jeera – 1 tsp
Pepper powder – 1/4 tsp
Baking soda – 1/2 tsp
Salt – 1/2 tsp
Oil – for frying
Steps to prepare Banana Buns
Step I
In a large bowl, mash the ripe bananas.
To this add flour, sugar, cumin seeds, pepper powder, baking soda, salt and mix well and knead well to form dough. This dough is going to be sticky. No water is required to form the dough.
Add little extra flour to dough if it sticks to your fingers but make sure that the dough is not hard. It should be soft and sticky.
Cover it and keep it aside for at least 6 hours or overnight. I generally prepare the dough in the evening and rest it overnight so that I have it ready for breakfast.
Step II
Dust the working surface. Make lemon size balls from dough and roll them to form buns. Do not flatten it too much. Let it be little thick. The thickness is approximately twice as that of poori.
In a frying pan, heat oil on medium heat. See that atleast 40 percent of your pan is filled with oil. I have used a 9 inch deep frying pan.
Once the oil is hot fry the buns on medium flame. drop one or two buns at a time depending on the size of the pan. They will puff up nicely. Using slotted spoon, flip on other side and fry till it is golden on both the sides.
Transfer it to paper towel to absorb any excess oil. Repeat the process for remaining buns.
Banana Buns or Mangalore Buns is now ready. Serve hot with green coconut chutney and enjoy
Tips:
Over ripe bananas are the best for making this buns. I have used 2 long bananas, if using medium sized then add 3 to 5 bananas.
Do not add any water while making the dough.sugar when combined with banana gives enough moisture to form the dough.
The more you knead and the time you allow the dough to ferment your buns will be fluffier.
The dough may appear dark or black after it has rested for 6 hours. This is normal and is a result of oxidation.
After making buns, you can place the left over dough in the fridge and use it to make buns whenever desired.
The amount of sugar you can add may vary depending on the sweetness of bananas and sweetness you like. If you add more sugar the buns will turn little darker but they will be really tasty.
To check if the oil is hot, add small piece of dough. Check if it sizzles and comes up.
While frying baste the buns with hot oil using a slotted spoon to help it puff up.
Do not fry the buns on high flame. It will turn the buns dark brown.
For more recent updates, follow me on Pinterest, Facebook, Instagram, Twitter, GooglePlus. 
***Click below to save it on Pinterest***