Black Beans Rice is spicy and incredibly delicious, nutty flavored Mexican rice recipe that is a frequent dish at our dinner table.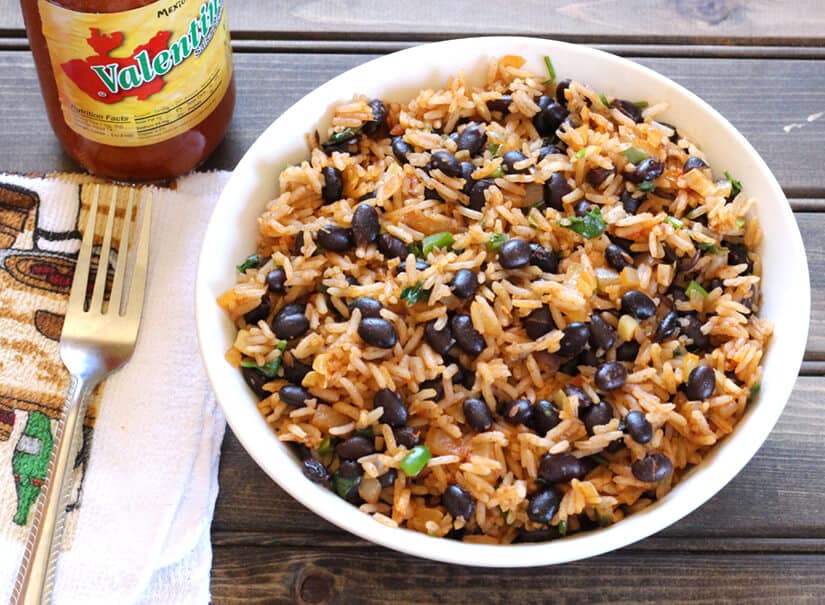 This is also called spanish rice, red rice, arroz rojo and can be served with your favorite enchiladas, rice burrito bowl or as one complete meal. This dish is not only rich in carbohydrates and protein but also tastes better than the one you get in restaurants.
The secret to get a nutty flavor is to saute the rice in butter or oil till it develops some color even before you cook. I have used my family's favorite Valentina Mexican Hot Sauce Salsa Picante in the recipe. For my family, this rice dish is incomplete without hot sauce. We first tasted this sauce at Mexican restaurant and just loved the flavor and I knew I had to buy it. It's not only tastier but also low in sodium and inexpensive. I always have at least two bottles in my fridge.
Preparation time : 30 minutes
Serves : 4
Ingredients for Black Beans Rice
Black beans – 1 cup (canned or dried)
Rice – 1 cup
Cumin seeds – 1 tsp
Bay leaf – 1
Onion finely chopped – 1
Garlic cloves chopped – 5
Tomato chopped – 1
Cayenne powder / Red chile powder –  1/2 tsp to 1 1/2 tsp (Vary as per your taste)
Hot sauce – 3 tbsp
Jalapeno / Green chilies chopped – 1
Cilantro / Coriander leaves chopped – 1/4 cup
Olive oil / Vegetable oil – 1 tbsp ( Non-vegans can use butter)
Salt – to taste
Steps to prepare Black Beans Rice
Step I
Soak the black beans in water for 3 hours adding little baking soda and drain them. Adding soda makes it cook faster.
Cook the black beans in pan or pressure cooker for one whistle. Add salt while cooking.
If you are using canned beans ignore the step I.
Step II
In a pan, add butter or oil. Add one cup of rice and saute till it develops some color. I have used jasmine rice.
Now add  1 1/2 cup of water, salt. Bring it to boil, cover and simmer it for 10 minutes or until rice is cooked.
Step III
In another pan, drizzle oil. Add the bay leaf, cumin seeds, onion and garlic cloves and saute till onion becomes translucent.
Now add the tomatoes, cayenne powder and saute till tomato becomes soft.
Next add the hot sauce, salt to taste, jalapeno and mix well.
Finally add in the cooked rice, black beans and cilantro and mix till everything is combined.
Black Beans Rice is now ready. Serve and enjoy.
Tip:
Taste the sauce and use it as desired.
Vary the spiciness as desired.
If you using canned beans buy low sodium one. wash and drain before you use.
Water to rice ratio may vary depending on the rice used.