Cabbage Onion Dosa popularly known as sanna polo in Konkani is a vegan and gluten-free, spicy and tasty dish that can be served as a side with rice or as an evening snack.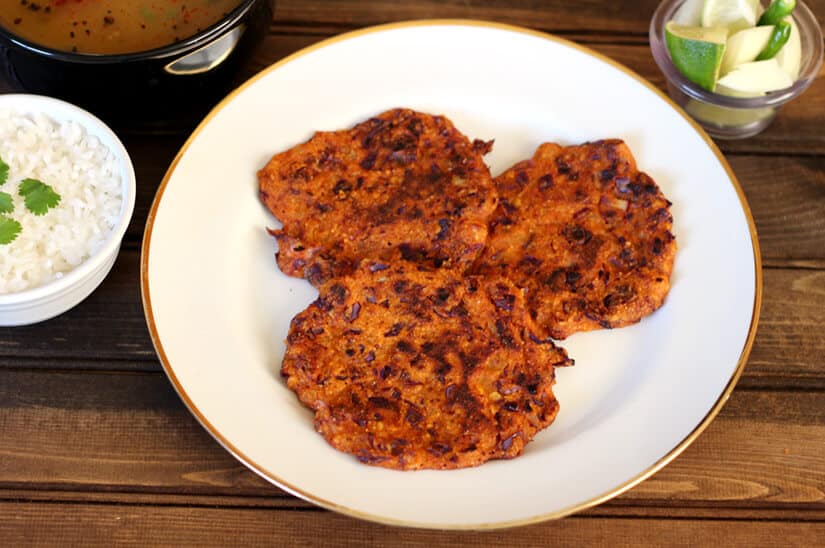 Sanna means small or mini and polo means dosa or pancake in konkani. You can cook 3 - 4 dosas at a time on tava. It looks like the name is come from size of the dosas. Main ingredients in this recipe are rice, red chilies and onion.
The ultimate combination is dal, steamed rice and sanna polo. A perfect and complete lunch or dinner 🙂 I make different varieties of dal and today I have served this with pepper dal and will share the recipe for the same soon. You can also try garlic dal or ginger dal. 
There are different variations and substitutions that can be made with the recipe and I do it often. I have listed few of them below.
You can skip toor dal completely in the recipe and add additional ½ cup of rice.
You can make just onion dosa / piyava sanna polo or even add methi / fenugreek leaves instead of cabbage.
I have used purple cabbage in my recipe today. You can use any variety.
If you cannot find dried red chilies, substitute it with red chile powder.
Adding grated coconut is optional. This is added to make the dosas soft.
You can also make muddo / idli using the same batter.
Traditionally this dosa is cooked using coconut oil. If you do not like the flavor or if it is not available then use desired oil to cook the dosa.
If you make the batter thick, you can even fry crispy and irresistible fritters from them.
Preparation time : 30 minutes
Serves : approx 15 mini dosas
Ingredients for Cabbage Onion Dosa
Raw rice - ½ cup
Toor dal / Yellow lentils - ½ cup
Dried red chilies - 6 to 8
Asafoetida / Hing - ¼ tsp
Tamarind - small ball
Grated coconut - ¼ cup
Onion finely chopped - 1 big
Cabbage finely chopped - 1 ½ cup
Coriander leaves chopped - 5 strands
Salt - to taste
Coconut oil / vegetable oil - to cook dosas
Steps to prepare Cabbage Onion Dosa
Step I
Wash and soak the rice and toor dal in water for 1 to 2 hours.
Drain the water completely.
Step II
Grind tamarind, chilies, rice, toor dal, and hing with very little water to form thick paste.
Transfer this to a bowl. Add the finely chopped onion, cabbage, coriander leaves, salt to taste and mix well. Batter is ready.
Step III
Heat tava / pan. Drizzle oil.
Once the tava is hot, using small laddle pour the batter and using the back of the laddle spread slightly. You can make 3 to 4 dosas / pancakes at a time.
Add oil around the edges. Cover it with the lid and cook it on medium flame.
Once its cooked, flip and drizzle oil and cook on the other side for a minute.
Repeat the process for remaining batter.
Cabbage Onion Dosa is now ready. Serve hot and enjoy.
Tip:
If the batter becomes too thin, then add rice flour to make it thick.
You can make these dosas soft or crispy. For a softer dosa, you can add less oil and cook it for lesser time. For crispier, add little more oil and once you flip cook it for some extra time.
I generally cook this on a cast-iron pan.