Chicken Biryani is a flavorful and a classic Indian dish prepared using basmati rice, chicken and aromatic spices.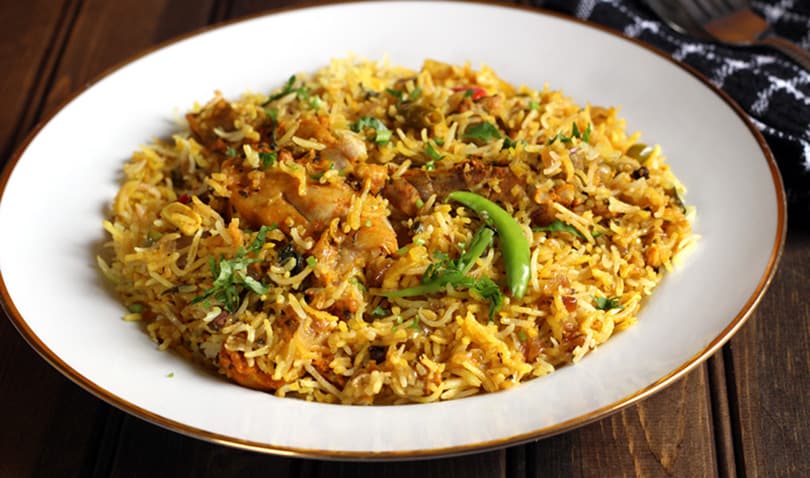 Biryani requires extra time to cook and lot of spices goes into the dish when compared to any other rice recipes but let me tel you, its worth it. Do try out this delicious recipe and I am sure this is going to be frequent item in your kitchen.
Biryani is one such dish that is loved by people of all age groups. This is served at special occasions or parties / get together. Feel free to substitute with your favorite meat and vegetarians can substitute with your favorite veggies.
Also try out quick mushorom biryani and vegetable biryani
Preparation time : 1 hour
Serves : 3 to 4
Ingredients for Chicken Biryani
Chicken thighs, skinless - 4
Yogurt - ½ cup
Ginger grated - 1 tbsp
Garlic minced - 1 tsp
Green chilies chopped - 5
Turmeric powder - ½ tsp
Red Chilie Powder - 1 tsp
Salt - 1 teaspoon for marination
Mint leaves - 1 tsp
Vegetable Oil - 2 tbsp
Cumin seeds - 1 tsp
Cashews - 2 tbsp
Cinnamon stick - ½ inch
Cloves - 2
Cardamom seeds - 4
Bay leaf - 1
Onion sliced - 1
Tomato finely chopped - 1
Basmati rice - 1 cup
Salt - ¾ teaspoon for cooking rice
Milk - 2 tbsp
Saffron threads - 5
Butter - 1 tbsp
Coriander leaves chopped - 6 strands
Steps to prepare Chicken Biryani
Step I
Make some gashes in the chicken thighs, and marinate in yogurt, finely grated ginger, minced garlic, chopped green chilies, turmeric powder, red chilie powder, salt and mint leaves. You can marinate the chicken overnight or a minimum of 30 minutes, for moist and flavorful chicken.
Step II
Soak the basmati rice in water for about 30 minutes, then cook in salted boiling water for 7- 8 minutes or until 70 percent done. Drain the rice and keep it aside.
Step III
Meanwhile in a small bowl add couple of table spoons of warm milk to saffron threads and let it rest for few minutes.
Step IV
In a large pan on medium-high heat, add oil, cloves, cardamom seeds, cinnamon stick, bay leaf, cumin seeds, cashew nuts and saute until aromatic.
Now add finely sliced onion and saute for 3-4 minutes.
Add tomato, and marinated chicken thighs along with any excess marinade and cook for 5 minutes.
Step V
Now spread the partially cooked rice over the chicken, and pour the milk-saffron mixture from step III of the rice.
Sprinkle couple of table spoons of water over the rice.
Next, add butter and portion of finely chopped coriander leaves, and cover the pan with a tight lid. Cook on medium-low heat for about 18-20 minutes or until done.
After removing from heat, let the biryani rest in the pan with closed lid for another 10 minutes.
After the rest time, remove the lid and garnish with additional chopped coriander and mint leaves.
Chicken biryani is now ready. Serve hot and enjoy.
Tip:
To prevent the biryani from catching the bottom, use a heavy bottomed pan.
After addition of partially cooked rice, you can place the biryani pan on a flat dosa griddle on medium-low heat and continue cooking for 18-20 minutes. This ensures even distribution of heat, as well as prevent the biryani from catching the bottom of the pan.
You may garnish with fried onions before serving.
You may serve the biryani with a side of raita or salan.