Cream Cheese Noodles is a super creamy and cheesy, rich and appetizing recipe that you should not miss to try if you are noodles or pasta lover like us. Magic happens when noodles is combined with a creamy cheesy sauce. This is the comfort food in the ultimate possible way. This can be served alone as shown below, or with a side of mushroom, shrimp, chicken, any veggies or meat of your choice.
Have you tried using cream cheese in any savory dish or noodles? Do you know how it takes the dish to next level? Cream cheese makes your dish mouth watering and palatable. Whenever I ask my husband what he likes for lunch or dinner, his answer would be some simple-creamy pasta. He loves eating it, and I love preparing it for him. It's not only easy, but so flavorful that as you toss the noodles / pasta in the creamy sauce you start to snack on them. You cannot go wrong with this recipe
Very basic and minimal ingredients are required to prepare this delightful dish. You can use any pasta or noodles of your choice. I have used egg wide noodles today. I have even tried this recipe with different types of pastas such as orzo, penne and farfalle because this is one of my family's favorite and is prepared on demand. This recipe tastes good with everything. You can add in any ingredient to your pasta or noodles dish but since cheesy pasta is our favorite I prepare this often.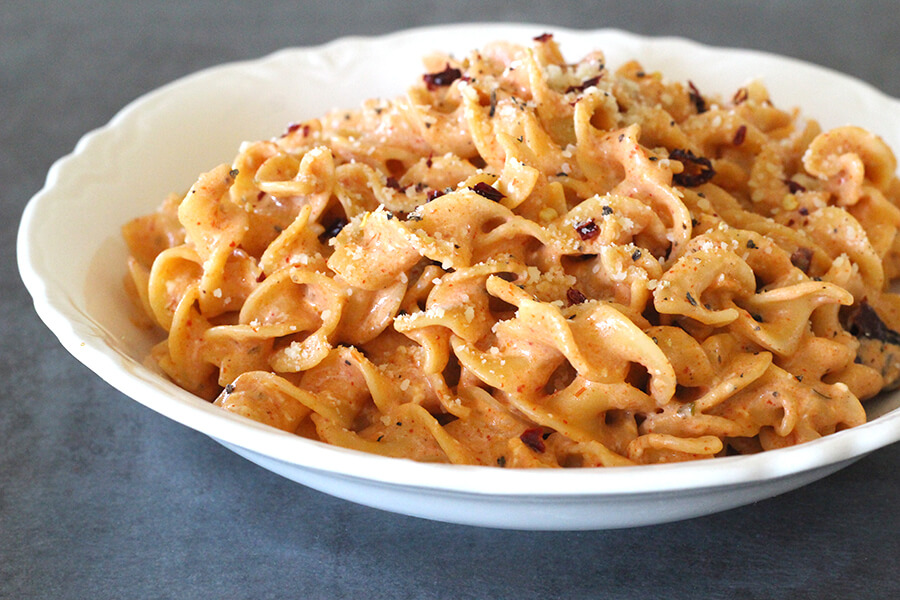 Start by melting butter and then add olive oil. Crush red chile and garlic cloves and saute till you get nice aroma. Add cream cheese and let it soften. Next, add whole milk followed by some marinara sauce to give little tanginess. I like it little spicy so I have added red chile powder / cayenne powder. You can skip this and also add any fresh herbs of your choice such as mint, parsley, basil or cilantro. Finally, toss the cooked noodles in the sauce along with some parmesan cheese and you are done. This is not only simple, but so satisfying. My mouth is watering as I write and I am going to prepare it again soon - may be later tonight!
What is your favorite way to serve noodles or pasta?
Preparation time : 30 minutes
Serves : 4
Follow me on Instagram and tag me with #cookwithkushi so that I get a chance to see all the recipes you make and give it a  ♥.
Ingredients for Cream Cheese Noodles
Noodles of your choice - 8 oz
Olive oil -1 tbsp
Butter - 1 tbsp
Garlic cloves chopped - 2
Crushed red pepper - ½ tsp
Cream cheese - 4 oz
Milk - 1 ½ cup
Marinara sauce - ½ cup
Red chile / Cayenne powder - ½ tsp
Black pepper powder - to taste
Parmesan cheese grated - ¼ cup
Salt - to taste
Steps to prepare Cream Cheese Noodles
Step I
Cook the noodles or any pasta of your choice according to the package instructions.
I have used egg wide noodles.
Step II
Meanwhile heat oil and butter in non-stick pan. Add the garlic cloves and crushed red pepper.
Once the garlic turns light golden in color add cream cheese and reduce the heat to low.
Once the cream cheese is half way melted add milk and stir it occasionally till the cream cheese has melted and the sauce is relatively smooth.
Add marinara sauce, red chile powder, black pepper powder and cook on medium heat for another 2 to 3 minutes.
Finally add the cooked noodles, parmesan cheese and toss till combined.
Cream Cheese Noodles is now ready. Serve hot and enjoy.
Tip:
Add any herbs of your choice if desired.
You can reserve some pasta water and use it at the end if you feel the sauce is too thick.
For more recent updates, follow me on Pinterest, Facebook, Instagram, Twitter, GooglePlus. 
***Click below to save it on Pinterest***