Cucumber Dosa or Cucumber Pancake is a very easy to make, healthy breakfast recipe prepared using rice and cucumber. This is vegan and gluten free.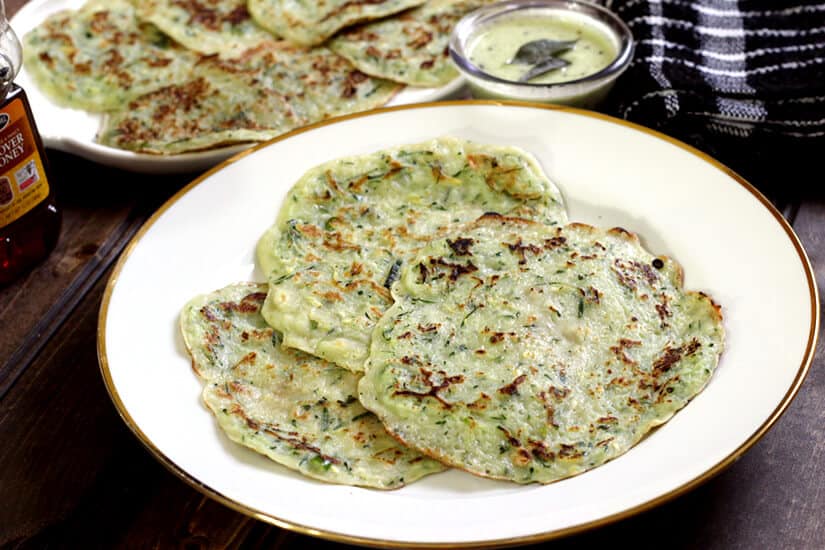 This dosa batter does not require any fermentation. The dosa can be served alone or with any chutney or honey or even butter.
This is also known as taushe polo or tausali in Konkani. Taushe means cucumber. My family loves dosa and we have different variety of dosa every other day. It is healthy, easy to make and very tasty, filling. You can also check out neer dosa recipe.
Preparation time : 30 minutes
Serves : 8 to 10 dosas
Ingredients for Cucumber Dosa
Raw rice - ¾ cup
Cucumber - 1 medium
Green chilies - 2
Ginger grated - 1 inch
Salt to taste
Vegetable oil / Coconut oil - for cooking dosas
Steps to prepare Cucumber Dosa
Step I
Wash and soak rice in water for 30 minutes to 2 hours. (Check tip section below)
Drain the water grind the rice adding little water to form thick smooth paste.
Step II
Wash the cucumber and grate it.
Add this grated cucumber to the ground rice paste along with grated ginger and green chilies.
Add the salt and mix well.
The batter should be of medium thick consistency. Batter is now ready.
Step III
Heat non-stick tava / griddle. This dosa is easier to cook on non-stick pan.
Pour laddle full of batter and spread lightly. Drizzle oil.
Cover this with lid and cook till the base turns golden brown say for about 1 - 2 minute.
Then flip and cook on other side for 30 seconds.
Repeat the process for remaining batter.
Cucumber Dosa is now ready. serve hot and enjoy.
Tip:
You can even add ¼ cup of grated coconut while grinding the rice if desired.
If you are working women and want to prepare the dosa immediately, you can even soak the rice in water overnight.
If you find it difficult to cook or flip the dosa or if the batter becomes too thin, you can add additional rice flour. You can even cook small mini dosas.
You can also add jaggery (gur) or even brown sugar to the batter, skip green chilies and ginger and prepare sweet cucumber dosa.
I have not peeled the skin of cumber in my recipe. Its optional.