To make your holiday night easy and extra special, I am sharing a delicious recipe idea for Thanksgiving created using Jennie-O® Oven Ready™ Turkey and some tasty sides.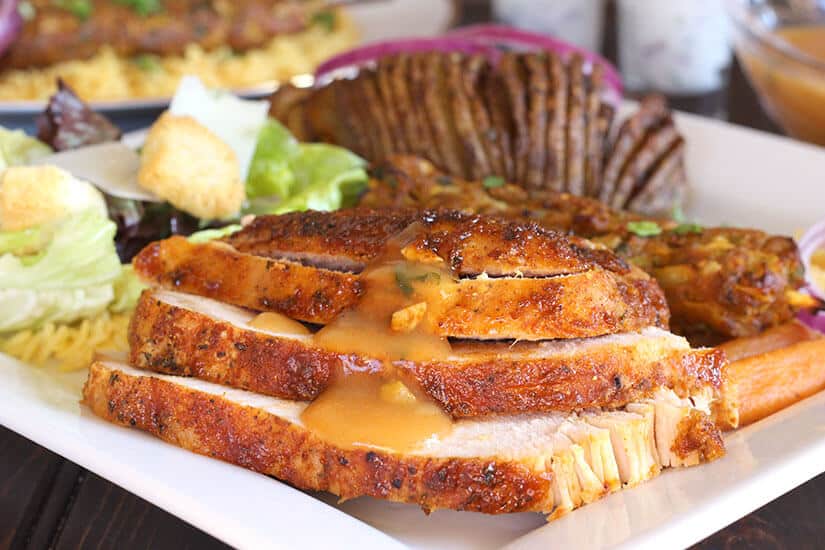 I have partnered with JENNIE-O® to create this delicious meal idea.
Are you worried about hosting a party this holiday season where time becomes more valuable? Do you want to have a stress free time with your family and friends? You are in the perfect place! For first time hosts or the seasoned chefs who would like an easier entertaining experience, Jennie-O® Oven Ready™ Turkey are a foolproof solution for holiday entertaining. These products go straight from the freezer to the oven and require minimal prep, plus no thawing or handling of raw poultry. Isn't that amazing! Plus to make it even more easier it also comes seasoned and with a packet of gravy. There cannot be any easy recipe for turkey than this.
Also enter a giveaway and win 4 Jennie-O® coupons each valued at $5 off Jennie-O® products. All you need to do this is 1) visit their website for Thanksgiving and Christmas menu and recipes and 2) come back here and write a comment below this blog post mentioning the recipe you would like to try yourself.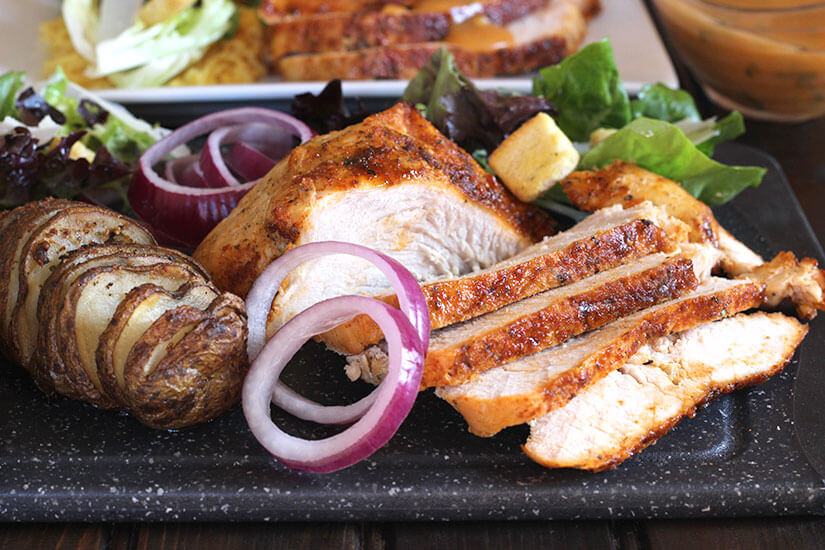 My delicious holiday menu includes the recipes below that are simple, yet so tasty and will be loved by all your guests.
Jennie-O® Oven Ready™ Turkey
Hasselback Potatoes
Roasted carrots
The entire meal from start to end can be prepared in less than 2 hours 30 minutes. Here is my game plan. I cook Jennie-O® Oven Ready™ Turkey Breasts, Hasselback potatoes, and carrots together in the same oven. Check the steps below for exact timings. You can prep for kebabs and marinate it while turkey and veggies are cooking. Once the turkey is done, you can prepare kebabs which takes no more than 20 minutes. While kebabs are getting ready, you can prepare some rice, Caesar salad, and then carve the turkey. Start plating, and serve dinner along with warm kebabs!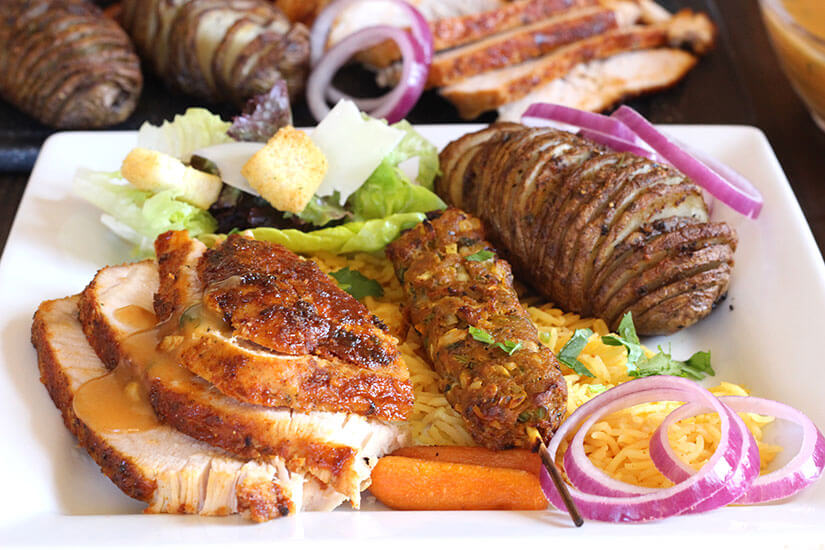 Preparation time : 2 hours
Serves : 3-4
Ingredients for Delicious Recipe Idea For Thanksgiving
For the turkey:
Jennie-O® Oven Ready™ Boneless Turkey Breasts - 1
Brown sugar - 1 tbsp
Cayenne powder / Red chile powder - ½ tsp
For Hasselback Potatoes:
Potatoes - 4
Butter melted - 4 tbsp
Coconut oil - 1 tbsp
Cayenne powder / Red chile powder - 1 tsp
Dried basil leaves - ½ tsp
Garlic powder - ½ tsp
Black pepper powder - to taste
Salt - to taste
Baby carrots - 15
Caesar salad
Kebabs
Check below for a quick video
Starring my husband!

Steps to prepare Delicious Recipe Idea For Thanksgiving
Step I (For the turkey)
Preheat the oven to 375 degree F.
Cook Jennie-O® Oven Ready™ Boneless Turkey Breast in a roasting pan as per package instructions for 1 hour 50 minutes. You can check the video above.
After cooking, remove the turkey from its oven safe plastic and let it rest for 5 minutes. To take it to the next level, I have prepared a rub using brown sugar and cayenne powder.
Apply this rub on the turkey and cook it for another 10 minutes at 475 degree F.
Remove and let it rest for 10 minutes before slicing.
In a small pan on medium heat, add the contents from the gravy packet along with ¾ cup of water and bring it to nice boil. Transfer this to a gravy boat and keep it aside.
Step II (Hasselback Potatoes)
Wash the potatoes thoroughly under running water. Using a sharp knife slice a thin piece lengthwise to create a flat base.
Slice the potatoes 80 percent through leaving about ¼th inch thickness at the bottom.
Place the sliced potatoes in a baking tray.
In a bowl, add all ingredients listed under hasselback potatoes and mix well.
Using a brush, apply the above mixture over and inside these sliced potatoes.
Bake in the same preheated oven (375 F) for 1 hour 20 minutes or till you get the desired color and texture.
Keep brushing it with the butter mixture every 20 minutes to get the nice golden brown color and flavor.
Step III ( Roasted Carrots)
In the hasselback potato tray, throw in the carrots for last 15 to 20 minutes of potato baking.
Assembling the plate:
In a large plate add Caesar salad, hasselback potatoes, roasted carrots, sliced onions (optional), bed of rice with Kebabs.
Then add 3 to 4 slices of oven roasted turkey and spoon over some warm gravy.
Serve and enjoy. Happy Thanksgiving and Happy Holidays
For more recent updates, follow me on Pinterest, Facebook, Instagram, Twitter, GooglePlus. 
***Click below to save it on Pinterest***