Kebabs are delicious and flavorful gluten free appetizers that you must try this Thanksgiving if you are looking for something different to surprise your guests 🙂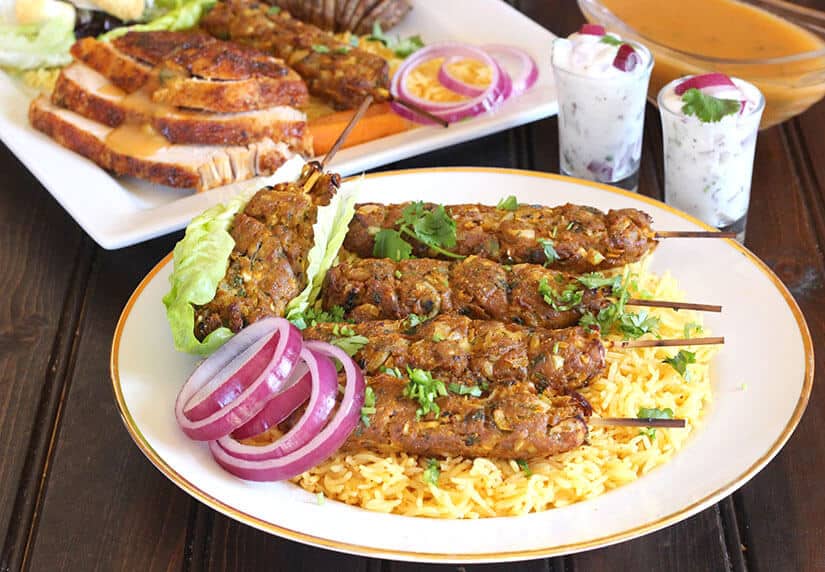 Kebabs are also known as Kabobs in America and as Kababs in India. I know Thanksgiving is around the corner. Are you preparing a dinner menu for Thanksgiving or still confused on what to prepare? Do try this simple recipe prepared using ground turkey. What can be better than preparing a turkey dish on this day 🙂 But no one can restrict you either. So feel free to use any other ground meat for the recipe if desired. This recipe is also a perfect accompaniment for upcoming tailgating events or game nights or potluck or Easter and Christmas holiday parties!
Vegetarians, don't be disappointed. You can follow the same delicious recipe given below but instead of meat add boiled and mashed carrots, potatoes, chickpeas or any canned beans if desired. You may even add paneer.
Today I have served this kebab with basmati rice and yogurt dip. Cook the basmati rice with pinch of salt and turmeric. For yogurt dip, I just added few herbs and spices that I had available in my pantry - i.e. some salt, chopped cilantro & mint leaves and chopped onions.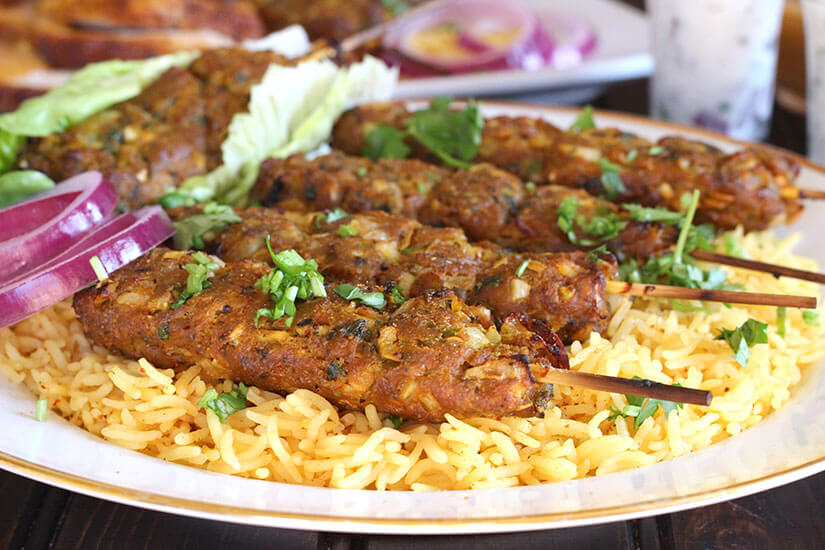 Preparation time : 30 minutes
Marination time : 2 hours
Serves : around 15 kebab skewers
Ingredients for Kebabs
Ground turkey
- 1 pound ( you can also use chicken, paneer, mushroom)
Onion finely chopped - 1
Ginger grated - 1 inch
Garlic cloves grated - 3 to 5
Serrano pepper / Green chile grated - 1
Turmeric powder - ½ tsp
Cayenne powder - 1 tsp
Red chile powder - 1 ½ teaspoon (vary as per your taste)
Tandoori masala - 2 tsp
Chat masala - 1 tsp
Amchur powder - ½ teaspoon (optional)
Black pepper powder - ¼ tsp
Salt - to taste
Lemon juice - 2 tsp
Corn starch - 4 tsp
Coriander leaves / Cilantro chopped - 10 strands
Dried mint leaves - 1 tbsp
Vegetable oil -  1 tbsp
Melted butter  - 1 tbsp
Bamboo skewers - 15
Steps to prepare Kebabs
Step I
Add all the ingredients mentioned in the list above except butter and bamboo skewers into a bowl and mix using hand until they are well combined.
Cover it and keep it in refrigerator for at least 2 hours.
Soak the bamboo skewers in water for at least 30 minutes.
Step II
Preheat the oven to 475 degree F.
Take a large lemon sized ball of the meat mixture and give it a shape of hot dog. Then insert a skewer into it. Place this on a grill or wire rack (lightly grease the rack if required before placing the skewers). If you find it difficult to form kebabs with skewers, just form patties using the same mixture and cook it like a burger on the grill or on stove top.
Grease all the kebabs with melted butter.
Bake this for about 18 to 20 minutes flipping it half way through and greasing with some more melted butter.
If you want a nice caramelized texture, you can even broil it for last 2 minutes.
Kebabs are now ready. Serve and enjoy.
Some accompaniments for kebabs are: bed of flavored basmati rice or with simple yogurt dip (yogurt, salt, mint leaves, coriander leaves and chopped onions) or coriander almond chutney, mint chutney, green coconut chutney. 
Tip:
Vary the spices as per your taste.
Use meat of your choice.
Vegetarians can substitute meat with boiled potatoes, carrots, chickpeas or any canned beans.
For more recent updates, follow me on Pinterest, Facebook, Instagram, Twitter, GooglePlus. 
***Click below to save it on Pinterest***