Caesar Salad is my personal favorite and easy to make salad prepared using lettuce, croutons, parmesan, crushed pepper and olive oil.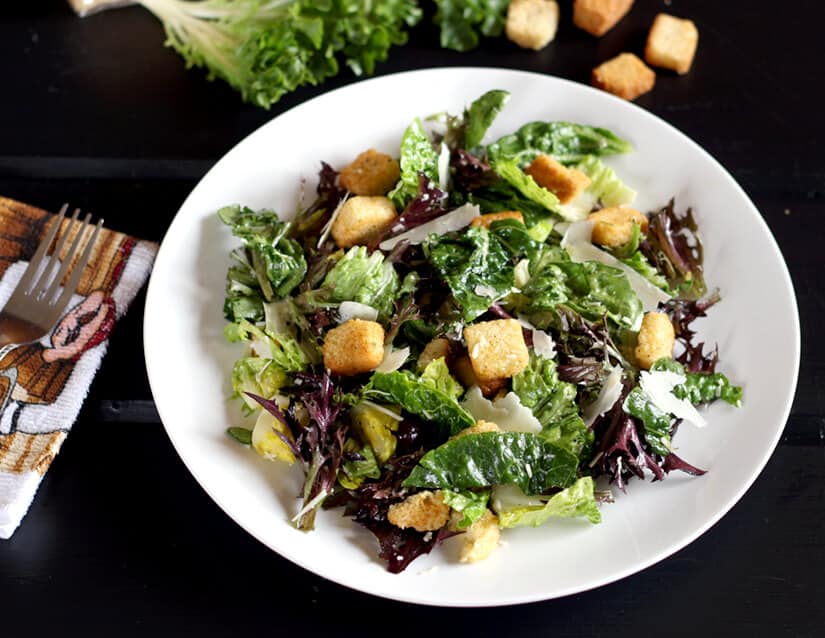 Eat healthy in less than ten minutes with this super fast and tasty caesar salad recipe. Salad not only satisfies your taste buds but also gives you the nutrition required.
This can be served alone for lunch or dinner or as side with pasta or soups. I generally prefer to have this as one full meal.
Lettuce is low in calorie, helps in weight loss, good source of dietary fiber and protein. Traditionally romaine lettuce is used in this salad. Some of my family friends prefer to use iceberg lettuce. However, in this recipe I have used artisan mini lettuces.The crispiness and bitterness of the lettuce combined with the garlic flavored croutons and parmesan makes this salad irresistible.
I love to keep my salad recipe as simple as possible. I have added the garlic flavored croutons and freshly grated parmesan in the recipe. You can also add worcestershire sauce, crushed garlic and fresh lime juice to this recipe if desired. You may always have to vary dressing of the salad depending on your taste.
Also try out Arugula Cannellini Beans Salad and Quinoa lentil salad
Preparation time : 10 minutes
Serves : 3
Ingredients for Caesar Salad
Lettuce -  3 cup
Croutons - 1 cup
Parmesan grated - ¼ cup
Olive oil -  2 tbsp
Pepper powder - ½ tsp
Garlic salt - to taste
Steps to prepare Caesar Salad
Wash the lettuce and roughly chop them.
In a bowl, add the washed lettuce, drizzle olive oil and toss them once so that its well coated.
Now add the croutons, parmesan, pepper powder and garlic salt and toss.
Transfer it to serving plate. Garnish it with some more parmesan if desired.
Caesar Salad is ready. Serve immediately and enjoy.