Fritters also called podi in Konkani are one the best finger food that is perfect accompaniment for cocktail / mocktail party or any type of gathering. We love fritters and today I have prepared pumpkin, pointed gourd and sweet potato fritters.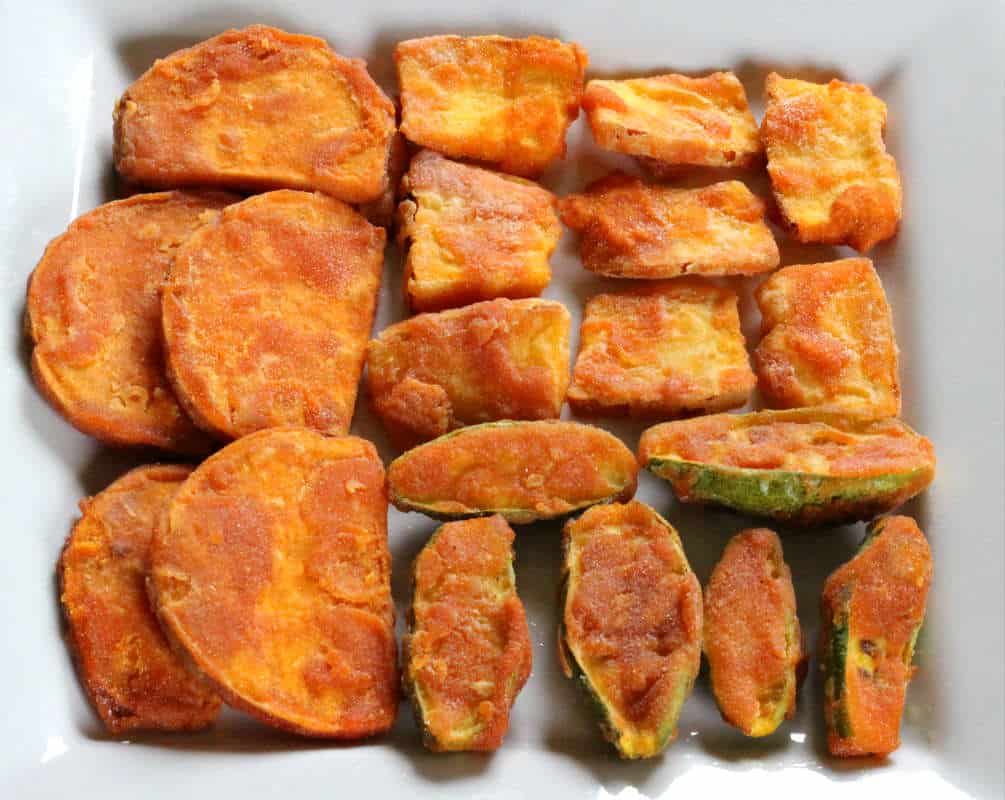 These are quick and easy to make and disappears in seconds. Its crispy with mild spiciness. What I love about this batter is you can use it to fry different vegetable like raw banana, breadfruit, potato, cauliflower, eggplant, bitter gourd, tara root, kantola, breadfruit.
If you have surprise guests or want to prepare something quick as side for your lunch / dinner then do try out this recipe. Also check pumpkin pancake, pumpkin idli, pumpkin in coconut gravy and pumpkin chocolate swirl cake bread.
Preparation time : 15 minutes
Serves : 5
Ingredients for Fritters
Pumpkin - ½ cup
Pointed gourd - 6
Sweet potato - ½ cup
Rice flour - 1 cup + little more for coating before frying
Red chile powder - 3 tsp
Asafoetida / Hing  - ¼ to ½ tsp
Warm water - around 1 ¼ cup
Salt - to taste
Vegetable Oil - for frying
Steps to prepare Fritters
Step I
Chop the pumpkin, sweet potato to the desired shape. It should not be too thick or too thin. Cut the pointed gourd lengthwise into halves.
Sprinkle salt on them.
Step II
Heat oil for frying. See that pan is atleast 40 percent covered with oil.
In a bowl, add rice flour, red chile powder, hing, salt to taste and the warm water and mix well to form a smooth paste.
Step III
Now divide the paste and add it to the bowl of sweet potato, pumpkin and pointed gourd and mix well so that all the slices are coated with the paste. ( the same way you do marination)
Spread some rice flour in a plate and coat each slice with rice flour on both the sides just before frying. Depending on the size of the pan coat and keep the slices ready, so that you can add them together and cook uniformly.
Step IV
Once the oil is hot add them in batches and fry till it becomes crisp and golden brown on both the sides.
Transfer to the paper towel to absorb any excess oil.
Fritters are now ready. Serve hot and enjoy.
Tip
Spice level is taken off when you fry items. Vary the spiciness as per your taste. This is mild version.
To check if the oil is hot just add a small piece and see if it sizzles and comes up. Do not overcrowd the pan.
The oil should not be too hot ot too cold. The best practice is to fry switching the flame between medium and medium high. If the oil is hot, it will become black and remain uncooked inside. If its cold, it will absorb excess oil.
If the paste remains you can refrigerate and use it for next few days to fry other fritters. I prepared chakkuli/muruku by adding garlic to the left over paste. It tastes great. 🙂