Garlic Knots are addictive and flavorful bread bites that are crispy on the outside with light and airy texture inside. These knots are so super delicious that they can be served alone, but traditionally they are served either with a marinara sauce dip, or as an accompaniment with a bowl of soup, pasta or pizza. These can also be a great substitution for dinner rolls. I highly encourage you to try these out at least once, and I am sure they will become regulars on your dinner table.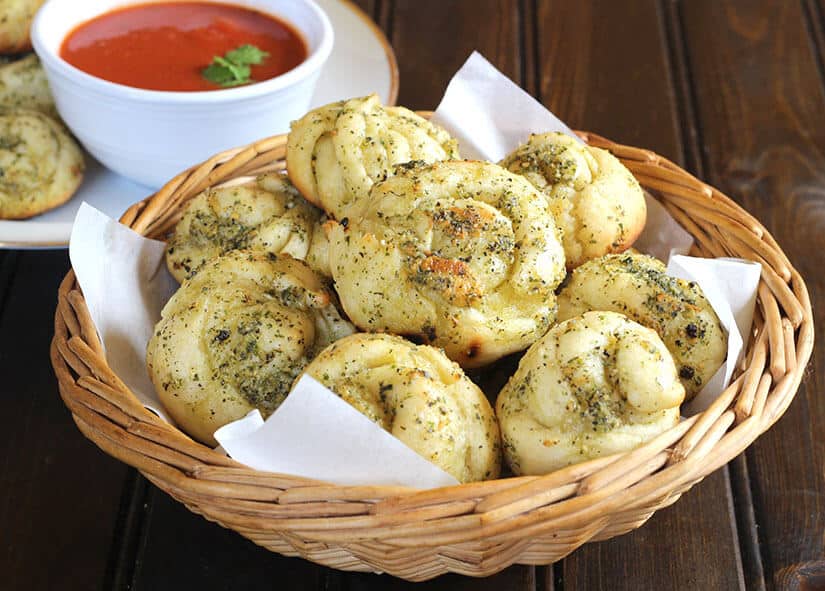 My love for pizza is not a secret. And I believe you also know that I am a huge fan of garlic and herbs as well. I use these flavors frequently in my recipes. Last evening we had some friends over for dinner, so I prepared some pizza for the kids. As I was preparing pizzas I realized that I had some extra dough on hand. Rather than putting it away in the freezer, I decided to prepare these delicious garlic knots as appetizers for the adults.
To prepare these garlic knots you need few simple ingredients such as basic pizza dough, garlic cloves and herbs like parsley, basil or mint. If you do not have fresh herbs you can use dried ones. Don't miss to try this recipe and make sure to let me know how it turned out.
While you are here you can also check out my other favorites : Garlic bread sticks, Garlic cheese naan bread, Mushroom pizza with caramelized onions, Kale pesto pizza. 
Preparation time : 2 hours
Serves : approx 30 knots
Ingredients for Garlic Knots
Active dry yeast – 1 packet ( 2 1/4 tsp)
Warm water – 1 cup
Sugar – 1 tsp
All purpose flour / Maida – 2 cups
Salt – 1 tsp
Olive oil – 1/3 cup
Garlic cloves – 4
Fresh mint leaves – 2 tbsp
Dried parsley leaves – 1 tsp
Dried basil leaves – 1 tsp
Black peppercorns – 1/2 tsp
Garlic powder – 1/4 tsp (optional)
Salt – to taste
Parmesan cheese / Vegan cheese – 2 tbsp
Steps to prepare Garlic Knots
Step I (Preparing the dough)
In a bowl with warm water, add sugar and yeast and let it sit until yeast is activated.
Now add salt, flour, and knead it until you get a smooth elastic dough. You may have to vary the amount of flour depending on the weather condition.
Cover and let it sit for 30 minutes to 1 hour or until nearly doubled in size.
Step II
In a chopper or blender, add olive oil, garlic cloves, mint leaves, parsley, basil leaves, peppercorns, garlic powder, salt, Parmesan and blend it to a smooth paste.
Step III
Preheat the oven to 400 degree F.
On a working surface, transfer the dough and roll it out using rolling pin to form a 10 inch by 10 inch square, 1/2 inch thick.
Cut them into 10 strips that are approx 1 inch wide. Keep the strips covered using a kitchen towel.
Tie each strip loosely into knots (over, under, through), stretch them if necessary. If your dough is sticky, dust lightly with flour. I could make at least 3 knots using 1 strip.
Place these knots on a baking sheet making sure they are an 1 inch apart and repeat the process for remaining strips.
Cover both the strips and knots using a clean kitchen towel, to prevent them from drying.
Once all the knots are ready, brush each one with the mixture prepared in step II.
Bake for about 15 minutes or until it is done.
Garlic Knots are now ready. Serve and enjoy.
Tips:
If you find difficult to make knots, you can prepare sticks, rolls or buns using the same dough.
Vary the amount of garlic cloves and herbs as per your taste.
You may use butter instead of olive oil for non-vegan version.
Fresh herbs can be used instead of dried ones.
Also check out the dessert and sweet recipe contest and win exciting prizes. For more recent updates, follow me on Pinterest, Facebook, Instagram, Twitter, GooglePlus. 
***Click below to save it on Pinterest***