Kayi Holige also called Coconut Poli or Coconut Bread is a mouth watering and flavorful vegan flat bread with crispy edges on the outside and sweet delicious filling inside.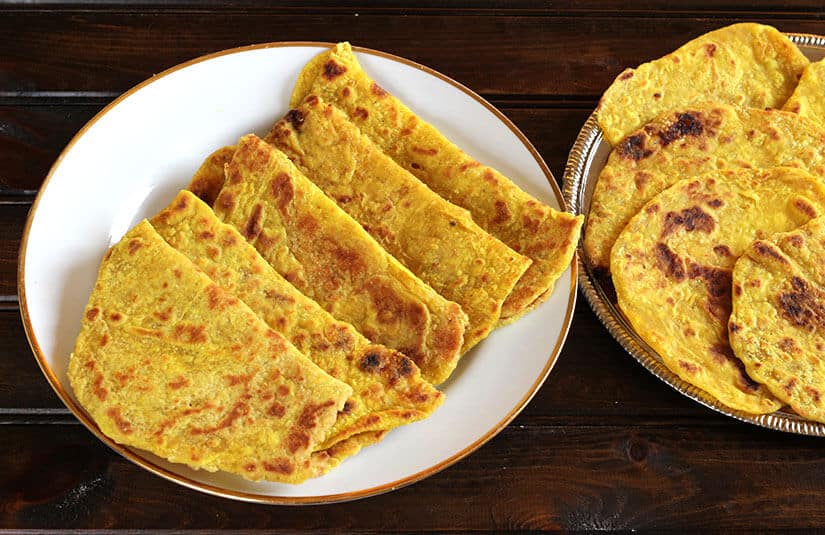 This is also called narla ubbati in konkani and is prepared during festivals and occasions. This is my mother-in-laws recipe. Every time we visit India, she keeps a box of it ready for us to eat. This Monday, we have guests coming to celebrate Ganesha Chaturthi with us. I wanted some of the sweets and snacks to be prepared ahead of time, so that it's not a rush on that day. The first thing that came to my mind was kai holige. This remains fresh for at least 10 days. I immediately called my mother in law and wrote down the recipe as she is an expert in making this. When I tried the recipe the outcome was amazing. The taste and texture was perfect. But my mother in law rolls these holiges so uniformly that it looks as if it is done out of a machine. When I visit India next time, I will make sure to click some pictures to just show what perfection is 🙂
This sweet can be rolled into thick or thin discs, but traditionally they are supposed to be rolled thin. I like it both the ways. Today, I have prepared both thick and thin versions.
Very basic ingredients are required to make this recipe but read these tips even before you start the recipe.
You will have to knead the dough for at least 15 to 20 minutes.
The dough should be shiny and as elastic as possible. That is, when you stretch the dough, it should not tear.
The filling should not be soggy or dry. This will make it difficult to roll.
You can use more oil and roll it in a parchment paper or dust the working surface and roll it using rolling pin.
This sweet is cooked dry on both the sides. Use non-stick pan to cook holige.
These tips are not to scare but just to make sure, you cook it right and your effort should not go waste 🙂 I am super excited about Monday. How is your preparation for festival going on?

Preparation time : 1 hour 30 minutes
Serves : 20 flat breads
Ingredients for Kayi Holige
All purpose flour - 1 ½ cup
Turmeric powder - ½ teaspoon to ¾ tsp
Salt - ½ tsp
Vegetable oil - ½ cup + 2 tbsp
Brown sugar / Jaggery - 1 cup
Grated coconut - 2 cups
Cardamom powder - ½ tsp
Steps to prepare Kayi Holige
Step I (Preparing the dough)
In a bowl, add all purpose flour, turmeric powder, and salt to taste. Now add water little by little and form a slightly sticky dough.
To this dough you will have to add oil -  start with ¼ cup of oil and knead till the oil is completely absorbed.
Now continue adding oil and knead it till you get shiny elastic dough. Whenever you are tired of kneading, just add 2 tablespoon of oil to the dough and keep it aside for 20 minutes and then start kneading again. But see that the end result should be a elastic dough.
Once the dough is ready, coat it with another tablespoon of oil. Cover it and keep it aside for 20 to 30 minutes.
Step II (Prepare the filling)
Grind the grated coconut. Do not add any water while grinding. This is just to make rolling easy.
In a pan, add brown sugar and ½ cup of water keep stirring on a medium flame till it the blow sugar or jaggery dissolves and starts to slightly thicken.
Now add ground coconut, cardamom powder and mix well. Cook until the water content evaporates. You should be able to make balls out of this mixture. Do not make it too dry or soggy.
Step III (Rolling)
Take a small piece of dough, spread it on your palm. To this add a tablespoon of coconut filling prepared above and seal the edges.
Now dust the working surface and roll it using a rolling pin to as thin as possible.
Step IV (Cooking)
Heat a non-stick pan on medium flame. Transfer the rolled holige onto the pan and cook on both the sides till you can see some golden spots.
Repeat the process for remaining dough.
Kayi Holige is now ready. Serve immediately or store it in an air tight container. This will remain fresh for at least 10 days. Traditionally they are served with ghee or brown butter, but they taste excellent on their own as well.
Tip:
I have used dry coconut. Traditionally fresh grated coconut is used in the recipe.
If the filling gets too hard when it cools down, then add little water and heat it. If it gets too soggy then continue cooking till water evaporates or you try adding some rice flour to absorb the excess moisture.
Also check out the dessert and sweet recipe contest and win exciting prizes. For more recent updates, follow me on Pinterest, Facebook, Instagram, Twitter, GooglePlus. 


***Click below to save it on Pinterest***