Leftover Cake Truffles or Cake Balls are chewy and delicious no bake bite sized treats that make you feel like you are eating a cake in whole bite. Got any left over cake? or Did you just have a cake disaster in your kitchen? Then these treats are the best answer. You can also serve these as party treats, as a gift or as a dessert for your next potluck or picnic.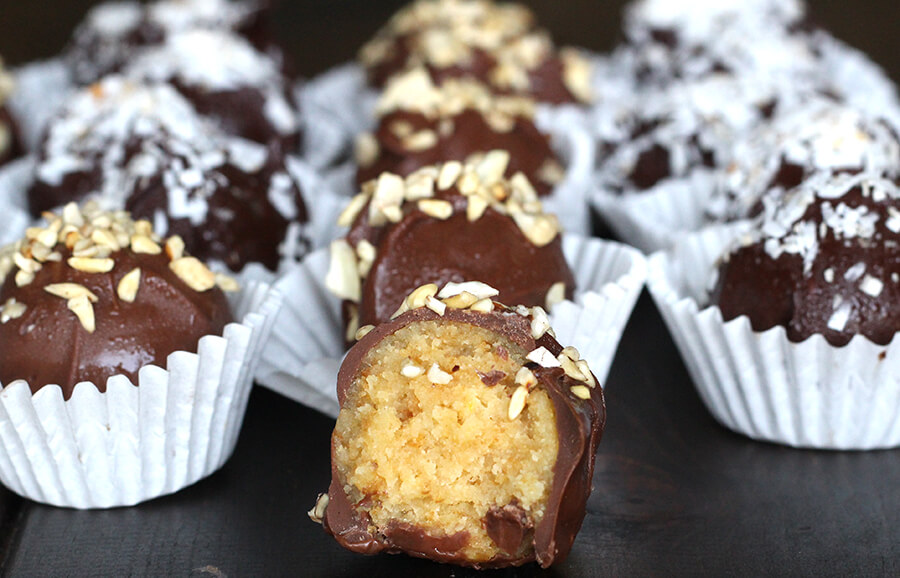 I recently prepared a three layered cake for our son's birthday using a cake box mix and filled the layers with whipped cream and fruits. I did not want to throw the scraps from the cake as they were so tasty and my husband really does not like wasting any food. Therefore, I ended up making these truffles or cake balls.
Actually you don't need any recipe for making these beauties.. Simple mix and match your favorite cake with the coating you like (any frosting and toppings). I have dipped these leftover cake with chocolate, so in short these are mini chocolate cake bites. Who would say no when there is chocolate in it? I ended up making 2 different kinds of truffles. One dipped in semi sweet chocolate and topped with toasted coconut, and another batch dipped in milk chocolate chip and topped with toasted cashews.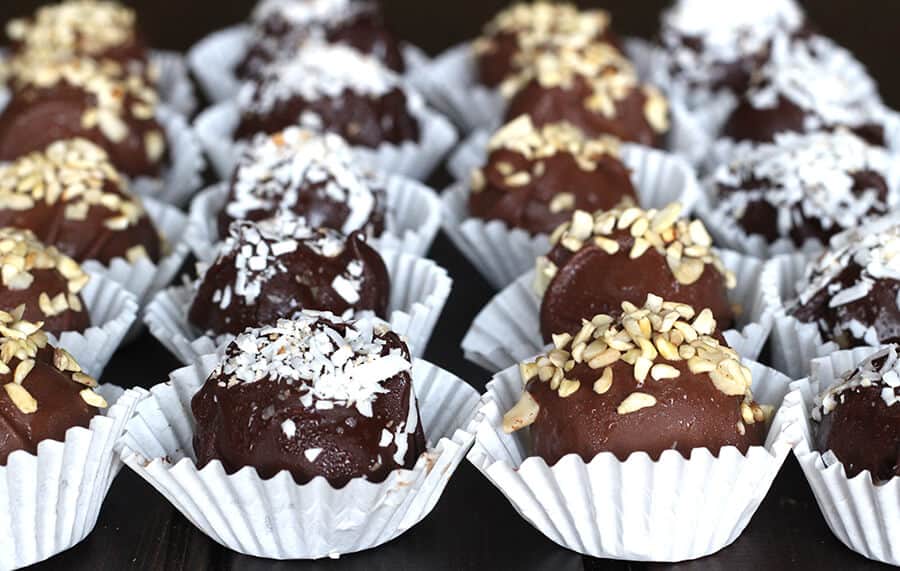 You can keep it totally plain or simply roll the cake in cocoa powder instead of chocolate, or even coat them in dark or white chocolate if you prefer. You can also top this with any other nuts of your choice, crushed chocolate, M&M's, sprinkles or cookie crumbs or even decorate it so that it can be served as special party treat that your family will love. One can also turn them into cake pops just by forming cake balls on a stick. Simply said, make them the way you want and it always turns great.
There are endless variations you can do with left over cake. What is your favorite? Please share in the comment section below.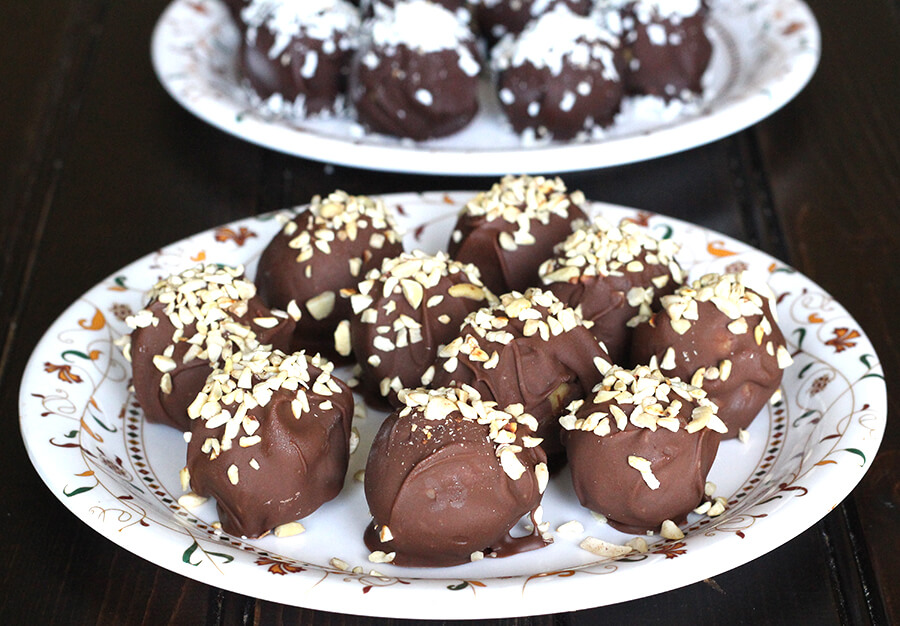 Preparation time : 10 minutes
Set time : 30 minutes + 30 minutes
Serves : 20 truffles
Follow me on instagram and tag me with #cookwithkushi so that I get a chance to see all the recipes you make and give it a  ♥.
Ingredients for Leftover Cake Truffles
Leftover cake - 2 cups
Heavy whipping cream / Whole Milk / Coffee creamer - 4 to 5 tbsp
Vanilla extract - ¼ tsp
Sugar - ½ teaspoon (optional)
Semi sweet chocolate chip / Milk chocolate chip - 1 1 /2 cup
Toasted coconut - 3 tbsp
Toasted cashews - 3 tbsp
Steps to prepare Leftover Cake Truffles
Step I
In a bowl crumble leftover cake, whipping cream, vanilla extract and sugar to form the dough. This should not be too wet. So depending on how moist or dry your cake is add the cream or milk little by little at a time. The dough should be such that its easily to roll bite size balls out of it.
Make bite size balls from these and pace it in a baking sheet lined with parchment paper.
Place this in freezer for 30 minutes or until it is firm. This will make dipping easier.
Step II
Melt the chocolate chip using double boiler method or microwave.
Remove few cake balls at time so that they don't soften up. Roll them in this melted chocolate one at a time so that it gets coated completely.
Sprinkle toasted cashews or toasted coconut immediately and place it in freezer to set for another 30 minutes.
Leftover Cake Truffles are now ready. Serve and enjoy.
For more recent updates, follow me on Pinterest, Facebook, Instagram, Twitter, GooglePlus. 
***Click below to save it on Pinterest***