This post is sponsored by Cape Cod Select brand but the content and opinion expressed here are my own.
Mini Pizzas With Cranberry Crust is a delightful appetizer filled with lots of flavor and colorful toppings and when served at a party it vanishes in matter of seconds and you wish you had some more!
Individual pizzas always make a delicious appetizer right? Have you tried adding cranberries to your pizza dough? Have you tried topping your pizza with cranberries and cream cheese? Sounds interesting right? If you have these ingredients at your disposal, make this pizza right away; but if you don't then buy them during your next grocery shopping and prepare this recipe for your family. In short, make these mini pizzas anyway. I bet you won't be disappointed, instead you'll get a lot of praise from your family and friends! Who wouldn't love these treats when every bite tastes fantastic!!
The recipe is super simple. Prepare cranberry puree and add it while making pizza dough. The dough will be chewy with right amount of tartness. Not too much or not too less 🙂 For the pizza topping I have added cranberries, cream cheese, orange- and yellow-mini peppers, jalapenos and red onions. You may add any toppings of your choice including your favorite meat but please do not skip cranberries and cream cheese. Their combination tastes pretty awesome on the delicious crust. Just see the magic that happens when these ingredients are combined 🙂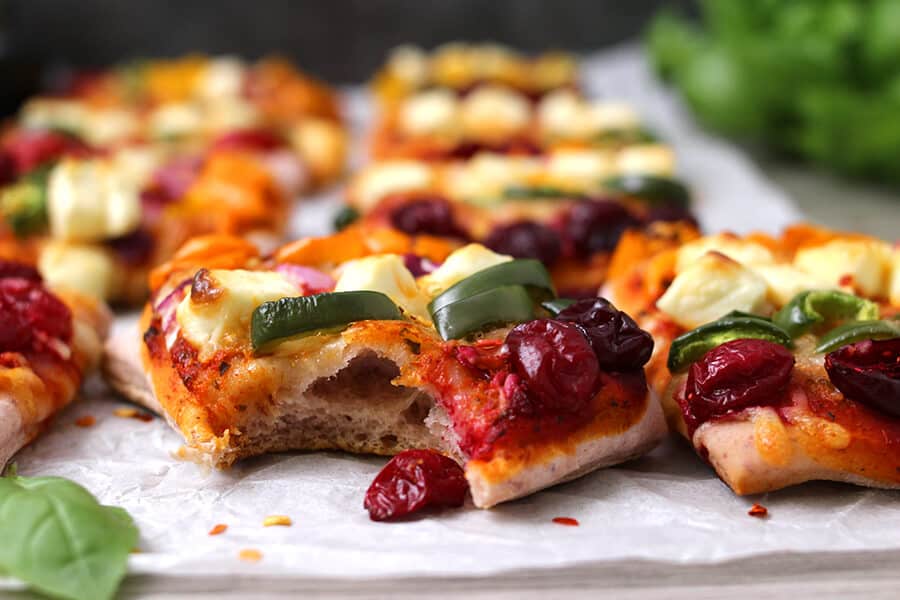 If there are any scrap or left-over dough, sauce, cheese and toppings - do not discard. Just roll the scrap dough into a rectangle, dump in the left-overs and tightly roll to seal them. Using serrated knife cut into pieces and place cut side down and bake along with pizzas. These will not only look pretty, but you will have additional treats to munch on, and it will also taste amazing!
My family's favorite recipe for Cranberry Pesto Pasta was awarded 1st place in the entree category at 2016 Holiday Food Blogger Recipe Challenge. This year I decided to participate in "Summer Breeze" blogger recipe challenge by Cape Cod Select again using their premium frozen cranberries. I love challenges and preparing interesting recipes in my test kitchen.
I never knew of the endless recipes I could prepare using these cranberries. Add it to rice, pasta, salad, salsa, chicken, prepare sauces, jams, pesto, chutney, pies, tarts, drinks, I can go on. I am so addicted to it that I can't get enough of it 🙂 Apart from my entry for this contest, I will be sharing many more interesting recipes that uses these cranberries so that you can prepare those during next Thanksgiving or Christmas. What is your favorite way to eat cranberries?
A appetizer recipe that uses cranberries was one of the categories for this year's contest and I am submitting this recipe for the same. You can also check out my entry for the beverage category and don't forget to share your opinion - Sparkling Cranberry Panak. I am glad that I was selected to participate in this challenge. The folks at Cape Cod were so prompt in sending me their products and following up with me during the process. It has been a pleasure. Thank you guys!
If you have been following my blog, you would be knowing my favorite brand when it comes to cranberries. Cape Cod Select Premium Frozen Cranberries makes it possible to use best quality produce all through the year. They are so easy to use and are versatile as they can be used to prepare delicious desserts, as well as savory treats. Cape Cod Select is a small, women-owned family business. Cheers to women power!
They are now in its fourth generation. The Rhodes family has been growing cranberries for more than 75 years on their 800 acre cranberry farm. The cranberries are grown to some of the industries highest standards and are NON-GMO verified and also hold GLOBAL G.A.P Certification. They also focus on sustainability – powering their facilities primarily with solar power and using better growing practices on their farm.
Do not forget to follow Cape Cod Select on Facebook, Twitter, Instagram, and Pinterest as they provide regular updates on products, contests, recipes and more. Also check nearby stores for this great product or you can order these frozen cranberries online.
Preparation time : 20 minutes
Rest time : 1 hour 30 minutes
Serves : 14 to 16 mini pizzas depending on the size
Follow me on Instagram and tag me with #cookwithkushi so that I get a chance to see all the recipes you make and give it a ♥.
Ingredients for Mini Pizzas With Cranberry Crust
Warm water - ½ cup + ½ cup
Cape Cod Select premium Frozen Cranberries - ¾ cup
Sugar - 1 tsp
Active dry yeast - 1 packet ( 2 ¼ tsp)
Salt - 1 tsp
All purpose flour - 2 ¾ cup divided
Olive oil - to grease
For the topping:
Marinara sauce / pasta sauce - ¾ cup
Cayenne powder / red chile powder - ½ teaspoon ( optional)
Pepper jack cheese grated - 8 oz (mozzarella may be used)
Cape Cod Select premium Frozen Cranberries - ½ cup
Cream cheese cut into cubes - 4 oz to 5 oz
Orange mini sweet peppers chopped - ⅓ cup
Yellow mini sweet peppers chopped - ⅓ cup
Jalapeno chopped - 2
Red onions chopped - ½
Steps to prepare Mini Pizzas With Cranberry Crust
Step I
In a large bowl, add in ½ cup warm water and sugar. Sprinkle yeast and leave it undisturbed for 5 to 10 minutes. Let the yeast activate.
While the yeast is activating, grind the cranberries with ½ cup warm water to form smooth puree.
Step II
Add the cranberry puree, salt, 1 cup flour to the yeast mixture and mix using wooden spoon. Add in remaining flour and knead for 5 to 10 minutes to form soft dough.
Cover it and let it rise for 1 hour or until doubled in size.
Step III
Preheat the oven to 400 degree F.
Dust the working surface and transfer the risen dough.
Roll it into large rectangle (not too thick or too thin) and using pizza cutter, cut them into 14 mini rectangles and place it on parchment lined baking pan. Just keep aside any scrap dough.
In a bowl add marinara sauce and red chile or cayenne powder, and mix. Addition of chile powder is optional.
Spread sauce on each crust, top it with cheese, followed by cranberries, cream cheese and other desired toppings of your choice.
If there are any scrap dough, you can roll them into mini pizzas or to make it little differently, roll the scrap dough into rectangle, dump in any remaining sauce, cheese and toppings and tightly roll to seal them. Using serrated knife to cut into pieces and place cut side down on a parchment lined baking pan.
Bake in preheated oven for 10 to 15 minutes or until the crusts are golden brown. The crust must be crisp and chewy
Mini Pizzas With Cranberry Crust is now ready. Serve and enjoy!
For more recent updates, follow me on Pinterest, Facebook, Instagram, Twitter, GooglePlus.
***Click below to save it on Pinterest***