This post is sponsored by Cape Cod Select Brand but the content and opinion expressed here are my own.
Sparkling Cranberry Panak is a sweet and spicy, flavorful thirst quenching drink with new and refreshing combination that will keep you cool and hydrated throughout the summer!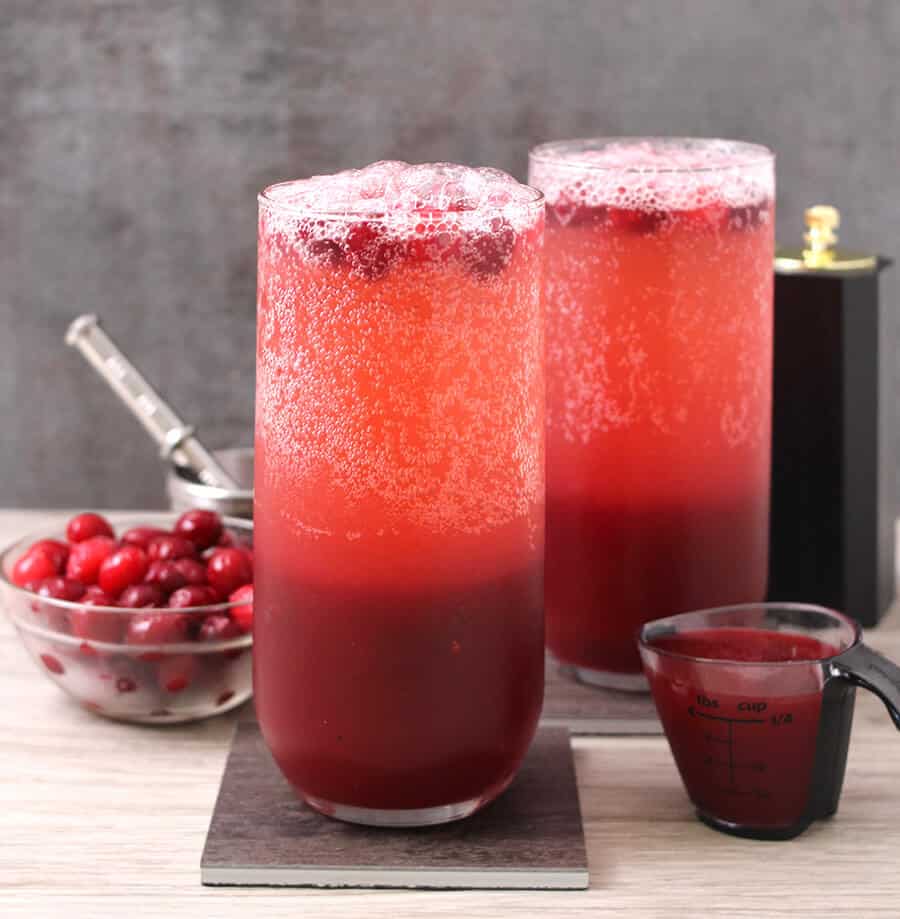 My recipe for Cranberry Pesto Pasta was awarded 1st place in the entree category at 2016 Holiday Food Blogger Recipe Challenge. This year I decided to participate in "Summer Breeze" blogger recipe challenge by Cape Cod Select again using their premium frozen cranberries. I love challenges and preparing interesting recipes in my test kitchen. Till I actually tried it out myself, I never knew of the endless recipes I could prepare using these cranberries. Apart from my entry for this contest, I will be sharing many more interesting recipes that uses these cranberries so that you can prepare those during next Thanksgiving or Christmas.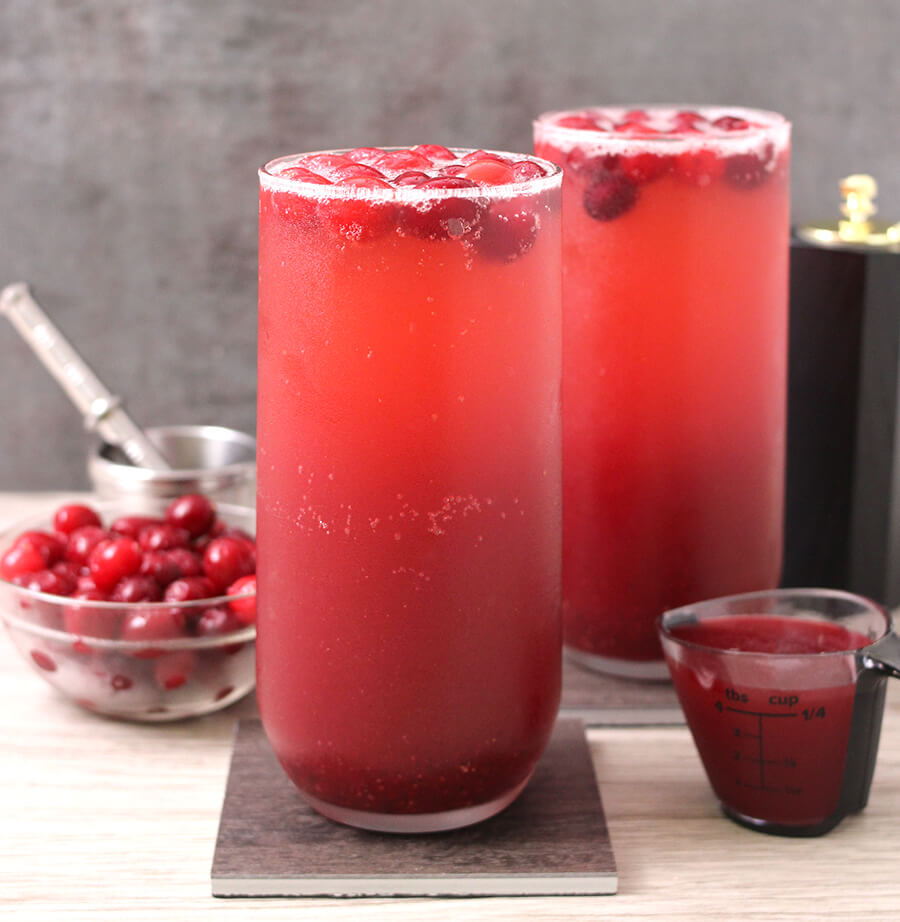 A beverage recipe that uses cranberries was one of the categories for this year's contest. I did not have any confusion on applying for this contest, as everyone loves cranberries in my house. I am glad that I was selected to participate in this challenge. The folks at Cape Cod were so prompt in sending me their products and following up with me during the process. It has been a pleasure. Thank you guys! 
If you have been following my blog, you would be knowing my favorite brand when it comes to cranberries. Cape Cod Select Premium Frozen Cranberries makes it possible to use best quality produce all through the year. They are so easy to use and are versatile as they can be used to prepare delicious desserts, as well as savory treats. Cape Cod Select is a small women-owned family business. Cheers to women power!
They are now in its fourth generation. The Rhodes family has been growing cranberries for more than 75 years on their 800 acre cranberry farm. The cranberries are grown to some of the industries highest standards and are NON-GMO verified and also hold GLOBAL G.A.P Certification. They also focus on sustainability - powering their facilities primarily with solar power and using better growing practices on their farm. 
Do not forget to follow Cape Cod Select on Facebook, Twitter, Instagram, and Pinterest as they provide regular updates on products, contests, recipes and more. Also check nearby stores for this great product or you can order these frozen cranberries online.
If you guys remember me telling that I will soon be sharing the hero of our potluck we had on July 4th, it's here - gorgeous Cranberry Panak. My friends and family just loved this, as the taste was very new and fresh and the color makes anyone simply fall in love with the drink 🙂
If you are wondering what a panak or panakam is, it is a refreshing and flavorful sweet and spicy Indian drink prepared using combination of peppercorns, cardamom and ginger along with jaggery and lemon juice. All these spices are simply diluted along with jaggery in water. This is specially made as a cooling drink to beat the heat during summer. Today, I have used this as a base (or idea) for my drink, but with a twist. The twist is ofcourse the addition of cranberries, and I have completely skipped lemon juice and substituted jaggery with sugar.
The aroma from the cardamom, flavor from ginger, the spicy kick from peppercorn, sweetness from sugar syrup combined with the tartness from the cranberries makes this drink a show stopper!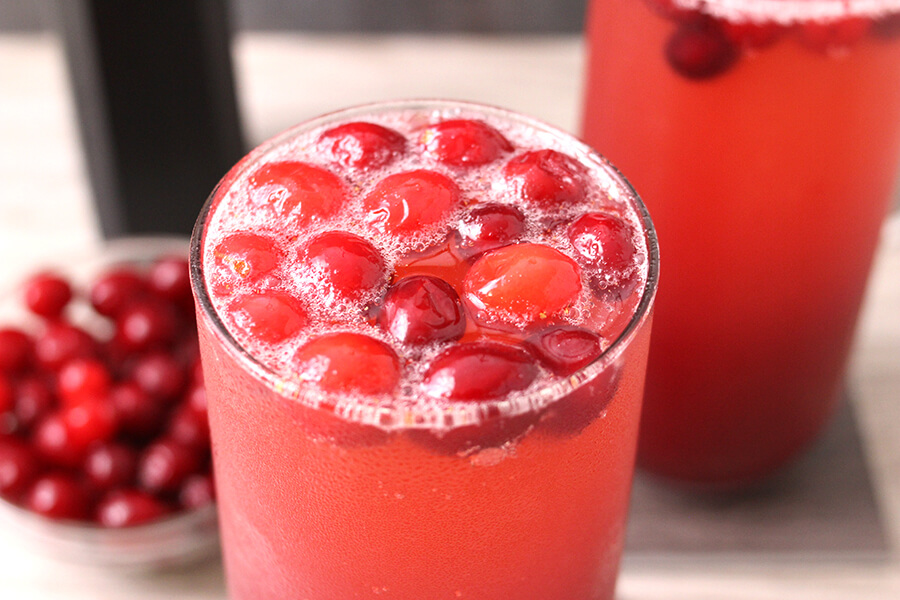 I have prepared a flavorful cranberry syrup using all these ingredients, which can then be stored in refrigerator and used as and when required. To prepare this syrup - use a blender or mixer, grind cranberries, fresh ginger, peppercorns and whole cardamom to fine paste adding water. Make a simple sugar syrup and to this add the ground cranberry paste and bring it to a boil. Strain the syrup and place it in the refrigerator till you are ready to serve. When refrigerated, the syrup will remain fresh for about two weeks. Wait, do not discard any strained pulp. Pour it in an ice tray or ice-cube molds. These can later be used in the drink or even served as popsicle. This might sound strange to you but just try and see how good it tastes. On a summer day, just a cold glass of water with one frozen cube of this pulp is sometimes sufficient to give you the cooling effect 🙂
My family and friends have tried using this syrup with both sparkling water and beer and they taste equally good. I personally love the addition of sparkling water. I also love a stronger version of this drink so add more syrup or simply add couple of cubes of frozen pulp. Vary the amount of syrup in your drink as per your liking.
Preparation time : 15 to 20 minutes
Serves :  8 to 10
Follow me on Instagram and tag me with #cookwithkushi so that I get a chance to see all the recipes you make and give it a  ♥.
Ingredients for Sparkling Cranberry Panak
Cape Cod Select Premium Frozen Cranberries - 2 cups
Fresh ginger chopped - 2 tbsp
Whole peppercorns - 2 tsp
Whole Cardamom seeds - ½ tsp
Water - 1 cup + 2 cups
Sugar - 2 cups
Sparkling water
Steps to prepare Sparkling Cranberry Panak
Step I
In a blender or mixer, grind cranberries, whole peppercorns, ginger, whole cardamom seeds along with about 1 cup of water to form smooth paste.
Pour 2 cups sugar and 2 cups water in a saucepan on medium-high heat. Boil until the syrup starts bubbling at the edges, and the syrup changes from being cloudy to being clear. This is a sign that the sugar has dissolved completely. Lower the heat to medium and continue simmering the syrup until it has reduced by about 20 to 25 percent.
Now add the ground cranberry paste and bring it to a boil. Remove from heat and let it cool slightly (about 20 minutes).
Then, strain the syrup into a jar and keep it in the refrigerator till you are ready to serve.
Pour the left-over cranberry pulp into an ice-cube mold and place it in the freezer.
Step II
When you are ready to serve, pour-in the cranberry syrup, about ¼ cup, into the glass and add sparkling water. You can even add couple of cubes of frozen pulp if desired. Garnish it with some more cranberries.
Sparkling Cranberry Panak is ready. Serve and enjoy.
Tip:
Vary the amount of syrup added to the drink as desired.
You can also serve this with beer instead of sparkling water. Ice cold water will also work.
For more recent updates, follow me on Pinterest, Facebook, Instagram, Twitter, GooglePlus. 
***Click below to save it on Pinterest***