Palmiers or Little Hearts or Elephant ears are irresistibly delicious, melt in mouth crispy and flaky biscuits prepared using only 2 ingredients. These biscuits brought back many sweet memories from my childhood 🙂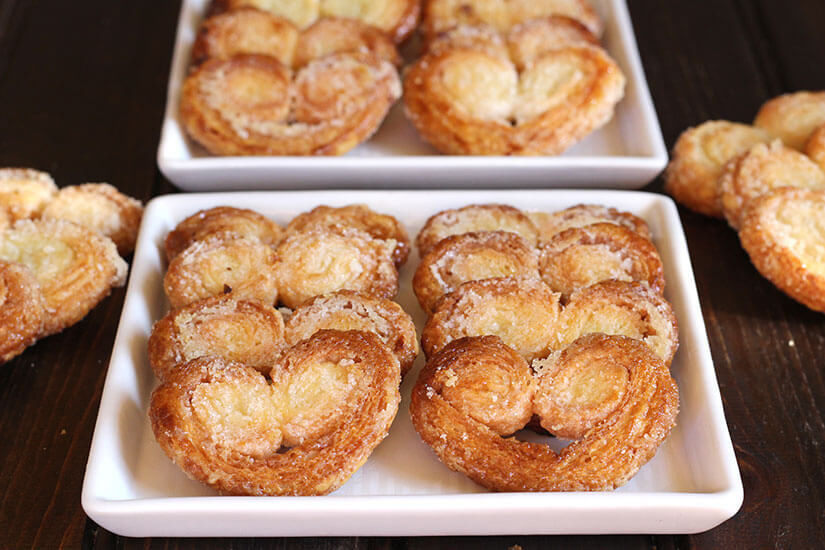 Today I have partnered with Pepperidge Farm® Puff Pastry to prepare these tasty biscuits using their Puff Pastry Sheets.
Holiday season is around the corner and I hope like me everyone is busy shopping gifts for your loved ones and making plans for holiday parties. Whether it is Thanksgiving, Friends giving, other holiday or dinner parties, or even spending weekend nights with family watching movie or games, or decorating your Christmas tree you will definitely need some snacks or sides to munch on. Having some snacks prepared ahead of time comes in handy specially during holidays, as time is very valuable and you do not want to spend a lot of time in kitchen.
I have guests visiting us with their kids this Thanksgiving. I really want to prepare something special that will be loved by all. And as I was planning the dinner appetizer menu, I was kind of getting worried about what I was going to prepare as appetizers for kids at this party. The first thing that came to my mind was Little Hearts. This was a popular biscuit during my childhood and it was specially distributed as snack-treats at birthday parties. They were light, crispy, flaky, sweet, and shaped like hearts - and it was everyone's favorite!
Even though I bake cookies and other goodies regularly at home and frequently try out new things, somewhere subconsciously I had assumed that these Little Hearts were complicated to prepare and had never ventured out to even read up about them.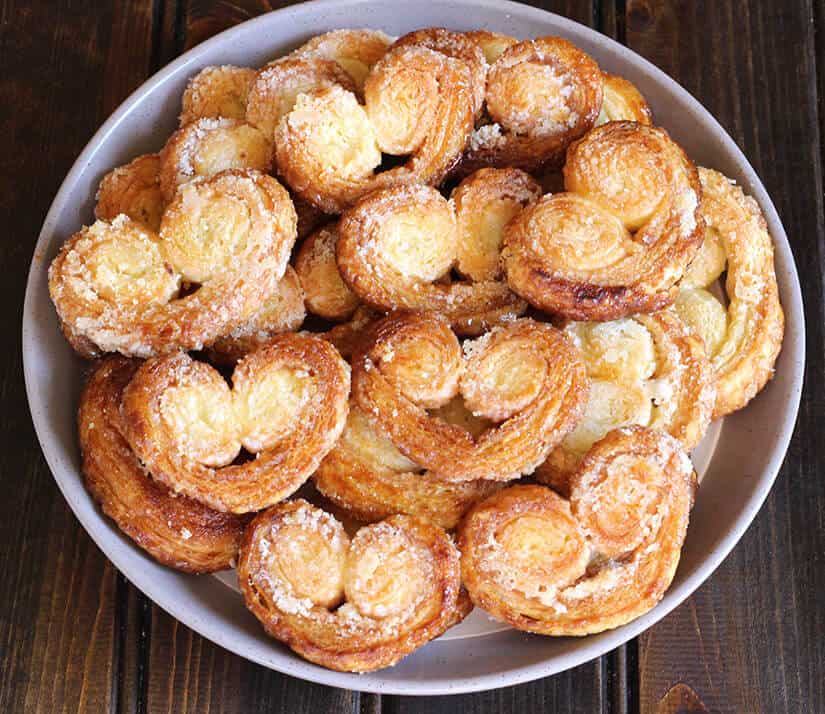 But having been addicted to Puff Pastry since last few months, I decided to prepare Little Hearts using Puff Pastry. I looked up online, and lo and behold numerous people had already prepared it. This gave me a lot of confidence. Many know these treats as Palmiers, a popular French pastry.
The "recipe" is so simple! Requires only two ingredients - Puff pastry and sugar. I immediately thawed a sheet of puff pastry and baked a batch of Little Hearts. The outcome was a super hit and instants I decided that these will definitely be on my Thanksgiving table this year! I can only thank Pepperidge Farm® Puff Pastry for such a lovely product. I can now make these whenever I have a craving for Little Hearts. The taste and texture was not just good but actually much better than what I had when I was growing up.
Like I said before, the recipe is super simple. You just have to thaw Pepperidge Farm® Puff Pastry – roll – fill and bake. It is a no fail product and comes out perfect every single time. The baked pastry is super light and crispy with a flaky texture and filled with deliciousness. The only thing you need to be worried is how to handle compliments once you bake and serve these treats. Prepare these beauties this holiday season, serve it as an appetizer or as a dessert, and surprise your guests.
Remember to always keep a package of Pepperidge Farm® Puff Pastry in your freezer. Whenever some new inspiration strikes, just remove the Puff Pastry Sheets from the freezer, thaw for few minutes and get started on creating the recipes. While you are here do not forget to check out many different puff pastry recipe ideas and products on their website.
Do bake these Little Hearts at home and do not forget to share your comments and variations to these biscuits. You can also check my recipes for puff samosa and apple cheese danish created using puff pastry sheets.
Check below for a quick video
Starring my husband!

Preparation time : 20 minutes
Thaw time : 45 minutes
Serves : 30 biscuits
Ingredients for Palmiers
Pepperidge Farm® Puff Pastry Sheets - 1
Sugar - ½ cup
Steps to prepare Palmiers
Step I
Follow the instruction on the pastry sheets box to thaw the sheets.

I have thawed them for 45 minutes at room temperature.

Using a rolling pin roll about an inch longer on both sides. This will make it more crispier.
Sprinkle some sugar on the working surface. Place the rolled Puff Pastry sheet on it, and gently give it another roll so that sugar adheres to the bottom side of the sheet.
Sprinkle some more sugar on top of the Puff Pastry Sheets.
Make a mark at the center as a guide. Fold the ends length wise evenly till they meet at the center. Fold again so that it will look like a log. You can check the video for more details.
Cover this in a plastic wrap and refrigerate it for about 10 - 15 minutes. This will make it easier to cut evenly.
Step II
Preheat the oven to 400 degree F.

Remove the pastry log from refrigerator and cut into 1 cm thick pieces. Brush each piece with water, and roll in some extra sugar.

Pinch the two free ends to give each a heart shape.

Place on silicone lined baking sheet 2 inches part, and bake in preheated oven for 15 – 18 minutes or until golden brown. Remember to flip them half way through baking time.

Allow it to cool down completely and store it in air tight container.
Palmiers are now ready. Serve and enjoy. Happy Holidays.
Tips:
Keep an eye on biscuits as the sugar caramelizes and it may turn your biscuits dark brown in matter of seconds.
For more recent updates, follow me on Pinterest, Facebook, Instagram, Twitter, GooglePlus.
***Click below to save it on Pinterest***