Puff Samosa is a easy to make delicious appetizer with the crispy and golden flaky texture on the outside with a savory filling on the inside. This is a perfect finger food for your holiday gatherings, your next weekend party or any game night. Creating a mouth watering appetizer or dessert is now even simpler using these Puff Pastry Sheets.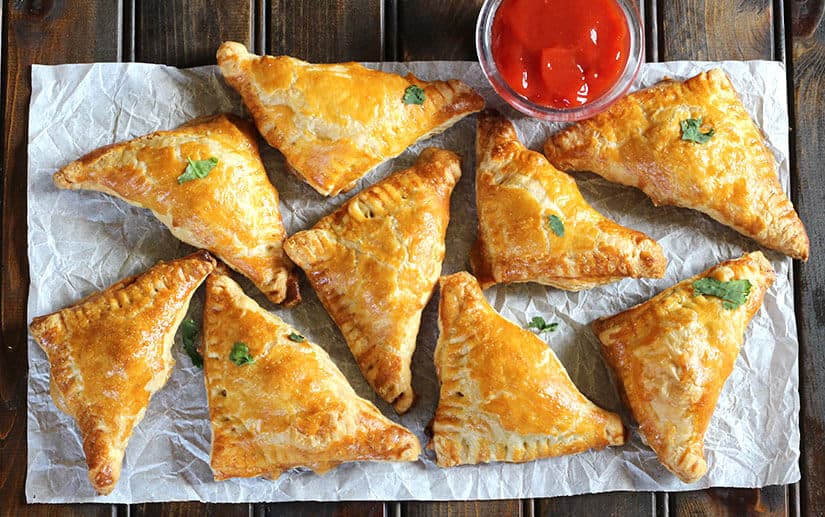 Today I have partnered with Pepperidge Farm® Puff Pastry to prepare this irresistibly tasty appetizer using their Puff Pastry Sheets
I love samosas and love making them from scratch at home. But many of my friends who also love samosas have a hard time making them. A common mistake is in the preparation of the outer dough. If it is not perfect then the entire recipe fails - the filling comes out, and the samosas turn out very oily and its a kitchen nightmare. So I am always on the look out to help make meal preparations simple and easy. In this effort, every time I visit a food store or a supermarket I make sure I browse each aisle and check out all products and if I find something interesting then I definitely buy it so that I can try them at home. My love for Puff Pastry Sheets can be traced back to one such shopping spree. The moment I had laid my eyes on it, I knew for sure what I was going to prepare that evening for snacks - crispy and flaky samosas!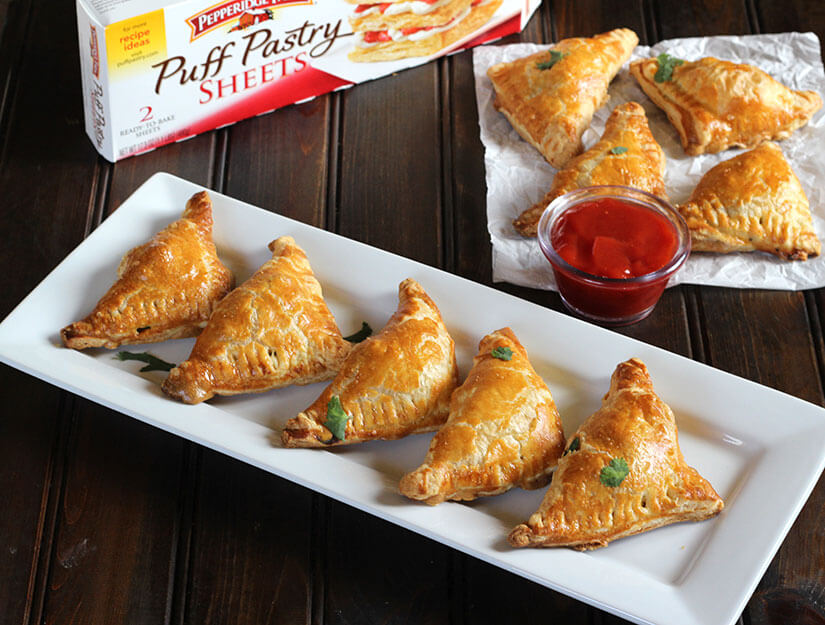 The recipe below is super simple, and these Puff Pastry Sheets makes your task easy. Thaw - roll - fill and bake. It is a no fail product and comes out perfect every single time. It has a light, crispy and flaky texture with delicate buttery flavor. I never knew making delicious samosas could be so simple. Since I used Puff Pastry, I decided to name them as Puff Samosas!
Ever since I always have a package of Pepperidge Farm® Puff Pastry Sheets in my freezer. Whenever some new inspiration strikes, I just remove the Puff Pastry Sheets from the freezer, thaw for few minutes and get started on creating the recipes. I have not only prepared samosas with these Puff Pastry Sheets but also tried 3 other dessert recipes and they all turned out great! I will soon be sharing recipes for some other holiday appetizers that can be prepared using these sheets.
You can also check out many different puff pastry recipe ideas and products on their site Pepperidge Farm® Puff Pastry.
Preparation time : 30 minutes
Thaw time : 45 minutes
Serves : 18 samosas
Follow me on instagram and tag me with #cookwithkushi so that I get a chance to see all the recipes you make and give it a ♥.
Ingredients to prepare Puff Samosa
Pepperidge Farm® Puff Pastry Sheets - 2
Potato - 3
Onion finely chopped - 1
Garlic chopped - 2
Green chile / Serrano pepper chopped - 1
Ginger grated - ½ tbsp
Frozen green peas - 1 cup
Cilantro / Coriander leaves chopped - 3 tbsp
Red chile powder - ¾ tsp
Turmeric powder - ¼ tsp
Pepper powder - to taste
Salt - to taste
Vegetable oil - 1 tbsp
Egg - 1
To see the steps on how to make these delicious Puff Samosas check the video below:
Steps to prepare Puff Samosa
Step I
Follow the instruction on the pastry sheets box to thaw the sheets. I have thawed them for 45 minutes at room temperature.
While the Puff Pastry Sheets thaw you can prepare the filling. Peel the potatoes, cut them into cubes and microwave for 5 minutes and then mash it. (You can cook the potatoes any way desired. Check the tip section)
Heat oil in pan. Add onion, garlic, green chilli, ginger with pinch of salt and saute till onions become translucent.
Add mashed potatoes, green peas, cilantro, red chilli powder, turmeric powder, pepper powder, salt to taste and mix well for a minute. Switch of the flame.
Step II
Whisk the egg and keep it aside.
Preheat the oven to 400 degree F.
Once the sheets are thawed, using rolling pin roll it to 12 * 12 inch square
Cut them into 9 squares of 4 * 4 inch each and brush the edges of each one with egg wash.
Place a tablespoon of mixture at the center of each sqaure and fold the pastry over the filling to form a triangle.
Using a fork, crimp to seal the edges. Place this on a baking tray.
Egg wash the top of each samosa. This will give it a beautiful shiny golden look.
Bake for about 18 minutes or until it is golden brown.
Puff Samosa are now ready. Serve and enjoy.
Tip:
Vary the amount of spiciness in the potato filling as desired.
You can cook potato cubes in boiling water for 15 to 20 minutes or pressure cook it for 2 whistles
For more recent updates, follow me on Pinterest, Facebook, Instagram, Twitter, GooglePlus.
***Click below to save it on Pinterest***