Panchakajjaya is a easy to make sweet recipe made using poha or flattened rice and can be prepared in less than 15 minutes.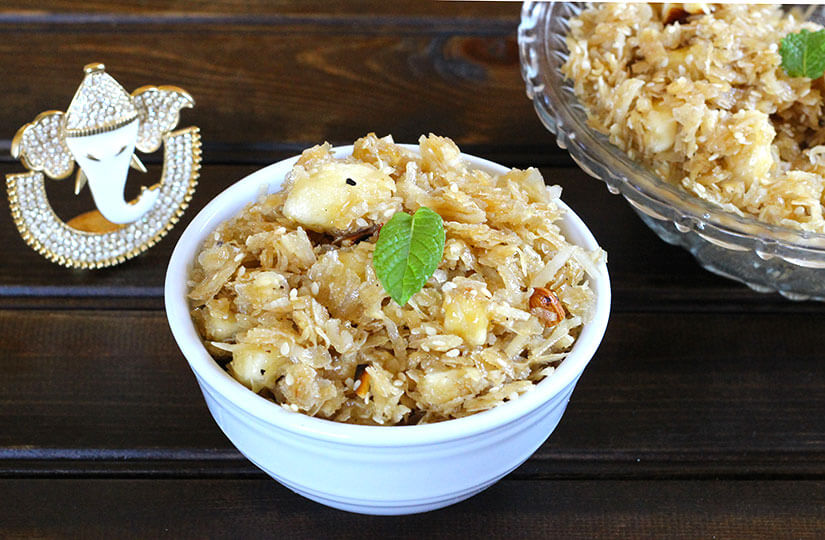 This is a popular and a must-do festive recipe from the coastal regions of Karnataka. It is always prepared at home during festivals and auspicious occasions. In temples this sweet is prepared everyday as an offering to God and then distributed among devotees as prasadam. Pancha in Panchakajjaya means five in Sanskrit. So basically it means that this sweet is prepared using 5 key ingredients. In Konkani it is colloquially called as panchkadai or panchkajai. There are many variations in the recipe for panchkadai. Today I am sharing a very simple and common version prepared at my home. This sweet is loved by people of all age groups.
While you are here, don't miss to also check out 25 + Ganesh Chaturthi recipes.
Preparation time : 15 minutes
Serves : 4
Ingredients for Panchakajjaya
Jaggery / Brown Sugar - ⅔ cup
Cardamom powder - ¼ tsp
Grated Coconut - 1 cup
Thin Poha / Flattened rice - 1 ⅓ cup
Sesame seeds / Til - 2 tbsp
Almonds chopped - 1 tbsp
Ghee - 1 tbsp
Honey - ½ tbsp
Ripe banana - 1
Steps to prepare Panchakajjaya
Step I
Chop the banana into rounds or cubes. add honey to it and keep it aside.
Dry roast the sesame seeds for 2 minutes on medium flame. Transfer this to a plate. In the same pan add almonds and dry roast for a minute and transfer to a plate.
Step II
In the same pan, add jaggery and ¼ cup of water and bring it to nice boil till it thickens. This should take about 5 minutes on medium flame.
To this add grated coconut, cardamom powder and mix well. Immediately switch off the flame.
Step III
Finally to the jaggery mixture (while it is still slightly warm), add poha, roasted sesame seeds, almonds, ghee, and mix it using hands till everything is combined. You may have to use squeezing motion while mixing, so that poha is properly coated in jaggery.
Now add banana mixture and mix gently.
Panchakajjaya is now ready. Serve and enjoy. This will remain fresh for at least 2 days.
Tip:
Few banana modaks prepared can also added to the recipe.
I have used dry grated coconut. Traditionally fresh grated coconut is used in the recipe.
You can also add cashews and sugarcane to the recipe.
Also check out the dessert and sweet recipe contest and win exciting prizes. For more recent updates, follow me on Pinterest, Facebook, Instagram, Twitter, GooglePlus. 
***Click below to save it on Pinterest***