This post is sponsored by Barilla Brand but the content and opinion expressed here are my own.
Ravioli With Roasted Garlic Sauce is a super delicious and flavorful recipe that one must try!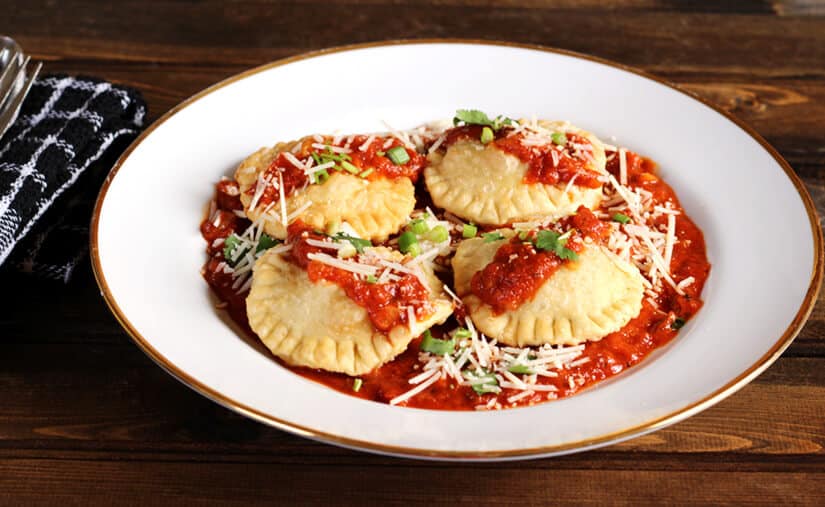 I have prepared this dish using Fried ravioli from my last post and Barilla's Roasted Garlic Sauce. I am sure you will love each and every single bite of this dish.
I always like to try out new things in my kitchen. Whenever I visit any grocery store, my first aisle will always be sauces and canned items. These items will always make delicious meal in hurry.
The cheese and mushroom filled ravioli combined with the roasted garlic sauce makes this dish simply irresistible. The aroma that comes out of the sauce is just great with additional flavor  of lemongrass added. This is become my family's favorite store bought sauce. Check out simple and flavorful recipe below.
While you are here also don't forget to check out how to roast garlic in quick and easy ways.
Preparation time : 20 minutes
Serves : 3
Ingredients for Ravioli With Roasted Garlic Sauce
Roasted garlic sauce - 1 to 1 ½ cup ( I have used Barilla's Roasted Garlic Sauce)
Onion chopped - ½
Garlic cloves - 2
Black pepper powder - ½ tsp
Red chili powder / Cayenne Powder - 1 tsp
Basil leaves - ½ tsp
Lemongrass chopped - 1 tbsp
Salt - to taste
Olive oil - 1 tbsp
Butter - 1 tbsp
Parmesan cheese - ¼ cup
Fried Ravioli - 16 ( for recipe check here)
Coriander leaves - for garnish
Steps to prepare Ravioli With Roasted Garlic Sauce
Step I
Heat butter and oil in non-stick pan. Add lemon grass and saute for a minute.
Now add the onion and garlic and saute till it becomes translucent.
Add pepper powder, basil leaves, red chili powder, salt to taste and mix well.
Finally add the sauce and bring it to a nice boil.
Step II
On a serving plate, spread the sauce prepared.
Place the raviolis and top it with some more sauce.
Garnish it with coriander leaves and parmesan cheese.
Ravioli With Roasted Garlic Sauce is now ready. Serve hot and enjoy.