Tandoori Cauliflower or Tandoori Gobi is a spicy and delicious appetizer prepared using yogurt and aromatic spices. This recipe can be served as an evening snack along with tea. It can also be a great accompaniment for upcoming tailgating events or game nights or potluck or Easter, Thanksgiving, and Christmas holiday parties!


Whenever we visit any Indian restaurant, we order at least one tandoor item form the menu. We love tandoor dishes and I always feel it's healthier and tastier compared to any other fried food from the menu. In India, I did not have any oven and I still prepared it using cast-iron pan at home. I love tandoori recipes specially because the lightly caramelized coating of aromatic spices enhances the flavor of the dish. My two main secrets for a perfect tandoori dish are long marination and the spices you add to the marinade. The more you marinate the better and combination of spices is what makes your dish a super hit 🙂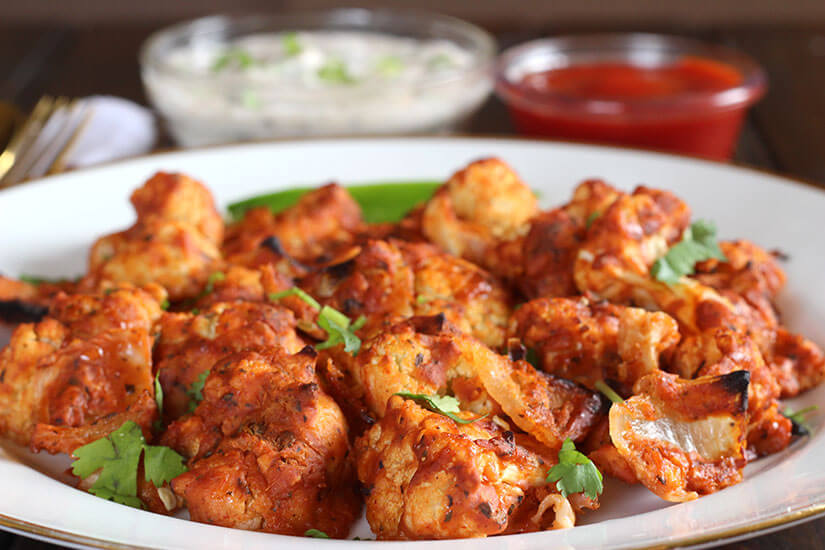 For most of my tandoori recipes, the spice combination remains the same, but I like to experiment with different types of vegetables (and occasionally meat). Some popular vegetable choices include cauliflower, potatoes, babycorn, paneer in combination with other veggies such as capsicum, tomato and onions. I serve tandoori dishes as appetizers for lunch or dinner, but sometimes I also prepare them as a snack for evening tea time. They also make great sandwiches and wraps. This is really a tasty and filling food and if you are on diet then there is not better option than trying a tandoor recipe 🙂 If you love cauliflower and spicy food, then definitely give this recipe a try. As mentioned earlier, feel free to substitute cauliflower with other veggies or any meat of your choice. While you are here, be sure to check out tandoori aloo / tandoori potatoes.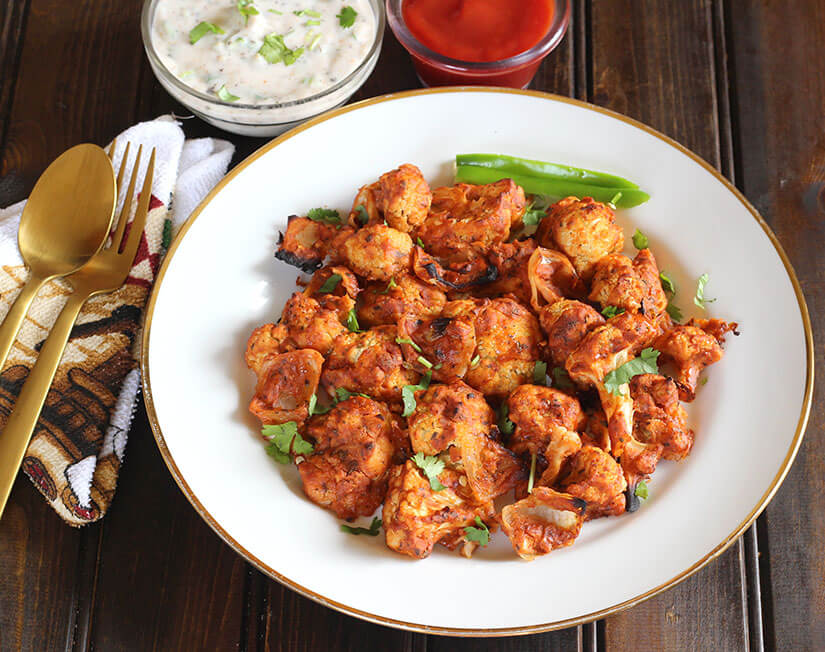 Preparation time : 30 minutes
Marination time : 2 hours or overnight
Serves : 4
Ingredients for Tandoori Cauliflower
Cauliflower medium sized - 1
Yogurt - 1 cup
Garlic cloves grated - 3
Ginger grated - 1 inch
Serrano pepper / Green chiles grated - 1
Red chile powder / Cayenne powder - 1 ½  tsp
Tandoori masala - 1 tsp
Chat masala - ½ tsp
Amchur powder - ½ tsp
Black salt - pinch
Dried mint leaves - 1 tsp
Salt - to taste
Onion chopped - 1
Chickpea flour - ½ cup
Vegetable oil - to drizzle before cooking
Steps to prepare Tandoori Cauliflower
Step I
Cut the cauliflower into florets of desired size and wash them. Cut onion into large chunks an separate the layers.
In a large bowl, add yogurt, garlic, ginger, green chilli, red chilli powder, tandoori masala, chaat masla, amchur powder, black salt, mint leaves, salt to taste and mix well.
Now add cauliflower florets and onion to this yogurt mixture and toss till combined.
Cover this and keep it in refrigerator for at least 3 hours.
Step II
In a pan add ½ cup of chickpea flour and saute on a medium flame for about 3 to 5 minutes or till the raw smell goes off (or until aromatic). Switch of the flame.

Add little water to this and whisk to form a thick paste. See that there are no lumps.
Add this to the marinated cauliflower and toss so that it gets uniformly mixed.
Step III
Preheat the oven to 375 degree F.

In a baking tray grease oil or place parchment paper to reduce amount of oil.

Spread 

 the marinated cauliflower along with onions on a single layer. 

Drizzle oil and bake for about 25 to 30 minutes or until its done. (

You may drizzle additional oil about 10 minutes into cooking time. This is optional.)

Tandoori Cauliflower is now ready.

Serve hot with your favorite chutney, tomato ketchup and enjoy.

You can also drizzle some lemon juice just before serving. 
I have served it with yogurt dip: To prepare this dip take ¾ cup of yogurt in bowl. To this add pinch of black salt, ½ teaspoon chat masala, 1 green chilli finely chopped, coriander leaves finely chopped and salt to taste and mix.
Tip:
For more enhanced flavors marinate and keep it overnight and bake the next day.

You can bake it for about 10 to 12 minutes in OTG or till its done.

Vary the spices as per your taste.
For more recent updates, follow me on Pinterest, Facebook, Instagram, Twitter, GooglePlus. 
***Click below to save it on Pinterest***