Bhel Puri is a sweet and chatpata Indian street food that can be prepared using puffed rice in less than 10 minutes. This chaat is vegan and gluten free.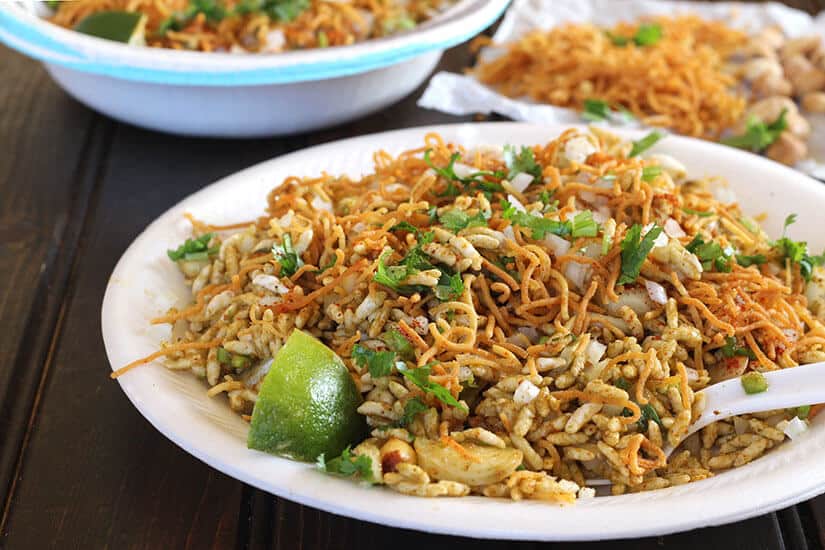 I always have a big packet of puffed rice in my pantry. Puffed rice comes in handy as it is easy to prepare delicious snacks in matter of minutes, and also it is low in calorie. Some of my favorite recipes that uses puffed rice include bhel puri, charmbure pachudi (a popular konkani recipe), and puffed rice krispies. I will share the recipes for charmbure pachudi and rice krispies soon. When I am famished and at the same time lazy to prepare something to fix my hunger pangs - puffed rice almost always comes to my rescue. I simply drizzle some coconut oil over puffed rice, add a pinch of salt, give it a quick mix and eat - it tastes yum!
I love Bhel Puri right from my childhood. During weekends we used to visit the local chaat bhandaar (a corner/street side shop) where along with sev puris and pani puri we also used to order bhel puri. We used to start with sev puris (some times masala puri) that used to be very spicy (remember we were kids then), followed by pani puri (mildly sweet-sour-spicy) and finally ending with bhel puri. This used to be the routine.
As kids we specially loved bhel puris because it used to be slightly on the sweeter side, but chatpata (tangy-spicy) at the same time. A perfect way to end our weekend chaat odyssey.
As you will notice in the steps below, the recipe for Bhel Puri is super easy. While I encourage you to add most, if not all, ingredients mentioned in the list - it is definitely not mandatory. Churmura, Puris, Sev, Mint Chutney, Dates Chutney, and Chat masala are however the most basic. Feel free to tailor the rest as per your taste.
While you are here, do check out my other chat recipes like vada pav, dahi bhalla, dabeli, masala puri, sev puri, papdi chat, aloo tikki chat or ragda pattice. Also, follow me for more interesting recipes coming up for Diwali.

Preparation time : 10 minutes
Serves : 2
Ingredients for Bhel Puri
Puffed rice / Churmura - 3 cups
Onion finely chopped  - ¾ + ¼ for garnish
Green chilie finely chopped - 1
Lemon juice - 1 tsp
Black salt - ¼ tsp
Cumin powder - ½ tsp
Red chile powder - 1 tsp
Chat masala - 1 tsp
Roasted peanuts - 2 tbsp
Coriander leaves finely chopped - 1 tablespoon + ½ tablespoon for garnish
Salt - to taste
Puris - 6
Sev - 3 tablespoon for garnish
Mint chutey - 2 tbsp
Dates chutney - 2 tbsp
Steps to prepare Bhel Puri
In a large bowl add all the ingredients mentioned in the list above, except puffed rice and sev, and mix well.
Taste this masala and adjust the spices at this stage.
Finally add the puffed rice and toss till everything is combined.
Garnish it with Sev, some more coriander leaves, finely chopped onions, and sprinkle some chat masala.
Bhel Puri is now ready. Serve and enjoy.
For more recent updates, follow me on Pinterest, Facebook, Instagram, Twitter, GooglePlus. 
***Click below to save it on Pinterest***