Best Indian Snacks Recipes - Here is a list of quick, easy, and healthy Indian snack recipes that can be served with a cup of coffee or tea or even as a mid-day snack.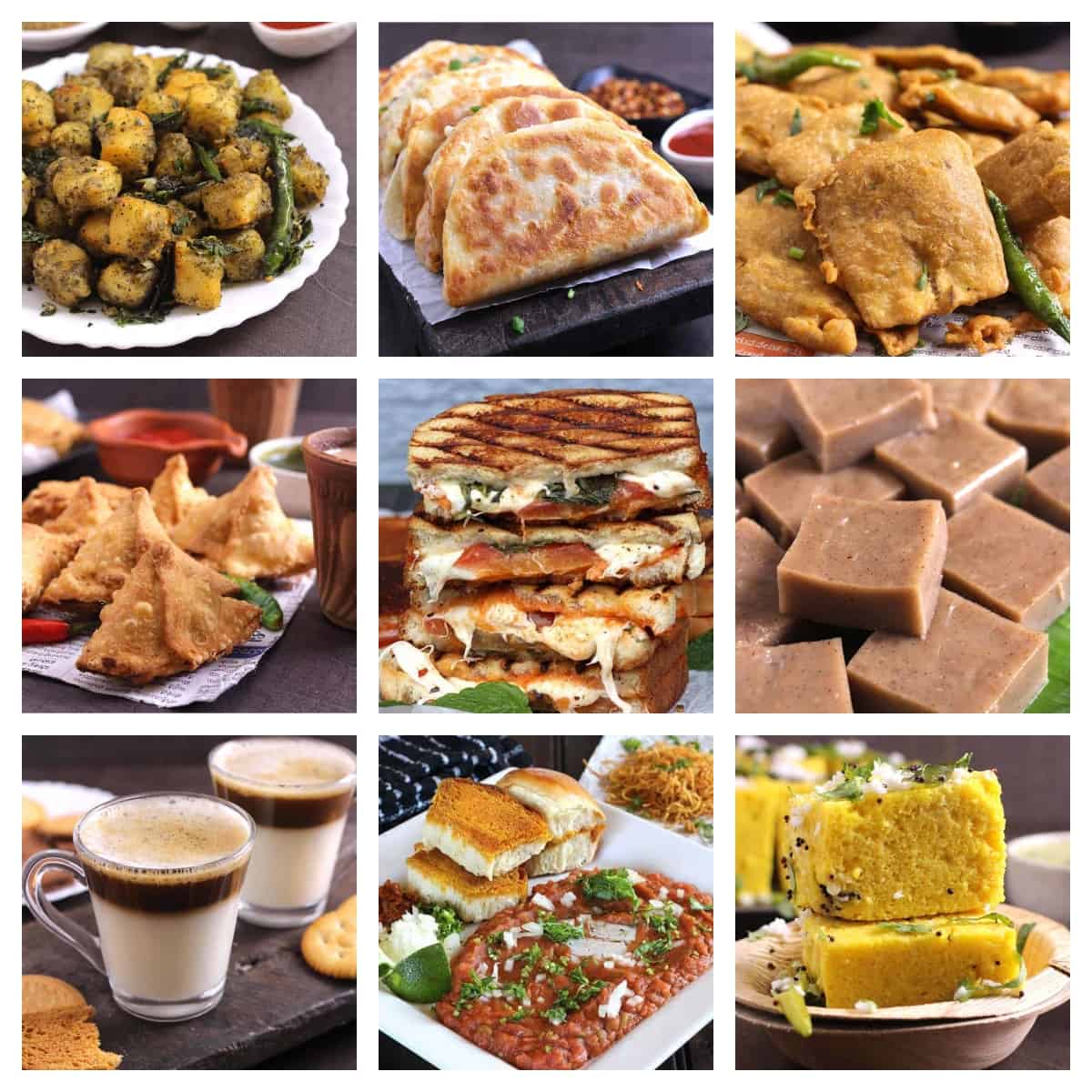 Jump to:
About this post
In this post, I have shared recipes for dry namkeens, Indian chaats and street food (roadside food), fritters and pakodas (bhajiyas, pakoras, or bajji), healthy after-school snacks or lunch box snacks for kids like sandwiches, quesadillas and rolls, party snacks and more. All of these can be prepared in any part of the world if you have the necessary ingredients in your pantry or Indian/Asian stores nearby. Snacks shared below can be prepared throughout the year - although certain snacks like pakoras are much craved and enjoyed in cold or rainy weather.
I have included both North Indian and South Indian snacks in the list below. You will also find some easy snacks you can make in 5 minutes.
What is the famous snack in India?
Some of the most popular Indian snacks include samosa, sev, bhel, banana chips, murukku, roasted makhana, chivda, murmura, vada pav, chikki, etc.
Indian Chaats and Street Food
India is famous for its variety of food recipes, and chaat is something people of all ages love. I cannot explain in words the explosion of flavors that occur when you bite into any chat, the satisfaction to your taste buds, and the happiness on your face when you have Indian chaat with a cup of chai. It has to be experienced firsthand. You can experience all this from the comfort of your home by preparing the simple recipes I have shared below with ingredients that are either readily available in your pantry or easily available in any Indian/Asian store.
Some of the Indian roadside chaats that you can easily make at home for evening snack includes
Crispy Samosa
Aloo Pyaz Kachori
Batata Vada (Aloo Bonda)
Dahi Bhalla (Instant and Traditional version)
Dabeli
Vada Pav
Dahi Aloo Chaat
Aloo Chana Chaat
Pav Bhaji
Aloo Tikki
Dahi Poha
Mini Veg Puff
Fried Snacks
Fried Snacks are easy to make, irresistibly delicious, plus a perfect accompaniment on a hot sunny day or cold rainy day with a cup of coffee or tea.
Some of the best Indian fried snacks that can be made ahead and stored, dry namkeens and pakoras (pakoda and bhajiyas), are shared here.
Banana Pakora
Peri Peri Paneer
Mirchi Bajji or Mirapakaya Pakora
Sabudana Vada (Traditional and Instant versions)
Chakli or Murukku
Banana Buns or Mangalore Buns
Kadi Patta Paneer
Masala Kaju or Roasted Cashews
Jeegujje Podi
Special Appe (Paniyaram) recipe with a twist
Cajun Potatoes
Mushroom Potato Pie
Spiral French Fries
Onion Pakoda or Onion Rings
Jackfruit Fritters or Mulik
Nippattu
Healthy Snacks
If you are on a weight loss program, diabetic diet, or one who prefers always to eat quick and light, healthy, low-calorie snacks, then check out this section. We have
Spicy Murmura or Churumuri (Puffed Rice)
Dhokla
Banana Rasayana
Misal Pav
Boiled Peanuts
Tandoori Potatoes
Chia Pudding
Dahi Poha
Whole Wheat Cookies
Ragi Manni
Roasted Makhana with Dry Fruits
Avocado Toast
Dry Fruit Ladoo
Popcorn
Sandwiches, Rolls, Tacos (Bread Snacks)
If you are looking for filling after-school snacks for kids or things to munch on at parties, picnics, or potlucks, then try out these delicious sandwiches.
These are some of my kid's favorite snacks.
No Bread Sandwich
Grilled Margherita Cheese Sandwich
Taco Mexicana or Quesadilla
Garlic Cheese Bread
Dominos Style Garlic Bread Twists.
Drinks & Desserts
If you prefer to drink something different than a coffee or tea with an evening snack, then check these out
Hot Chocolate
Disco Coffee
Royal Falooda
Mango Mastani
Iced Coffee
Make ahead and Store
Dry Snacks and namkeens can be made ahead of time and stored for 8 to 10 days. Other recipes can be planned and prepared a day before and stored in the refrigerator. You can reheat it in the microwave or stovetop.
And some snacks like murmura and instant dahi Bhalla require no preparation in advance. It can be made from start to end in less than 5 to 10 minutes.
Do check out the instructions given under each recipe for more details.
Recipe card
For more recent updates, follow me on Pinterest, Instagram, and Twitter.
***Click below to save it on Pinterest***