Chilled Banana Pudding is a delicious and healthy easy to make recipe prepared in less than 15 minutes. The best part is there is no cooking involved in the preparation of this pudding.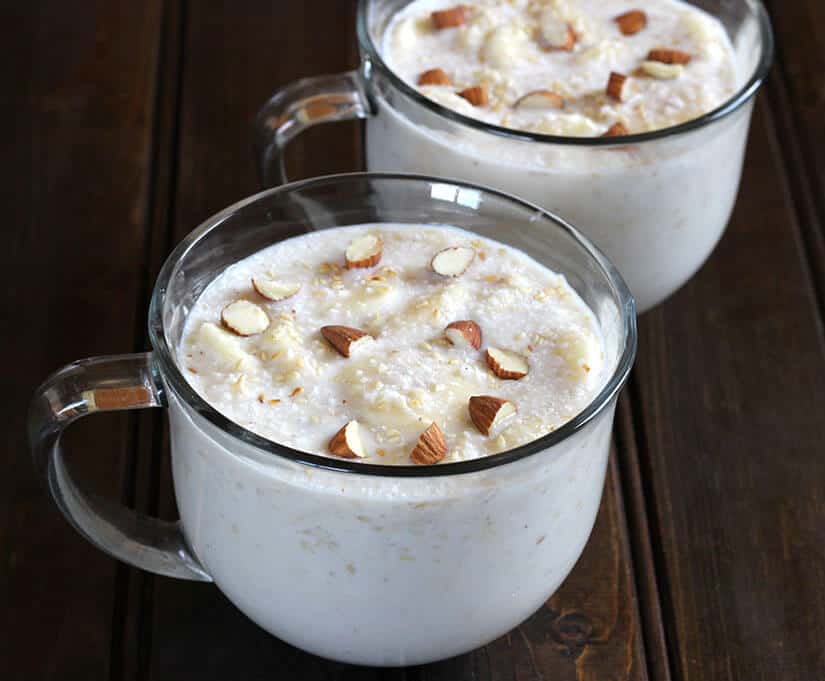 This is a popular konkani recipe known as harshale and is usually prepared using musk melon. However, today I have used banana and prepared kele harshale. As you might have guessed kele means banana in konkani. This recipe can be served alone or along with poha or flattened rice.
Whenever I have extra ripe bananas and confused on what to do I end up preparing this pudding. Traditionally this is served as an after meal dessert. But you may also use it as a base for your break fast cereals. You can also add flattened rice or poha to prepare a filling after-school evening snack for kids.
Preparation time : 15 minutes
Serves : 4
Ingredients for Chilled Banana Pudding
Large ripe bananas - 2
Cold milk - 2 ⅔ cups
Grated coconut - ½ cup
Almonds - 1 tbsp
Sesame seeds - 1 tablespoon (optional)
Jaggery / Brown sugar - 6 tsp
Cardamom powder - ¼ tsp
Steps to prepare Chilled Banana Pudding
In a blender, add ½ banana, ⅔ cup milk, grated coconut, ½ tablespoon of almonds and blend it to a smooth paste. Transfer the paste to a large bowl.
Chop the remaining 1 ½ banana into rounds or cubes.
To the paste prepared, add remaining 2 cups of milk, chopped bananas, jaggery, cardamom powder and mix well.
In a small pan on medium heat first roast sesame seeds, until fragrant, stirring continuously to prevent burning. Transfer it to plate. Then on the same pan add remaining ½ tablespoon of almonds and roast it till you get nice aroma. Now roughly chop the roasted almonds. This step is completely optional.
In a serving cup or a bowl, add the banana milk mixture, and garnish it with roasted sesame seeds, and chopped roasted almonds.
Chilled banana pudding is now ready. Serve and enjoy.
Tip:
Vary the sweetness as per your taste. You can use honey as sweetener.
I have used dry grated coconut. Traditionally fresh coconut is used in the recipe.
I have used whole milk in the recipe.
Also check out the dessert and sweet recipe contest and win exciting prizes. For more recent updates, follow me on Pinterest, Facebook, Instagram, Twitter, GooglePlus.
***Click below to save it on Pinterest***