Fish Fry is a crunchy, delicious and flavorful finger food prepared using your favorite fish, few aromatic spices, and rice flour.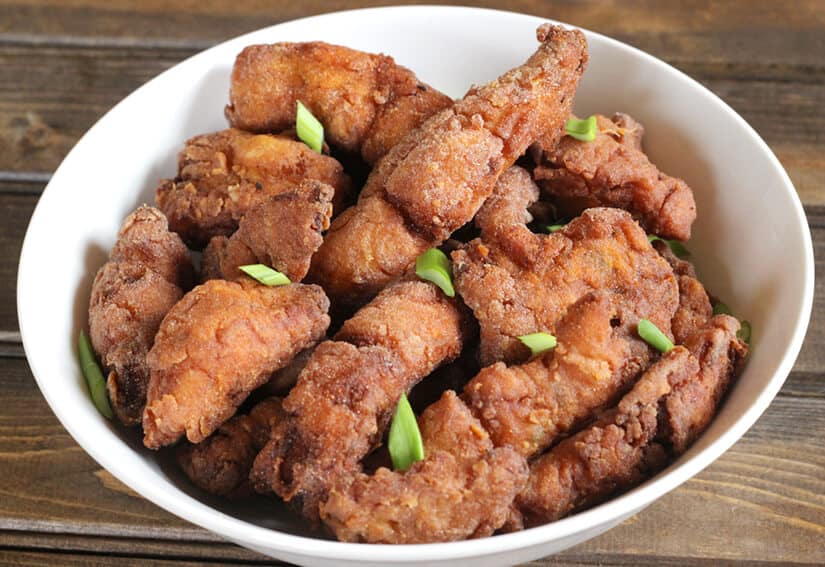 This is a Mangalorean recipe, and is mostly prepared with pomfret fish. The fish filets are marinated in spices and then coated with rice flour before frying, which makes the fries crispy.
The recipe below is one of my family's favorite and prepare it often in my kitchen. This fry recipe is super easy to make and will get over in no time. It is traditionally served with brown rice ganji (rice porridge) and is also a classic accompaniment for any cocktail / mocktail party. Do try out this recipe and share your variations and comments.
Preparation time : 30 minutes
Serves : 4

Ingredients for Fish Fry
Thilapia fillets - 2
Onion - ½
Garlic cloves - 2
Ginger - 1 inch
Turmeric - ¼ tsp
Red chile powder / Cayenne powder - 1 tsp
Green chilies - 2
Asafoetida / Hing - pinch
Cumin seeds - ½ teaspoon (optional)
Crushed curry leaves - 1 teaspoon (optional)
Garam masala powder - ¼ teaspoon (optional)
Salt - to taste
Rice flour - for coating (approx ½ cup)
Oil - for frying
Steps to prepare Fish Fry
Step I
Cut the tilapia into bite size pieces or of desired size.
Grind onion, ginger, garlic, green chilies together adding very little water to form a thick smooth paste.
Transfer this paste to bowl, add the red chilli powder, turmeric powder, salt, cumin seeds, asafoetida / hing, curry leaves, garam masala powder and mix well.
Now add the fish and toss it so that it is well coated with the mixture. Keep it aside for 15 minutes.
Step II
Heat oil in a pan for frying. The pan should contain about 2-3 inches of oil.
Coat each marinated fish piece in the rice flour and fry them on medium to medium high flame on both the sides till its crisp and done.
Transfer these fries on to paper towels to absorb any excess oil.
Repeat the process for remaining fish.
Fish Fry is now ready. Serve hot and enjoy.
Tip:
You can use all purpose flour to coat but the fish fry will not be as cripsy as the one prepared using rice flour.
Vary the spices as per your taste. You can use jalapeno or serrano pepper instead of green chilies. The taste may vary accordingly.
See that the oil is not too hot or too cold. If its too hot then the fries will turn dark brown very quickly, and if its too cold it will absorb excess oil.
To check if the oil is hot, just drop a little piece of the outer coating of the fish fry and check if it sizzles and comes up.
Do not overcrowd the pan.