Flavored Popcorn is a spicy, cheesy and salty - all in one comfort snack! Homemade popcorn is a healthy alternative to the store bought ones which often contain ingredients that are hard to pronounce. The recipe that I have shared here can be prepared in a matter of few minutes on your kitchen stove top.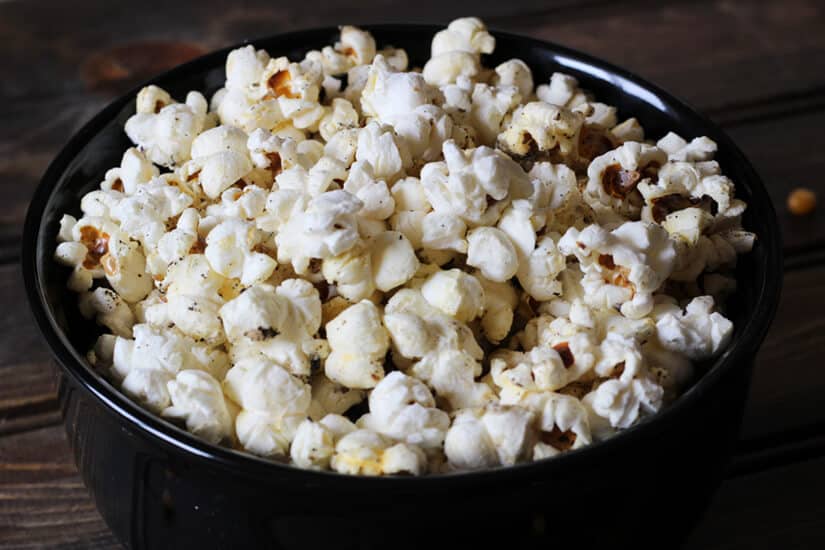 No movie is complete without a popcorn tub for my family and I am sure its the same for all. I love making popcorn as its easy to make, tasty to eat and I see a happy smile on all the faces. I try different toppings every time and the recipe below one is my all time favorite as it is spicy and also free of butter. I always add the seasonings even before the corn kernels begin to pop except for the cheese so that each corn gets coated well with the flavors added.
I generally go with eyeball measures while preparing such snacks. So vary the spices as per your taste. Its always fun to be creative. You can also check my other favorite seasonings in the tips section. Do share your variations in the comments. I would definitely love to try them.
Preparation time : 10 minutes
Serves : 3
Ingredients for Flavored Popcorn
Corn kernels - 5 tbsp
Coconut oil / Vegetable oil - 2 tsp
Cayenne powder / Red chile powder - ¾ tsp
Salt / Garlic salt - to taste
Pepper powder - as per taste
Parmesan grated - 2 tbsp
Steps to prepare Flavored Popcorn
Heat oil in a pan. Add the corn kernels.
Now add cayenne powder / red chilli powder, salt and pepper powder and mix well even before the corn begins to pop.
Cover the pan and allow it it pop shaking it often on medium flame.
Remove from the heat, when the frequency of popping reduces to 2 to 3 seconds apart.
Adjust the salt and seasonings, add Parmesan cheese and toss till combined.
Flavored Popcorn is now ready. Serve and enjoy.
Tip:
My other favorite toppings include chat masala, cajun seasoning, dried basil leaves, pepper flakes, sriracha and lime.
You can also use olive oil in the recipe. This will be more flavorful.